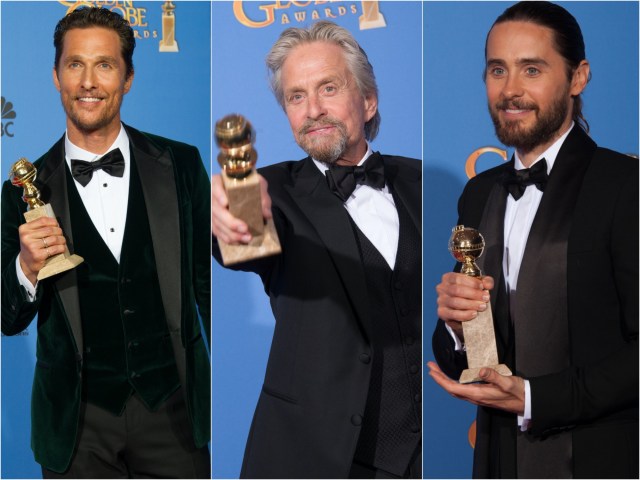 2014: Celebrating the LGBTQ+ Community
January 1, 2023
—
Michele Manelis

The 71st Golden Globe Awards held on January 12, 2014, was a time to recognize and celebrate the LGBTQ+ community, with major wins by such films as Behind the Candelabra and Dallas Buyers Club. The latter, directed by Jean-Marc Vallée (Big Little Lies, Sharp Objects), is a biographical drama scripted by Craig Borten and Melisa Wallack.
Set in Texas in the mid-1980s, the movie follows Ron Woodroof (Matthew McConaughey), who was diagnosed with AIDS. During the HIV/AIDS epidemic, treatment was inadequate, which propelled Woodroof to take matters into his own hands by smuggling experimental drugs into Texas for those afflicted with the condition. McConaughey took home the Best Actor – Drama Golden Globe for his performance, and Jared Leto won the Best Supporting Actor prize. They each went on to receive Oscars in the same categories.
When McConaughey took to the podium at the Golden Globes, he said, "Unexpected, but graciously accepted. Turned down 86 times… Really glad it got passed on so many times or it wouldn't have come to me." McConaughey would also earn a nomination at the Golden Globes the following year for Best Actor – Miniseries or Television Film for his work in True Detective.
In accepting the Best Supporting Actor Golden Globe for portraying the transgender character Rayon, Leto explained during his speech that he found common ground with Rayon in that he, too, felt like an outsider. "I have always been a bit of an outsider, and I don't think that changes after tonight. And I don't think that it's necessarily a bad thing. Rayon was an outsider, and that is an OK place to be."
Behind the Candelabra, directed by Steven Soderbergh, is a biographical drama based on the life of Liberace which starred Michael Douglas in the role of the famed pianist. Douglas walked away with a Golden Globe for Best Actor – Miniseries or Television Film. He won over his onscreen lover, Matt Damon, who was nominated in the same category for portraying Scott Thorson, who was in a relationship with Liberace for over six years.
The film itself, based on Thorson's memoir "Behind the Candelabra: My Life with Liberace," took home the Golden Globe for Best Miniseries or Television Film. Additionally, Rob Lowe earned a Best Supporting Actor nomination.
For Douglas, the part represented more than an award-winning performance. He said of his win, "During this time, I had my cancer bout. This is probably the biggest gift I have ever gotten in my professional career. Coming out of my cancer, I wasn't sure if I'd ever work again. I was handed this beautiful piece on a silver platter — one of the best parts I have ever had."
Douglas has six Golden Globes in total (three as an actor, two as the producer of Golden Globe Best Film winners, and the 2004 Cecil B. deMille Award amongst ten competitive nominations.