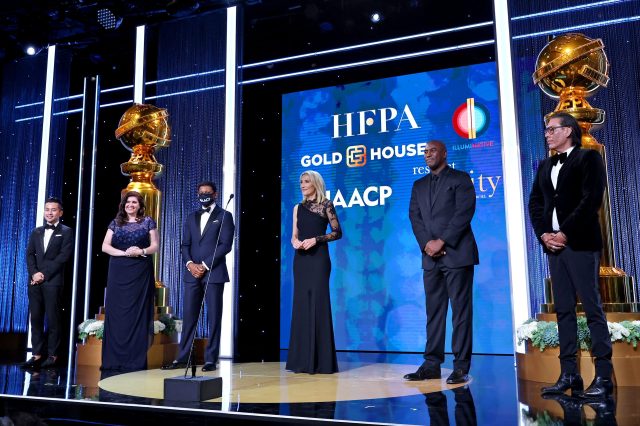 2022: An Astounding Legacy of Philanthropy
January 9, 2023
—
Ersi Danou

On January 9, 2022, the best of film and television from 2021 was recognized and honored. The Power of the Dog and West Side Story each won three Golden Globes, while on the TV side, Succession, HacksThe Underground Railroad all picked up big wins.
The biggest focus of the evening, however, was philanthropic giving, with over $8.2 million awarded to an array of grantees — money targeted to improve both lives and the arts.
Yes, there's the glamorous celebration of achievements. But the other, lesser-told aspect of the Golden Globe Awards is about the generosity of the organization behind them: In the last three decades, the Hollywood Foreign Press Association has donated over $55 million to charitable causes.
Among its most recent activities are donations to the Committee to Protect Journalists in Ukraine, relief funds in Haiti and Afghanistan, aid for the COVID-19 pandemic, and the HFPA's commitment to a joint effort with the National Association for the Advancement of Colored People called Reimagine Coalition, which aims at increasing diverse representation in the entertainment industry as well as supporting artists and journalists of color.
Starting with nine grantees in 1989, the inaugural year of its philanthropy, the HFPA's beneficiary community has seen a tenfold expansion to 91 recipients, and more than a threefold increase of total funding.
Recognizing the urgent need to support press freedom globally, the association added journalism to its grant categories in 2017. Since then, $5 million has been awarded to organizations that protect international reporters and promote free press, investigative journalism, and social justice.
Other large endowments include $2 million for California State University Northridge; $2 million for, and an ongoing community partnership with, the American Cinematheque; $2 million for Los Angeles Community College's School of Cinema; $1 million to the Smithsonian National Museum of American History, in order to support the recently installed Entertainment Nation exhibit; nearly $500,000 annually to Film Independent for various groundbreaking programs; and $1 million in support of FilmAid's global work.
The HFPA has long funded organizations that protect and restore endangered and culturally significant cinematic works, most notably Martin Scorsese's Film Foundation, Institut Lumière, Film Noir Foundation, and IndieCollect. To date, $8.3 million has been donated for the restoration of 136 films.
Of this sum, nearly $1 million has gone toward the restoration of 200 historic Lumière Brothers works and, most recently, $500,000 to Cinematheque Francaise for the restoration of the seven-hour 1927 silent epic Napoléon.
The charity program includes organizations that serve underrepresented communities, such as City Year Los Angeles, Coalition of Asian Pacifics in Entertainment, Echo Park Film Center, Get Lit, Inner-City Filmmakers, Justice for My Sister, Kids in the Spotlight, Las Fotos Project, National Hispanic Media Coalition, Outfest, RespectAbility, Stop AAPI Hate, Streetlights, Urban Peace Institute, Veterans in Media & Entertainment, Women in Film, Los Angeles-based non-English film festivals, and more.
The HFPA supports 25 film and journalism schools, and has awarded nearly 2,500 scholarships, plus funded professional development and cultural exchange programs, and special projects such as The Moth and Levitt LA.
Since 2017, under the guidance of HFPA Grants Officer Sandra Cuneo, the association has realized its community-making power and established an annual grants mixer. The event has proven to be immensely effective in connecting grantees, empowering communities to join forces, and create synergies.
What once amounted to regional and Hollywood-centric generosity has now evolved into a global, multifaceted legacy of giving.