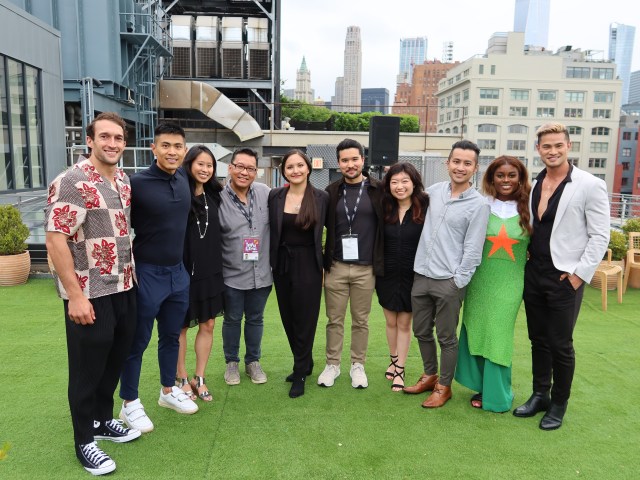 Asian Pacific Filmmakers Represent at Tribeca Film Festival
June 21, 2022
—
Janet Susan R. Nepales
Asian Pacific filmmakers were well represented at the 2022 Tribeca Film Festival in New York. Two events highlighted their presence in the annual New York festival – the Asian Pacific Filmmakers Experience and the Future Gold Film Fellowship hosted by Gold House, Tribeca Studios, and Netflix.
The Asian Pacific Filmmakers Experience, which founder and publicist David Magdael originally established in 2002 in Park City, Utah to honor and recognize the cinematic artists whose works premiered at the Sundance and Slamdance Film Festivals, now has editions as well in South by Southwest Film Festival in Austin, Texas and at the Tribeca Film Festival.
To celebrate the creative vision and inclusive storytelling talents of the Asian Pacific filmmakers' community in this year's Tribeca, David Magdael & Associates hosted a celebratory event at Sour Mouse in New York.
Magdael moderated a panel composed of the filmmakers of the Tribeca entry, Four Samosas. Coalition of Asian Pacifics in Entertainment (CAPE) Executive Director Michelle K. Sugihara spoke and welcomed the filmmakers. CAPE is one of the grantees of the Hollywood Foreign Press Association (HFPA).
Grace Moss, Warner Bros. VP of Equity and Inclusion, talked about the studio's Diversity Access Programs.
The gathering was the third Asian Pacific Filmmakers Experience in New York City. On its 20th year, the Experience also holds a series of online chats, discussions, and partnerships among a broad range of constituents throughout the Asian American and Pacific Islander filmmaking community. The organizers aim to continue celebrating the community's cinematic artists.
Veteran filmmakers, including Ravi Kapoor (Four Samosas), Derek Nguyen (The Resemblance), and Christine Turner (Paint & Pitchfork) were joined by the new breed of cinema artists, led by So Yun Um (Liquor Store Dreams) and Violet Feng (Hidden Letters).
The other event was the Future Gold Film Fellowship by Gold House, the premier nonprofit collective of Asian founders, creative voices, and leaders dedicated to unifying the world's largest populace – Asians and Pacific Islanders – to enable more authentic multicultural representation and societal equity.
Gold House is one of the HFPA's affinity partners in Reimagine Coalition, the inspirational initiative to remind everyone of the obligation to promote diversity, equity, and inclusion in order to rectify the systemic racism issues affecting the industry.
Among the Gold House leaders present were Bing Chen (Gold House Co-Founder and Chairman), Jeremy Tran (Executive Director), and Linda Zhou (Head of Operations, Futures).
Future Gold Film Fellowship is an opportunity for three AAPI (Asian American and Pacific Islander) directors to tell the stories they have been dreaming of telling for and about their communities and experiences, presented as short-scripted films across genres and topics.
Selected fellows this year include filmmakers Derek Nguyen (The Resemblance), Erin Lau (Inheritance), and Lloyd Lee Choi (Closing Dynasty).
We interviewed via email some of the AAPI filmmakers who attended Tribeca this year.
Nguyen said of the significance of the fellowship, "The Future Gold Film Fellowship has been incredible! Not only did I get to work with the good people at Tribeca Studios, Netflix, and Gold House, but they also produced and financed my film. It's been amazing to work in a supportive environment where AAPI voices are not only heard but are cherished.
"I wholeheartedly thank Tribeca Studios, Netflix, and Gold House for this career-changing experience. It's great to work with companies who put their devotion to inclusion and diversity into action."
Nguyen, said of the inspiration for his film, The Resemblance, "Back in 2018, I came across a New Yorker article entitled 'Japan's Rent-A-Family Industry' and became immediately fascinated by the concept of rental families. It's a uniquely Asian phenomenon where people hire actors to role play and/or pose as relatives to either save face, heal, or rehearse troublesome situations to prepare themselves for real-life incidents.
"I immediately thought it would make an interesting film and started jotting down ideas that might make a good script. The Resemblance was the result of years of sifting through many stories. But the story of an elderly couple wanting closure with their dead son held the most emotional resonance for me.
"Many might find the concept of the film to be quite comic. However, my approach to writing and directing The Resemblance was naturalistic, intimate, and subtle. I chose not to ridicule the people who hire rental-families. Instead, I opted to examine why they emotionally need rental-families in the first place. I wrote this script as an examination of grief, longing, acceptance, and closure."
On the future of Asian Pacific filmmakers in Hollywood, Nguyen said, "Although I think that things are getting better for Asian Pacific Americans in Hollywood, there's a lot that could be done to make our representation more visible. I hope that the future will be for us to make films and television that not only show our heritage authentically but also shows the breadth of our experiences that is universal.
"I also hope that we're able to create work that is outside our AAPI identities. I am cautiously optimistic about Hollywood embracing us in a meaningful and sincere way. I am particularly interested in seeing Asian ethnicities that have not been historically represented in Hollywood such as Southeast Asians and West Asians," he said.
One of the new filmmakers at Tribeca is So Yun Um who made her autobiographical directorial feature debut, Liquor Store Dreams.
The documentary is a moving film about immigrant dreams and generational divides. It follows So and her friend Danny, both "liquor store babies," whose Korean parents made the best of limited opportunities by running liquor stores in Black and Brown communities in Los Angeles.
So Yun Um spent four years to be able to finish her film. In our interview, she said, "It means so much to be able to even finish my first film, Liquor Store Dreams. It took an entire community and sheer will for us to make it this far. We had absolutely nothing from the start besides an idea so we crowdfunded the film and just kept working on the story until we received the Sundance Documentary Fund, additional funds, got mentors, and Executive Producers."
Aside from raising money, another challenge for her was that the film was "emotionally difficult to make because I had to have tough conversations about race and politics with my parents – a subject that we normally do not discuss often. I had to film those conversations. Having the camera there to witness our conversation kept us accountable and it also created a safe space for us to talk openly."
She hopes that people who watch her film will realize that "there is another narrative to the one that they're so used to seeing and hearing. So much of the news and media have their own agenda that is not always accurate to the reality of our lives and community.
"The media loves to talk about the so-called 'Black and Korean Conflict' but I don't think there is conflict as much as there is community. There are actually so many times our two communities joyously worked together and yet, those stories don't ever get told. We must get our own stories out there to dismantle false narratives that harm us all."
Director Abbas Rattani made the short film, Alhamdu/Muslim Futurism, described as "an experimental vision of resistance and liberation through the lens of Muslim joy, flourishing, and imagination." He explained to us what "Muslim Futurism" was.
He said during our interview, "'Muslim Futurism' was a term coined by us (MIPSTERZ) because there were no other genres that captured the ethos of the project and vision. 'Muslim Futurism' learns from Afrofuturism as defined by Ingrid LaFleur — an 'intersectional, multi-temporal, and inter-disciplinary approach to the future.' 'Muslim Futurism' is also an expansion of Malcolm X's description of a Black Muslim futurism that centers on a self-sufficient community on the path of collective liberation.
"Additionally, the Palestinian liberation movement – much like other indigenous survival struggles – creates a framework wherein joy, thriving, and flourishing are bold acts of resistance against oppression. Thus, 'Muslim Futurism' – and as it is mirrored in our film – reflects these elements of identity, community, resistance, liberation, and imagination."
Asked whether the short musical was inspired by the music videos, Rattani said, "The short was inspired by early attempts from the MIPSTERZ team to create a new sound that fused the sounds of previous generations with the genres and poetic forms of our upbringing. Similar to the jazz and afro-futurist sonic movement of the 1970s, we too were inspired to use sound as a seed from which similar artistic visions and alternate realities could grow.
"Thus, the film relies on a sonic backbone to communicate a Muslim future visually. Through the creative direction of Sara Alfageeh, Sumer Zuberi, and myself – the visual and sonic aspects of Muslim Futurism were born."
The following is the list of Asian Pacific filmmakers at the 2022 Tribeca:
Narrative Competition:
Devin Das (Producer; Screenwriter) – Wes Schlagenhauf is Dying (2nd Prize, Audience Award, Narrative Category)
Ravi Kapoor– Four Samosas
Viewpoints:
Shin Su-won – Hommage
So Yun Um – Liquor Store Dreams
Tribeca Online Premieres:
Arian Moayed (Screenwriter) – The Courtroom
Documentary Competition:
Nausheen Dadabhoy– An Act of Worship
Violet Feng– Hidden Letters
International Narrative Competition:
Shlok Sharma– Two Sisters and a Husband
Online Premieres:
Naman Gupta – Coming Out with The Help of a Time Machine
Spotlight (Documentary):
Geeta Ghanbir (Co-Director) – Lowndes County and the Road to Black Power
Movies Plus/Shorts:
Frank Chi – 38 at the Garden
Ernesto Foronda (Producer) – The Resemblance
Josh Leong – Chicken
Marin Leong (Co-Director) – Hot & Heavy
Wei Li – Tehura
Catherine Nguyen (Producer) – Chicken
Derek Nguyen – The Resemblance
Abbas Rattani – Alhamdu | Muslim Futurism
Mohammed Saffouri – Touchline
Kiran Sidhu (Screenwriter) – Heart Valley
Christine Turner – Paint & Pitchfork
New Perspectives – Short Documentaries:
Marty Syjuco (Producer) – Beirut Dreams in Color