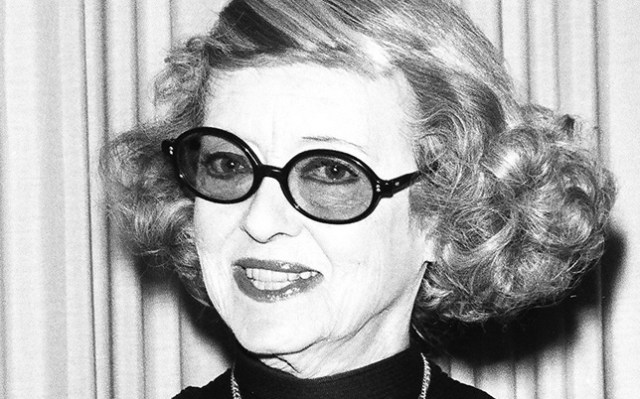 Bette Davis
February 3, 2014
—
Elisa Leonelli
A legendary icon of classic Hollywood cinema, Ruth Elizabeth Davis changed the spelling of her nickname, Betty, to Bette after Honoré de Balzac's La Cousine Bette.
Born on April 5, 1908 in Lowell, Massachusetts, she had acted in Broadway plays before signing a contract with Warner Bros in 1932. Her theater experience was to serve her well when she joined many fellow actors in her move West to Hollywood "I started out in the theater for three glorious, very successful years. When talking pictures started, they sent for any of us from New York, because we could talk and we were theater trained. And we were all very strange-looking people, as compared to the beautiful women that prior to this had been the Hollywood stars. We were all perfectly, properly groomed and dressed and looked respectable, but our faces were not the beautiful Hollywood faces (…) we weren't trained to try and look glamorous off screen." Nevertheless, she soon was playing a wide variety of character roles as a contract player for Warner, from sexy ingénues to roles of more substance, like the unsympathetic "bad" woman in Of Human Bondage (1934), the suffering "good" woman in The Old Maid (1939) and to the dedicated teacher in The Corn Is Green (1945).
In 1979 she told the HFPA: "Of course Of Human Bondage is the first film that everybody remembers, but it did not make me a star; Jezebel made me an individual star, thanks to Willie's (Wyler) great direction. Bondage was the first step on the ladder to be considered a serious actress, which is what I wanted the most, and I was lucky to get it. The only reason I was given that part was because it was the first really unattractive leading lady on the screen, and none of the well-known women stars of that day would take the part, they personally would not play that awful woman; so in desperation, they gave it to me, thank God John Cromwell took a chance on me, absolutely. It was the beginning of a whole change in the kind of heroine actually, and now we have many of those disagreeable heroines, which is better than all just beautiful heroines, right?" That outlook was arguably decades ahead of its time but then again Bette Davis was not one to conform to convention.
In 1936 she dared to counter-sue the studio to be released from the "slavery" of her contract, to avoid being forced to star in mediocre pictures; she lost, but proved her determination to control her career within the confines of the powerful studio system and gained a well-deserved reputation as a strong-willed independent woman. "I did not fight the system at all." She would contend later in HFPA interviews. "I argued about certain scripts that I did not think were suitable, because you have to have your own intuition; but we were so fortunate to be contract players, which meant that year after year we were in films, with no long spaces between, and that is how the public got to know us as well as they did. She would eventually become one the most successful movie stars of all time with roles like the defiant Southern belle in Jezebel (1938) with Henry Fonda directed by Wyler (whom she called "the love of my life"), the socialite dying of a brain tumor in Dark Victory (1939) with George Brent, the aging Queen of England in The Private Lives of Elizabeth and Essex (1939) with Errol Flynn, the French governess in love with her employer in All This and Heaven Too (1940) with Charles Boyer, the murderous wife in The Letter (1940) by William Wyler, the scheming aristocrat in The Little Foxes (1941) directed by William Wyler from the Lillian Hellman play, the brave spinster in Now, Voyager (1942) with Paul Henreid. For all the cinema history she contributed to, she also left her mark as a woman and a free thinker that pioneered the changing of social mores, some would say, a feminist trailblazer. "I came out of my mother's womb liberated, but I don't think there should be any difference between the man and the woman, as regards the approach to business. Fortunately, women are behaving better in business today; and every time a woman attains a position in this world, that helps every other woman to succeed also. The whole equal pay thing has got to be universal eventually. As Germaine Greer says in her marvelous book (The Female Eunuch, 1970), it's up to the women to change, not the men; and so we changed. I like women better today than I did years ago. We're always blaming the men saying, why can't they change? We have to change them, and we will accomplish that better if we are totally businesslike with men. What would be a real women's liberation, believe me, is if older women could marry a younger man, without being laughed at; we have not accepted this yet, but one day that will change. "
She was nominated three times for a Golden Globe: In 1951 for All Bout Eve, 1962 for Pocketful of Miracles and in 1963 for the unforgettable Whatever Happened to Baby Jane?. Even though she never won, in 1986, Davis graciously accepted the HFPA's invitation to present the Golden Globe award for Best Picture to Sydney Pollack, director of Out of Africa. While opening the envelope, she paused and joked, "everybody knows that I'm very mean."