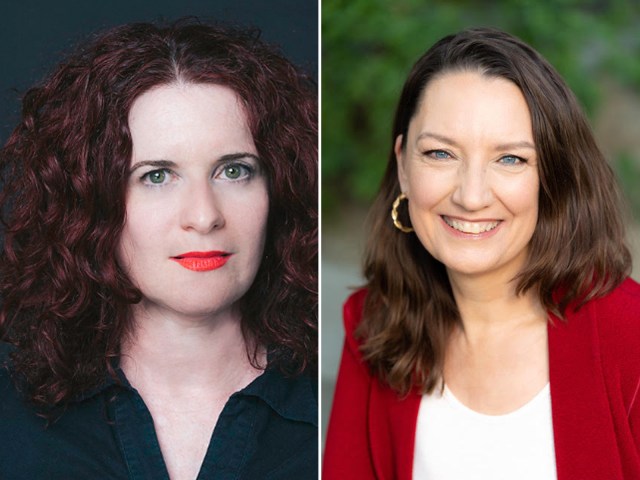 CAMERAderie: A Platform for Women Filmmakers
March 11, 2022
—
Tina Jøhnk Christensen
CAMERAderie is an initiative by Women in Media created to train women for industry jobs and help them get through the door. Tema L. Staig founded Women in Media in 2010 because, during many years of networking with women, she saw the need for the initiative to push women ahead in an industry that seemed to have little knowledge of their abilities – let alone their existence.
"I kept hearing, 'There are no women to hire. I have never seen a woman camera operator. I have never seen a woman DP. They don't know what they are doing,'" explains Staig about the frustrating words that led her to take action, because she knew better. "I was like, I have contact sheets from 2010 with lots of women who have been in the business for quite a while, so I don't know what they are all talking about."
Staig had been doing informal networking events in connection with Seeking Our Story, a screening series of films of historical significance by women directors. The contact sheets were sent to everyone in attendance who filled them out as an integral part of networking beyond the event. Knowing that the talented women were out there, Staig went on a mission to ensure that these women would be prepared for industry jobs and to prove the statements she had heard were wrong. The CAMERAderie Initiative would be part of this mission.
"It is a systemic problem the way women are treated in the film industry, and I felt the system needed to be changed in order for me to be working in it. So, it was not just that I wanted to help women, I wanted to change a system that was so off-base. I wanted to start moving the needle."
Staig knew that there were already other organizations out there, but they just were not moving the needle fast enough, in her opinion. "It was a matter of the mindset of keys and those in a position to hire, not women's ability," she says. "A big issue was that lots of women – both above and below the line – were making their films at the low-budget indie level. The disconnect was moving up into career-sustaining jobs in bigger-budget films and TV shows. This didn't seem to be an issue for men trying to move up."
Reaching Higher Levels
CAMERAderie took off in 2017. The idea was to have the participating women develop and produce short films and increase their skills below the line on set.
"The idea is to bring women into a higher level of filmmaking – not just five people behind a camera and your mother is catering," explains Staig. "There is nothing wrong with that, but we wanted to prepare them to be able to work on a proper and larger budget indie film or a studio film."
The process of participating in CAMERAderie starts with a script for a short film. No longer than 10 pages long, the women's scripts go through a vetting process where they are narrowed down to 20 scripts from which 3 projects will be selected to go into production. Annika Hylmö is part of the core team of selectors for the CAMERAderie project.
"I have had an affirmation in my ability to pick out good projects," says Hylmö, who has been part of the initiative from the beginning, which also strengthened her own self-awareness. "I know how to pick the stories that will resonate and that can be made. I know that I can produce."
The women chosen for the CAMERAderie initiative, who are all members of Women in Media, go through classes and participate in conventions to prepare them for the filmmaking process.
"A really important part of the program this year was massive support from MBS group," says Staig. "Their support allowed our members above and below the line to not only shoot at Television City and use their gear, but they also were a big part of our 360-training approach with Illumination Training."
Also, mentors such as producer Effie T. Brown (Dear White People), director Mary Lou Belli (NCIS: New Orleans) and writer/director Colin Trevorrow (Jurassic World) have helped the participants along. But the networking part is as important as fine-tuning their technical skillsets.
"It is an opportunity to build a tribe and go on to work with each other and recommend one another," explains Hylmö. "People get the opportunity to be seen, and to be seen by each other, so they are basically auditioning for their next jobs. They are auditioning with each other and other people. If you do the work and you are a good storyteller, then you build those connections. This industry is very tribal in some ways, so you go from project to project and work will people you know. A DP will work with people she knows because they have a shorthand."
Thus, Hylmö, who is a writer and director too, brought along talented women from the initiative when she worked on her own short film, Dr. Penelope. She brought along art director Janelle Chivonne, editor Lea Vrabelova, the DIT Kerry Michelle, and makeup artist Karol Young Moses to work for her. That is also the case for her current project, Eddie's Turn, which is in development.
"The transformation of these women who were involved was just magnificent," says Hylmö. "That is at all levels. So many programs target directors, but they are not targeting the ones below the line. If you really want to look at film and how it all comes together, it is such a collaborative art form, and to see people be able to level up through this process is really exciting."
A Success Story
The CAMERAderie Initiative is ambitious, and it wants to see the participants go through the festival circuit when their short films are completed. Thus in 2019, directors Satinder Kaur, Aisha Ford and Maritte Go presented their short films Blood and Glory, Cherry Lemonade and Illipino at festivals like Tribeca, Newport Beach and Atlanta.
"Following the CAMERAderie projects at festivals is a must, although the festival circuit as we all know has been very different this year compared to most," says Hylmö. "We were a whole team who went to New York to support writer-director Aisha Ford and producer Jane Hare of Cherry Lemonade at Tribeca. It felt great to do so and to congratulate the team."
This year, the CAMERAderie Initiative completed four short films – Jennifer Shaw's Charlie and The Hunt, Dawn Spinella's Smashed, Toy Lei's Moon and
Lidiya Korotko's Noor. There were also hundreds of women participating in creating these projects below the line.
"I want to see a lot more women in the creative crafts and to support these creative crafts as well," says Staig. "There should be between 40 to 60 percent women in each department. I think aiming for just more women directors is a mistake. We need parity across the board. The directors don't get the support they need if they do not have women below the line. It is easy for men to muscle in on women when there are not that many women on set."
Hylmö also points out that we are missing out on so many stories if women are not supported in the film business. "I was reminded of the vastness of women's stories out there," she says. "I do want good stories from women of all ages and backgrounds, and I also think that older women should be submitting to CAMERAderie. There is something about older women as well who have a little bit more experience. They have stories to tell that I don't think we hear enough of. There is something about a story being told from an older person's point of view that cannot be told from a younger person's point of view because they don't have the experience. I would love to see more scripts like that and for those to get the opportunities to tell those stories in diverse genres. People are waiting to be heard and be seen."