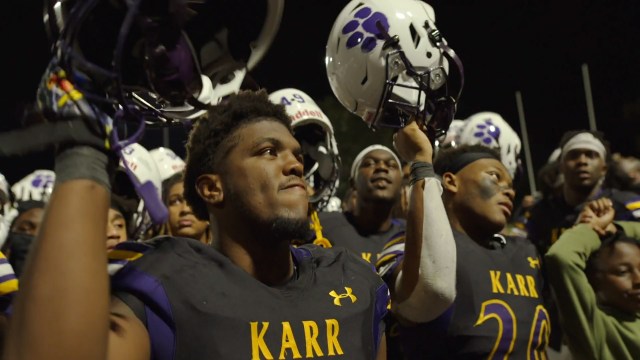 Docs: "Algiers, America" – Between Triumph and Heartbreak
April 19, 2023
—
Elisabeth Sereda
Every once in a while, there comes a story that is both uplifting and painful. Very often this combination creates the best art, as is the case with Algiers, America, a five-part documentary series about the country's most successful high school football team in one of the most dangerous places in the nation. It's "a story of hope and inspiration", in the words of director Jackson Fager.
The series title refers to both a geographical location and the state of an entire country that cannot get its biggest problem under control – guns. Algiers is part of New Orleans. It's located not on the wrong side of the tracks but, some say, on the wrong side of the river. Positioned on the Westbank of the Mississippi, (the Eastbank consisting of all the places you have heard about, the historic French Quarter, the white privilege of Uptown and the mansions of the Garden District), Algiers is the city's second oldest neighborhood. It dates back to 1719.
It was originally called "King's Plantation", a fancy word for an ugly reality: it was the site for the city's powder magazine, a holding area for newly arrived Africans, and the first port of call for displaced Cajuns. It was known as the "slave pen" – consisting of jail-like compounds where enslaved people were held following their kidnapping from West Africa.
Today, Algiers is a predominantly black neighborhood where residents that were dispersed and uprooted after Hurricane Katrina are still trying to build a community. They are also trying to survive in a place with one of the highest crime rates in America.
But, as Jackson Fager says: "The title of this series is Algiers, America for a reason. This isn't just about Algiers. This Algiers is representative of inner-city neighborhoods all across our country. So, when we're talking about what kids and people are going through in the community of Algiers, we're also trying to tell you that this is happening all across our country."
Listen to Golden Globes Around the World Podcast with Jackson Fager below:
Algier's biggest issue is America's biggest issue, says Fager, who has covered conflicts all over the world as a combat zone reporter and documentary filmmaker: "Being embedded in this community for three years was no different than covering any conflict anywhere else in the world. That just speaks to what this country is going through right now. There is an epidemic of gun violence. Too many guns are in the hands of kids, and kids are using those guns to solve their problems. I don't understand how it's not front-page news every day. In every inner city around our country kids are dying from guns. It's the leading killer of kids in our country. And it's only getting worse. The people of Algiers will tell you that."
While never losing track of this reality, the series tells the story of the Edna Karr Cougars, its exceptional young players, and its all-black coaching team – the only one in the US – led by the inspiring head coach Brice Brown. We see their phenomenal success not only winning championships but getting more kids into colleges than any other public high school.
"The biggest thing that we've addressed is trying to get these kids out of the circumstances that they're in by using the sport of football", says Coach Brice who himself went to Edna Karr High School. " The pandemic has really shuffled things up. Our murder rate is up. But our graduation rate is staying the same. We're still putting kids into college. We're still graduating kids from college. The main thing here is: how do we shift? How do we shift this momentum? Who's getting in trouble in the street? We put them in something extracurricular like football, not only to save themselves but other lives too. because the one life that we could save is saving multiple lives. It becomes a trickle-down effect."
Brice Brown has become a father figure for many whose fathers are absent, have passed, or are in jail. He is very aware of his responsibility: "We have to build a relationship with kids, with players. We got to reach them before we teach them, right? I think that's the part that has been consistent here: one of the main reasons why we're successful is because not only are we teaching, we are also reaching them."
The genuine love and care that the coach has for the kids, the players and their parents are what drives the story and what attracted Jackson Fager to tell it: "Brice Brown is one of the most incredible people I've ever met. Everyone in this community will tell you how much Brice Brown loves these kids. He's lived a hard life. He grew up in Algiers. He went to Edna Karr High School. He played football there. So, he knows this community. He knows these kids better than anyone. Right when he got out of college, he decided to come back and help because he cared so much about this community and these kids. But his father was killed. His best friend was murdered, and seven of his players have been murdered since he started coaching. It's hard to even say it out loud like how much one person can go through. He very much lives in the present, partly because he can't live in the past. It hurts so much. But what he's been through allows him to connect with these kids and show love that a lot of them may have not experienced or received before. Aaron Anderson, one of the main players in our story, literally told us that Brice Brown taught him what love was."
Aaron Anderson's story – he now plays for LSU – as well as many others are told throughout the series. Like Tygee Hill, who also went on to play for LSU, and the tragedy of Tollette 'Tonka' George, the standout player who graduated from Edna Karr in 2011 and went on to Alcorn State University. He was fatally shot in 2016. His talent, determination, and success have inspired other young men at the school.
Filming was disrupted by Hurricane Ida in the summer of 2021, three days before another championship game: "Obviously, everyone fled the city, but the reality for the people in Algiers is that half of them couldn't", remembers Fager: "That really messed things up for us. But it also allowed us to show a whole different side of the story because we followed one kid in particular as he went through this whole experience with his family through the hurricane and not having power and not having a place to stay and not having the money to stay in a place. That, right there, was one of those experiences that happens in real time where you just understand, gosh, just every way they're getting hit, whether it's gun violence or it's the jail system or it's a hurricane. I mean, these kids are going through so much. And we saw that firsthand."
One vital connection for Fager was Dr. Ashonta Wyatt, who serves as consulting producer and can be seen throughout the series. Dr. Wyatt, also an Edna Karr graduate and mother of a student, advised the film crew and made the connections. She wanted "to ensure that the voices were told from the perspective of the children. We wanted to make certain that we center them. Everything about New Orleans, we say, is because of black people. So, I want to make certain that people know that there's beauty in being black. There's beauty in being from New Orleans. There's, absolutely, excellence with coming from the halls of Edna Karr."
At the world premiere at the Orpheum Theater in New Orleans, last Saturday, the players, the coaches and the filmmakers gathered to celebrate their achievement. Dr. Wyatt's reaction to the finished project? "I'm ecstatic. I think this project humanizes our children. It gives the world something to see beyond the trauma of their experiences. It gives them a voice to say "We're here. We matter. Our stories matter. I'm proud of Algiers. I'm proud of Edna Karr. I'm proud of every child that is featured in this documentary."
Algiers, America starts streaming today on Hulu and ESPN.