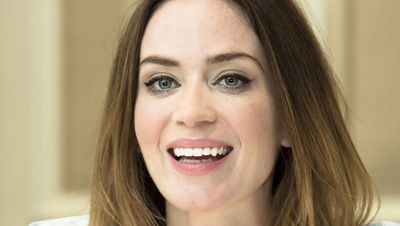 Emily Blunt (Into The Woods)
Emily Blunt received her first Golden Globe nominations back in 2007, that's right, nominations, as in two of them in the same year. One, the Best Supporting Actress – Motion Picture Comedy or Musical nomination was for what many saw as her breakthrough role in The Devil Wears PradaGideon's Daughter. She took home the Golden Globe that year for Gideon's Daughter.
This year the multi-talented Ms. Blunt is nominated for the Golden Globe's in the Best Actress in a Motion Picture – Comedy or Musical category for her role as the baker's wife in Rob Marshall's film adaptation of the Steven Sondheim musical Into the Woods. While Blunt was considered a strong singer as a youth, she admits being initially nervous about taking on a singing role in a musical. Director Rob Marshall put her at ease by telling her that he wanted actors that could kind of sing, rather than singers that might be able to act.
In Into the Woods Ms. Blunt plays a woman so yearning for a child that she will make a bargain with a witch (played by Meryl Streep), to have the "curse reversed." For Blunt it is a repeat performance opposite Streep after The Devil Wears Prada, and she admits that was a preeminent enticement to take the role.
Born on February 23, 1983 in London, England, Ms. Blunt was a talented child who excelled at singing, cello and horseback riding, but wasn't initially expected to follow in her television and stage actress mother's footsteps because of a stutter. The very speech therapy that helped her overcome that obstacle also was her introduction to adopting different accents and voices and the beginning of her experience with character interpretation. At 16 years old she was cast alongside Dame Judi Dench in Sir Peter Hall's production of The Royal Family. The role would get Ms. Blunt named best newcomer by the Evening Standard.
Her steady work in TV and indie films continued to show range, and in 2006, she played Emily, the assistant with the love-hate relationship with her boss in The Devil Wears Prada which marked her Hollywood scene-stealing debut. She received a Golden Globe nomination for her portrayal, and the same year, a win for her TV work further opened the door to a wide range of movie projects in Hollywood. She subsequently worked with big names like Tom Hanks, John Malkovich, and Steve Carell. Off-screen, she married Carell's co-star John Krasinski of NBC hit TV show The Office.
Ms. Blunt received her third Globe nomination for her starring role in Young Victoria in 2009, confirming the cheerful, unassuming actress as one of the most sought after in Hollywood. Relocating to Los Angeles, she was offered various roles, raising her international profile, and introducing her to a broader audience.
Since 2009 she has been in 17 film and television projects, ranging from The Muppets and Gnomeo & Juliet to The Young Victoria and Salmon Fishing in Yemen expanding her range and growing as an actress.
Lynn Tso