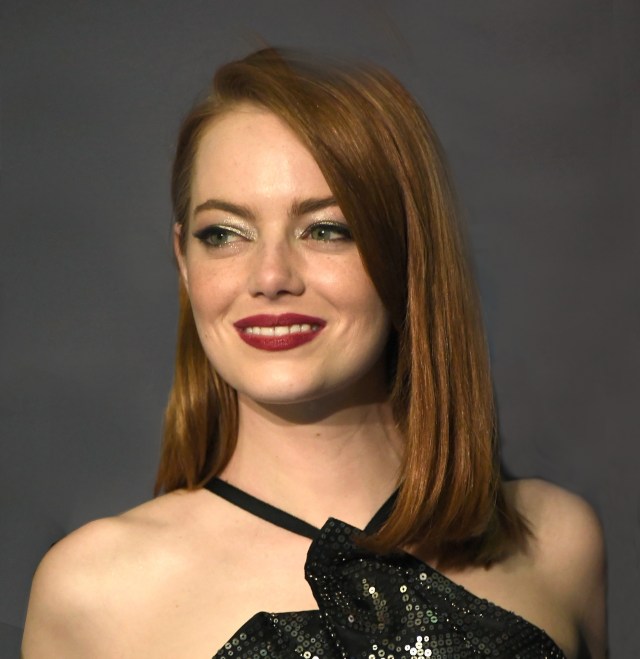 Emma Stone
January 3, 2017
—
Kirpi Uimonen
Actress Emma Stone, 28, receives her third Golden Globe nomination for the role of an ambitious and loveable aspiring actress in the musical La La Land that combines fairytales and reality. She loved musicals already as a kid, and used to go to see them on stage with her mom. "My mom and I would go out to New York once or even twice a year and we would go see just a ton of musicals," she recently told the HFPA.
Her mother's favorite was Les Misérables, a French redemption story that made Stone understand singing is a form of expression. "My mom played Les Miz in the house and explained what that was about. And that's obviously basically like an Opera, the whole thing is sung. So I sort of had an early understanding that is a way that some people can express their emotional state and then I went and saw Les Mis on stage when I was eight. I was riveted."
Stone's mother played a big role in her life. She and her business owner husband encouraged their daughter to follow her dreams. First she started to play at a local youth theatre. She realized that acting and especially concentrating on the moment helped her with her panic attacks. When she was fifteen she moved from Arizona to Los Angeles with her mother.
"They understood my passion, but they were realists. They didn't praise me without a reason or told me all the time that I am the best." She was lucky. Her dad's business did well and he was able to provide a nice living for his wife and daughter in the city of angels. Stone was home schooled and besides that she could put all her energy to auditions.
First she did well. She got several auditions but she didn't seem to fit any of the roles. Then it got quiet for sometime. "Nobody was interested in me. That was the worst", she remembers. The situation changed. She got small roles in television series until a teen comedy, Superbad, pushed her in the limelight as a new promising actress. It was followed by, among others, the comedies Zombieland, Easy A (for which she received her first Golden Globe nomination), and Crazy, Stupid, Love, as well as the successful drama The Help.
The Amazing Spider-Man and its sequel, in which she played Peter Parker's first love, Gwen Stacy, made her a star around the world. Behind the scenes she fell in love with Andre Garfield, who played Spiderman. Like in the movie in reality the love story didn't last. Being famous wasn't easy for her.
"For me it was hard to get used to be in the public eye."
She got her second Golden Globe nomination two years ago for the black comedy Birdman. Stone described the shooting of that film as very challenging. She was ready to pack her bags and walk out. Luckily for all, she thought better of it.
La La Land where she reunites with Ryan Gosling. They played previously together in the romantic comedy Crazy, Stupid, Love. Just before she started to shoot La La Land with director Damien Chazelle she performed on Broadway in the musical Cabaret.
"That helped me to understand the through line of how you could measure a performance to burst into song or let the song tell the audience something emotionally to reserve some and let some come out from the song."Mixing old and modern Hollywood, La La Land tells a heartbreaking love story. "I just love musical as an art form as I ever have, if not more now, because I am so proud of what Damien made and I think that he did something for modern audiences that hopefully those older musicals made me feel."