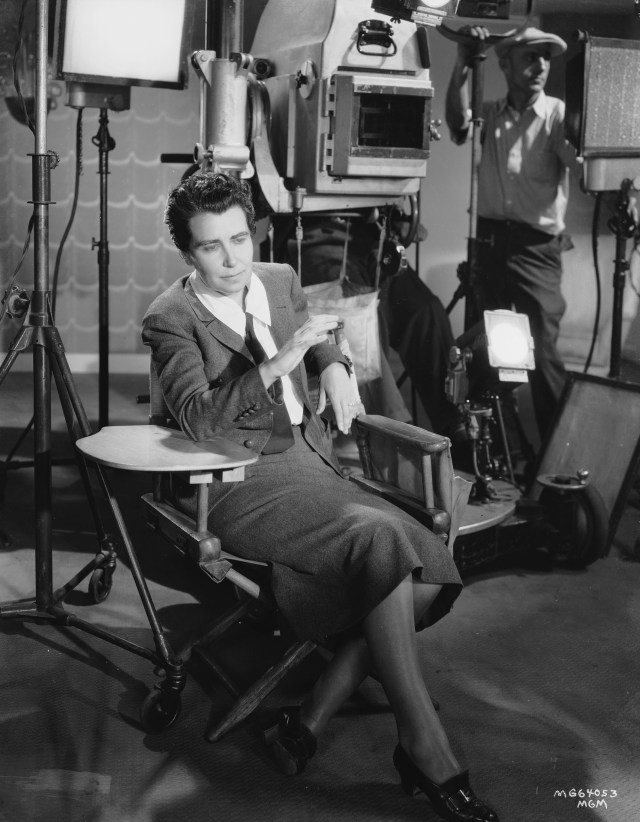 Forgotten Hollywood: Dorothy Arzner
February 16, 2022
—
Meher Tatna
"When I went to work in a studio, I took my pride and made a nice little ball of it and threw it right out the window," said director Dorothy Arzner in a 1933 article in Silver Screen magazine entitled "Get Me Dorothy Arzner". Whatever tribulations she went through to build a career in Hollywood that started in silent films, in an industry dominated by men, Arzner, almost forgotten now, has more major studio directorial credits than any other woman to this day.
Born in 1897 in San Francisco, Arzner moved with her family to Los Angeles after the big earthquake of 1906. Her father owned the Hoffman Café, a restaurant where she met many of the big stars such as D.W. Griffith, Mary Pickford, Douglas Fairbanks, and Mack Sennett. She started out as a medical student at USC, but gave up that career to work in movies. In a 1974 interview by Karyn Kay and Gerald Peary published in Cinema magazine, she explained why.
"This was after World War I and everything was starting to bounce – even the infant picture studios. An appointment was made for me to meet William deMille [Cecil's brother]. He was told I was an intelligent girl. There had been a serious flu epidemic, so workers were needed … There I was standing before William deMille, saying: "I think I'd like a job in the movies." William deMille: "Where do you think you'd like to start? … Maybe you'd better look around for a week and talk to my secretary. She'll show you around the different departments." That sounded interesting enough to me. I watched the four companies that were working, particularly that of Cecil DeMille. And I remember making the observation, "If one was going to be in this movie business, one should be a director because he was the one who told everyone else what to do."
However, after I finished a week of observation, William DeMille's secretary told me that typing scripts would enlighten me to what the film to be was all about. It was the blueprint for the picture. All the departments, including the director's, were grounded in the script. So I turned up at the end of the week in William deMille's office. He asked, "Now where do you think you'd like to start?" I answered, "At the bottom." He looked penetratingly serious as a schoolteacher might, and then barked, "Where do you think the bottom is?" I meekly answered, "Typing scripts." "For that, I'll give you a job."
Arzner started in the typing department at $15 a week at the Famous Players-Lasky Corporation, now Paramount Pictures. In six months, she had moved up to cutting and editing films at a subsidiary, Realart Studio, and 52 films later, she was recalled to the main studio to do the same work on Blood and Sand, Rudolf Valentino's 1922 blockbuster. She was mentored by director James Cruze whose script girl she became while writing screenplays on the side such as Old Ironsides (1926) and The Red Kimono (1925). In 1927, when she received an offer to write and direct a movie for Columbia Pictures, she handed in her notice at Paramount, but was prevailed on to stay by producer Walter Wanger who offered her a play called "The Best Dressed Woman in Paris" and told her to write the script and be ready to direct in two weeks. Fashions For Women started shooting fourteen days later.
After four more silent films came another first – she was the first woman director to direct a talkie, The Wild Party of 1929 with Clara Bow in her first talking role as a college student who falls in love with a professor, with Frederic March in his first lead. In this picture, a microphone was tied to a fishing pole to pick up Bow's dialogue as she moved – the first boom mike. The film was the third most successful of the year for Paramount. It was set in a women's college with subtextual homoerotic themes, which would recur in many of Arzner's future films. Despite this fact, and while Arzner is now considered a feminist director, her main aim was to be a competent director depicting realistic female relationships onscreen in movies that were profitable. The Hays Code which was established in 1934 and lasted until 1968 demanded self-censorship in the movies – no 'lustful kissing,' no depiction of miscegenation, no nudity, ridicule of religion, discussions of 'sexual perversity,' or lustful dances. As the only woman director working in Hollywood, and an out lesbian, Arzner's movies were probably subjected to more scrutiny than her male peers.
She stayed with Paramount through eleven movies. Most notable were the melodramas Sarah and Son and Anybody's Woman with Ruth Chatterton in 1930; Chatterton was Oscar-nominated in the former as a woman who defies her husband to search for her son. Honor Among Lovers (1931) with Claudette Colbert and Fredric March was another hit, dealing with a secretary who repudiates her boss' overtures but ends up with him anyway.
Arzner gave Katharine Hepburn her third movie role in Christopher Strong, after Bill of Divorcement and Morning Glory (for which she won an Oscar) in 1933 after she left Paramount to work freelance. In the film, Hepburn, an aviator, has an affair with a married man. The wife forgives the affair, a twist on the usual narrative of such a scenario. But when Hepburn finds out she's pregnant, she sacrifices herself so as to not break up his family. In 1936 came Craig's Wife with Rosalind Russell (her first lead role) in which a wife is portrayed in a bad marriage. Also in 1936, Arzner became the first woman to join the newly-created Directors Guild of America. Hepburn sent a telegram on the occasion which said, "Isn't it wonderful that you've had such a great career when you had no right to have a career at all?"
Among her later significant films were Working Girls with Judith Wood and Dorothy Hall in 1931 about two sisters who arrive in New York looking for work; and Dance, Girl, Dance in 1940 with Lucille Ball and Maureen O'Hara, a female buddy comedy about two dancers who fight for their breaks while competing for the same man, a film now recognized as an important feminist work though it was a failure when released.
Arzner was part of Hollywood's "sewing circle," a closeted group of lesbian and bisexual women like Greta Garbo, Barbara Stanwyck, Marlene Dietrich, Tallulah Bankhead, costume designer Edith Head, writer Mercedes de Acosta and many others. The group was started by actress Alla Nazimova, whose hotel, The Garden of Allah, was a favored meeting place. At the time, gays in society were considered 'subversives' and constantly harassed and stigmatized as homosexuality was illegal under the prevailing sodomy laws. Arzner worked with and had affairs with several of these women, though her longest relationship was with dancer and choreographer Marion Morgan; it lasted forty years. While she never flaunted her sexuality, she never hid it either, usually dressing in men's clothing, a non-threatening persona to the men that ran Hollywood that probably added to her longevity as a director.
In 1943, Arzner left Hollywood and focused her directorial efforts on training films for the Women's Army Corps and teaching film classes at the Pasadena Playhouse and UCLA. She was also hired by PepsiCo to make commercials through the efforts of Joan Crawford who had married the CEO of the company.
She died in 1979 at the age of 82 in La Quinta, California.
Arzner never won any major awards in her life except for a star on the Hollywood Walk of Fame in 1986. Her career was rediscovered in the '70s by feminist film historians. In 2018, a building on the Paramount lot where her papers are archived was dedicated to her by Francis Ford Coppola who was a student at her UCLA film classes. Coppola said at the time that she was "salty and sort of tough, but she had a heart that was as big as the world, and one way I knew it was because every time she came to class, she would always bring boxes of cookies and crackers because she knew we were starving to death and had no money, and she would always have stuff so we could eat."