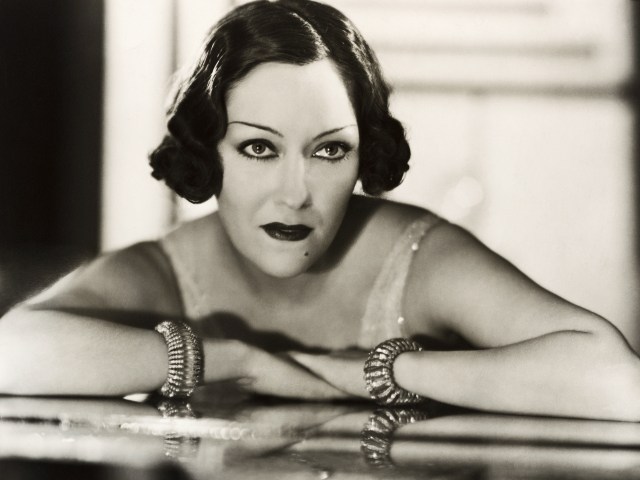 Forgotten Hollywood: Gloria Swanson
April 5, 2022
—
Meher Tatna
While she is best known for her role as fading movie legend Norma Desmond in Sunset Boulevard, Gloria Swanson was a movie star who lived her life on her own terms. The diminutive actress (5'1) lived extravagantly and received unbelievable adulation including ten thousand fan letters a week at the height of her fame. She spent money lavishly and loved a lot of men, none wisely or well, making headlines with every romance and causing her studio, Paramount, to add a morality clause to her contract.
"In those days the public wanted us to live like kings and queens. And why not? We were in love with life. We were making more money than we ever dreamed existed and there was no reason to believe it would ever stop," she is quoted by writer John Kobal in his book "The Lost World of DeMille."
According to Photoplay magazine, she was earning more than a million dollars by 1924 and spent $500,000 on jewelry, $50,000 on gowns, $25,000 on furs, $10,000 a year on lingerie, $9,600 on silk stockings, $6,000 on perfume and $5,000 on purses at a time when the average household income was $3,269.40. She was never seen in public without kohl-rimmed eyes and bright painted lips, wearing beaded and feathered clothes, bejeweled headdresses, and exotic feather boas. She earned and spent $8 million between 1918 and 1929.
She married six times and had numerous lovers. She was twice nominated for Academy Awards, including for the very first Oscars in 1928. She has two stars on the Hollywood Walk of Fame. She got a reported million dollars for her autobiography "Swanson on Swanson" in 1980. And she made a successful life for herself outside Hollywood when she left the industry, painting, sculpting, designing a clothing line called Forever Young, and writing a column called Gloria Swanson's Diary.
Swanson was born on March 27, 1899, in Chicago into an army household. She started working as an extra at the Essanay Studios in 1913 when she was 15. As she started getting more work, she dropped out of school to focus on acting full-time. She worked with newcomer Charlie Chaplin in short silent movies such as 1915s His New Job ("All morning I felt like a cow trying to dance with a toy poodle," she writes about him in her autobiography), and with Wallace Beery in Sweedie Goes to College. She would subsequently marry and divorce Beery. In her autobiography, she accuses him of getting drunk and raping her on their wedding night. She also accuses him of tricking her into swallowing pills when she was pregnant which induced an abortion.
They divorced in 1919. By this time the two were working in Hollywood with Mack Sennett's Keystone Company. Swanson made several comedy shorts for the company, then signed with Famous Players-Laskey to work with Cecil B. deMille, who directed her in comedic hits like Male and Female (1919), Don't Change Your Husband (1919) and Why Change Your Wife? (1920). DeMille made her a star; the other director she would be associated with was Sam Wood with whom she made ten films, including The Great Moment (1921), Under the Lash (1921), Her Gilded Age (1922), and Beyond the Rocks (1922), the last with long-time friend Rudolph Valentino whom she had known since his pre-fame days.
In 1919, Swanson married her second husband Herbert K. Somborn, president of Equity Pictures. They had a daughter in 1920 and she adopted a son in 1923. But the marriage didn't last when Somborn filed for divorce in 1923 citing her infidelity with 13 men, including deMille, Valentino and director Marshall Neilan. After sensational headlines followed, the morals clause was added to her studio contract. (Somborn would go on to own the Brown Derby restaurant in Los Angeles.)
Swanson continued making hits. She made seven films with director Allan Dwan including Bluebeard's 8th Wife (1923), Zaza (1923) and Manhandled (1924). Then she went to Paris to make Madame Sans-Gene in 1925 and married the man who was her translator on the film, the Marquis de la Falaise de la Coudraye. In her autobiography, Swanson confesses to the abortion she had when she was pregnant with de la Falaise's child before her divorce from Somborn came through. This marriage would last five years.
After making Stage Struck in 1925 and Fine Manners in 1926 for Paramount, Swanson turned down a million dollar a year contract offer with Paramount to set up the Swanson Producing Corporation to have her next six films distributed by United Artists. The Love of Sunya in 1927, a film Swanson would call an "agonizing ordeal," was plagued by cost overruns and the lack of an experienced cameraman. It failed at the box office despite decent critical reviews.
Undaunted, Swanson made Sadie Thompson in 1928, a controversial film that dealt with a prostitute (played by her) who encounters a missionary (John Barrymore) on the island of Pago Pago. He wants her to repent and return to her life in the States though he is secretly in love with her. It was based on a W. Somerset Maugham short story. Apparently, Swanson took Will Hays of the censor board to lunch and charmed him into thinking that her movie would not fall afoul of his censors. She got her first Oscar nomination for her performance (she didn't attend) and the movie was her biggest success as a producer, earning $1 million in the US and $7 million overseas.
At this time, Swanson had started an affair with Joseph P. Kennedy, father of the future president. She was still married to de la Falaise at the time who was carrying on his own affair with Constance Bennett. Not only was Kennedy Swanson's lover, but he took control of her finances to disastrous effect. It was he who advised her to sell her distribution rights for Sadie to UA as he thought it was going to be a flop.
Queen Kelly was her next film in 1929 and that one had problems of its own. It was produced by Kennedy and directed by Erich von Stroheim who was fired mid-production. Swanson disliked the script, scrapped an African secondary plot, and reshot the ending two years later for audiences in Europe and South America. The film was never released in the US for legal reasons to do with von Stroheim and lost her a lot of money. Swanson and Kennedy broke up and she divorced the marquis as well.
Then she married her fourth husband, Michael Farmer, who she met in Paris in 1931. She found out she was pregnant by him before her divorce from de la Falaise became final. Farmer insisted they marry, or he would go to the press with the news of her pregnancy. Daughter Michelle was born in 1932. They divorced in 1934. In the meantime, Swanson started an affair with British actor Herbert Marshall, another romance that made headlines. When she realized he wouldn't leave his wife for her, Swanson ended the liaison.
After the Queen Kelly debacle, Swanson tried her hand at talkies, making The Trespasser in 1929 which got her another Oscar nomination. But her next few films failed and so in 1938, she decided to move to New York and start another chapter in her life.
In New York, she established a company, Multiprises, Inc., that supported inventors; she also helped four Jewish scientists escape the Nazis and continue their work in the US, sponsoring and patenting their inventions. She appeared on stage and on television. She hosted The Gloria Swanson Hour on television in which 15 minutes was devoted to the subject "Glamour on a Budget." She made personal appearances across the country to promote her budget clothing line "Forever Young" which sold for over three decades at stores like Neiman Marcus. She had been a strict vegetarian since the 1920s and publicly extolled the virtues of a macrobiotic diet. She practiced yoga. She painted and sculpted and had exhibitions of her work.
She also got married again to investment broker William M. Davey in 1945. He was an alcoholic. Their divorce was acrimonious; Davey tried to get out of paying alimony by citing mental cruelty. He died in 1946 and Swanson got nothing.
In 1950, director Billy Wilder asked her to return to Hollywood to be in his film Sunset Boulevard, after Mae West, Greta Garbo, Clara Bow and Norma Shearer all turned down the role of the delusional has-been movie star, Norma Desmond. Swanson had to screen test for it. In her autobiography, she writes that she didn't want to do the test and asked director George Cukor for advice. His response: "If they ask you to do ten screen tests, do ten screen tests or I will personally shoot you." Swanson made $50,000 for her work in the film (almost $600,000 today). William Holden played the part of the writer hired by Norma, and von Stroheim, the fired director from Queen Kelly, played her butler. (Scenes from that movie were used in the film as one of Norma Desmond's.) The film had its premiere at Radio City Music Hall on August 10, 1950 and grossed over a million dollars in its first seven weeks. Swanson went on a publicity tour by train across the country to promote it and ended up making almost $2.5 million in 1950. Swanson would win a Golden Globe and get her third Oscar nomination for the role.
The scripts offered to her after this film were not to her satisfaction and Swanson decided to return to the New York stage and continue her television work. She appeared in Twentieth Century on Broadway in 1951 and made numerous television appearances on shows like The Carol Burnett Show, Butterflies are Free, Killer Bees and Burke's Law for which she won another Golden Globe for Best Actress in a Television Series in 1964. She also appeared on Johnny Carson and Dick Cavett's talk shows. Her last performance was playing herself in Airport 75 in 1975. She also was involved in politics; as a Republican, she led the group "Seniors for Reagan-Bush."
After a thirty-year break, Swanson married her sixth husband, writer William Dufty in 1976 when she was 76, and they stayed together till her death. She was 80 when her autobiography, "Swanson on Swanson," was published to great acclaim.
After a visit to Portugal in 1983, Swanson died of a heart attack at age 84. She was buried at the Episcopal Church of the Heavenly Rest in New York City.
Twenty of her films are lost.