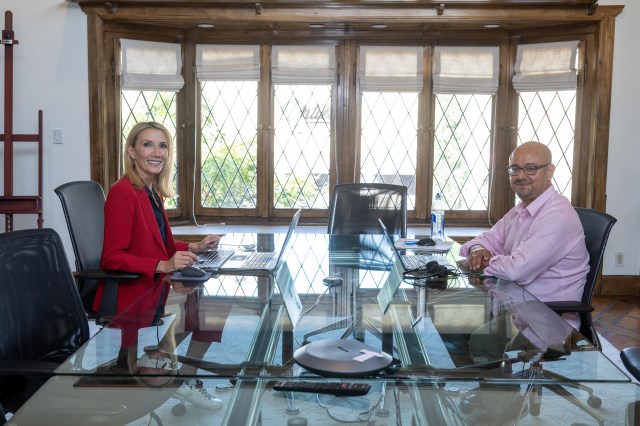 Global Challenges Require Global Solutions: Can Content Creators Make a Difference?
July 28, 2022
—
Yulia Lolo
It's almost 70 years since the term 'edutainment' was created by Walt Disney to describe True-Life Adventures, a series of short and full-length documentaries released between 1948 and 1960. Edutainment has been in place for centuries before that though nowadays vital issues are discussed not only through books, but via films, television, museum exhibits, games, social media platforms, and even in Metaverse via various special projects in VR and AR.
Many A-list Hollywood celebrities including Golden Globe winners Leonardo DiCaprio, Angelina Jolie, Julia Roberts, Matt Damon, Natalie Portman, George Clooney as well as global influencers like Elton John, Meghan Markle, Kim Kardashian, and many others, have been using their fame and recognition to make a real difference in the world on issues such as of poverty, gender equality, climate change, sexual violence, vaccines, HIV, and others.
But can Hollywood as an ecosystem of content creators do more to transform the way attitudes, behaviors, and norms contribute to the development process?
"We Can Make a Difference in How People Think, Act, and Thrive!" This could be a slogan of the very first forum launched by the Hollywood Foreign Press Association and the World Bank Narrating Behavior Change Program. Zoomed on July 27, this forum focused on the most important issue: what could be done to maximize the entertainment media reach and influence on global audiences which span over 5.4 billion television viewers, over 5 billion smartphone users, and 1.6 billion Facebook daily active users.
The forum moderated by Arianna Legovini, Director, Development Impact Evaluation Department, World Bank, included laconic but very informative presentations by the keynote speakers, followed by a Q&A session.
HFPA President Helen Hoehne opened her presentation by saying that besides giving out the Golden Globe awards, "the core mission is to fund the HFPA's charitable and philanthropic program."
HFPA President Helen Hoehne said that post-pandemic "Hollywood is coming back and aiming to reach the market set in 2019 of $36 billion in worldwide box office revenue. With the growth in streaming worldwide, there is a new competition for non-English language content to serve audiences overseas and in the U.S."
Hollywood is on track to release about 800 movies annually as it rebuilds from pandemic disruptions, but emerging markets overseas, such as China, are driving a new level of box office revenue and production. Hoehne said that Bollywood in India, and Nollywood in Nigeria are becoming the largest production centers outside the U.S. and Europe, producing 3,000 and 2,500 movies a year, respectively.
"The HFPA hopes to bring Hollywood creatives together with the international development community to create these impactful and important edutainment programs. In January, the Golden Globes generated more than 4.4 billion impressions on social media platforms, outperforming all other award shows combined, which is why we believe leveraging the Globes with the World Bank will help lead greater awareness about the power of edutainment programming", she said.
Golden Globe winner, actress, producer, and activist Sharon Stone was part of the panel said politics and the entertainment industry should build a bridge.
"We have to think about what we do because we are the one thing. Entertainment is a global touch. We go beyond policy. We go beyond every other business in the world", she said.
"Despite entertainment being an important source of tax revenue, tax policies are not friendly to this sector. Ms. Sharon noted even though I have gone to the Capitol and discussed this with senators, there is no logic in this relationship between entertainment and government. This is something that we really, really need a bridge to, because it does not make sense", she said.
Christopher Bailey, Arts and Health Lead, World Health Organization, added that "the arts or entertainment or media is effective at behavior modification, but why? What's happening biochemically, what's happening neurologically that has this effect."
He elaborated on this complex question: "If you try to explain to somebody logically why they should do a certain thing with evidence, that gets processed in the frontal cortex of the brain, which is where we think, where our conscious mind is. But unfortunately, that's not where behavior is happening. That's not where our sense of identity is laid. That's in the midbrain, and to access that you have to have emotions, you have to have empathy."
He added: "There are many, many different programs that we do, but one of the reasons why we got into a more formal engagement with the global media, it's really quite simple. They reach a lot of people that at the end of the day, when we're talking about public health, when we're talking about global health, if we are limited in our scope, then we're not actually doing our job. We need to reach the most number of people, and media and all of its forms does exactly that."
Maher Nasser, Director of the Outreach Division, United Nations, spoke about numerous initiatives implemented by the UN in collaboration with Hollywood and European celebrities, including Leonardo DiCaprio's speech in the Climate Change Summit in 2014: "It was the first time that we have 3.9 million views of a UN YouTube."
One of the biggest and the most successful collaborations mentioned by Maher Nasser, was with Angry Birds. "We have started the collaboration with Sony, Sony Music, well Sony Entertainment, and they came to us in saying, 'We have this film coming up and it's about Angry Birds. How can we work? Because we think we want to be helpful in the issue in the theme of sustainability.' And the theme was, and they produced many short clips of Angry Birds, they're angry because humans have messed up, we have to sort things out. We have to clean up behind us, less plastic, conserve energy."
Victor Orozco, Senior Economist and Edutainment Lead, World Bank, spoke about a few randomized controlled trials World Bank conducted in the entertainment hubs of Nigeria and India. For instance, Season 3 of MTV's Shuga drama led by Golden Globe winner Lupita Nyong'o, doubled HIV testing, reduced by half sexual concurrency and reduced by half chlamydia in several sub-Saharan countries.
In Northern Nigeria, the animated TV series My Better World following the adventures of six African teens as they navigate the challenges of school, generated a decrease of 42% of out-of-school children and increased learning, as well as underage employment and teenage pregnancies.
He stated that "the use of entertainment media with development objectives can work wonders in improving attitudes and behaviors of audiences. High quality edutainment requires investors to work with professional storytellers, those who know how to immerse audiences in engaging stories, and through formative research to adapt content for target audiences. The world is facing multiple pandemics.
"Worldwide, there are 1.5 million new HIV infections every year. One in three women have experienced sexual or physical violence in their lives. One in 20 of all deaths of youth are related to alcohol use. These statistics are not that different for the US. Entertainment media is part of the problem, by normalizing a lot of these bad behaviors, but media can also be part of the solution," Orozco said.
"For example, there are more than five billion TV viewers, social media users spend an average of 2.5 hours on these platforms a day. And through stories, us humans make sense of the world, good intentions may not be enough. After all, audiences may like and follow more the bad guy of a story. Like with any new vaccine or program, programs need to be evaluated before they are scaled," he added.
Madeline Di Nonno, President and CEO, Geena Davis Institute of Gender in Media, said the LifePack initiative launched by Eleanor Crook Foundation to unite the video game industry to help end severe childhood malnutrition.
"By embedding in-app game purchases like tokens as the consumers playing the game do that, that generates not only fun but also the distribution for this ready-to-use therapeutic food," she said, adding that the partnership with SpongeBob: Krusty Cook-Off showed a 56% activation.
"This is a beautiful example of public and private entertainment coming together to really foster something that can address a world problem," Di Nonno said.
Paul Katz, Founder and CEO, Entertain Impact, said "music and the arts are things that change lives". His presentation covered several edutainment projects related to the music industry, including collaboration with Global Citizen: in Paris Elton John "from the stage, used his, not just his musical notoriety, but also the fact he'd been working with HIV/AIDS for decades through his foundation and doing wonderful work, to announce it."
According to Katz, the research for the industry shows that "consumers, especially millennials and gen Z, want to work for companies that do good. They want to buy products from companies that do good."
Edwin Ikhuoria, Africa Executive Director, ONE, spoke about social media as a tool that "can draw the power of celebrity in mobilizing people to take action". He presented the #PasstheMike campaign launched in Africa when COVID hit the world in 2020.
"We got about 42 pairs of talents and experts. It was to get the talents to hand over their own social media accounts to these experts to speak and dish out the facts about COVID, the pandemic, and what needs to happen to get us to the end, or to get us out of the pandemic," he said.
He also mentioned Myth or Vax – "another social media campaign on TikTok that basically targeted disinformation that reached about 104 million people" and talked about a song called Stand Together. "We got different artists, about 10 different African artists together in the heat of the pandemic. It became the theme song by the African CDC in basically pushing the right information, not just information, but to build solidarity on the continent and get people to come out of that state of despair, that we can get out of this pandemic," he said
This two-hour forum was just a start of an ongoing conversation, and was wrapped up by Legovini's question about one key ingredient for the future success of edutainment. Investment, mobilization for action, collaboration is absolutely crucial, but they won't be enough without "creative storytelling and curiosity for other nations and cultures" as Hoehne emphasized: "Let's think more global. Let's not think of one country. We come from many different countries, and we should think as one world."