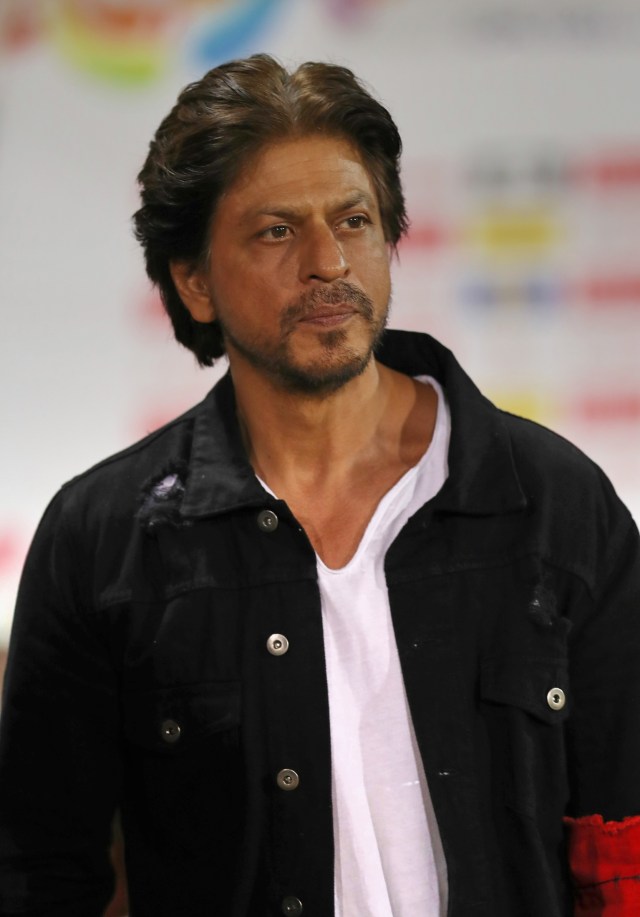 Global Star Profiles: Shah Rukh Khan
March 27, 2020
—
Meher Tatna
conferred the "Chevalier de la Légion d'Honneur" from the government of France, his second such honor after the "Officier de L'Ordre des Arts et des Lettres" in 2007.
0in;background:white'>Khan, now 53, a Muslim born in Delhi, was raised by his grandmother in his early years. He moved to Mumbai to follow a girl, he told David Letterman on My Next Guest Needs No Introduction. Knowing only that she liked to swim, he looked for her on every beach in Mumbai till he actually found her. They married in 1991and he and Gauri Khan, who is Hindu, have three children.
"Whenever I start feeling too arrogant about myself, I always take a trip to America," he said during a speech at Yale University, after he was released the second time from LAX. "The immigration guys kicked the star out of stardom."
At a press conference with the HFPA in 2011, for his film Ra One, Khan explained how he sees his movie stardom. "The only entertainment available in our country is cinema," he told our members. "And of course, television, which is also 50% derived from cinema. India doesn't have the culture of rock stars yet. We don't have musicians or singers becoming famous and holding concerts, like you have here. We don't even have sports as entertainment in a very big way. So, with films being the only mode of common man's entertainment, whenever people do well in cinema, somehow people really think that you are the chosen one. To get to be chosen between 1.2 billion people and suddenly make it so big. If you're traveling around the world, every fifth person knows you. And so it's quite amazing actually."
He readily admits that the adulation he receives is way out of proportion to his talent. "It's just shocking how much they love you, and especially people away from the country. They feel it's the only connection they have left with India. So, it's kind of an emotional bond, rather than a professional bond with stars. In the US, everyone is, oh, he's a big star. He's a professional, so wonderful to see him. But in India, it's like, oh, he's my guy, you know, it's a very emotional bond. That's why they love you a lot. And they hate you enough also equally."
He explains the downside of his fame. "They get very angry with you if you disturb their vision of what they expect you to be. If you become a movie star, people expect you to be a certain kind of a good human being. Because if you're the chosen one, there must be something really nice about you. You can't be a bad guy and be a star. So, you kind of have to try and live up to the expectation. Speak the right thing, because it is a little constricting to be a movie star. And yeah, people make temples, so you're kind of a demigod. So you have to behave demigod-ish-like even if you're not."
The level of celebrity worship in India is astonishing. Aside from the temples built in his honor, fans travel thousands of miles to get a glimpse of Khan. Every year on his birthday and on Diwali, they gather outside his home in the blazing sun for hours just to see him wave and blow kisses for a few minutes. They dress like him, follow him, obsessively watch his movies, collect memorabilia, send marriage proposals. The adulation is almost the same in other countries.
color:black'>Screaming fans surged toward actor Shah Rukh Khan as he stepped out from the arrivals gate at Beijing Capital International Airport. One fan who had traveled from faraway Xinjiang placed a dark embroidered hat common to China's Uighur ethnic minority on his head, as others embraced and kissed him. Another fan gave him a dutar, a traditional Central Asian lute that she'd flown all the way from the region.
0in;background:white;vertical-align:baseline'>One of Khan's movies, Dilwale Dulhaniya Le Jayenge, has run for 20 years in India. For some reason, that film captured the hearts of his fans in Germany where he extremely popular. It was released as Wer Zuerst Kommt, Kriegt Die Braut. Khan shot to stardom in Germany when his blockbuster Kabhi Khushi Kabhi Gham was shown on television in 2006. He told the magazine DW, "I don't think that with our type of cinema or with the songs, it's about understanding the language. It's about what people feel. And it appears to me that people in Germany are very fond of our films, which appeal to their emotions.' He is routinely mobbed if he films in Germany. There is even a magazine called Ishq in Germany that focuses only on Bollywood.
0in;background:white'>In 2016, Khan visited the Morocco Film Festival. The BBC reported that he was surrounded by thousands of fans all screaming and waving, trying to touch him and get photos. He was literally treated as royalty, being the guest of honor of king Mohammed VI who honored him with the 'L'Etoile d'Or', the first Indian to be so honored.
Or maybe it's gaining a brand-new fan in David Letterman who traveled all the way to Mumbai to interview him for the Netflix show. Letterman actually climbed onto Khan's roof to gape at the thousands of fans that had showed up on his doorstep to greet him. He said to Khan at the end of his show which was taped in New York: