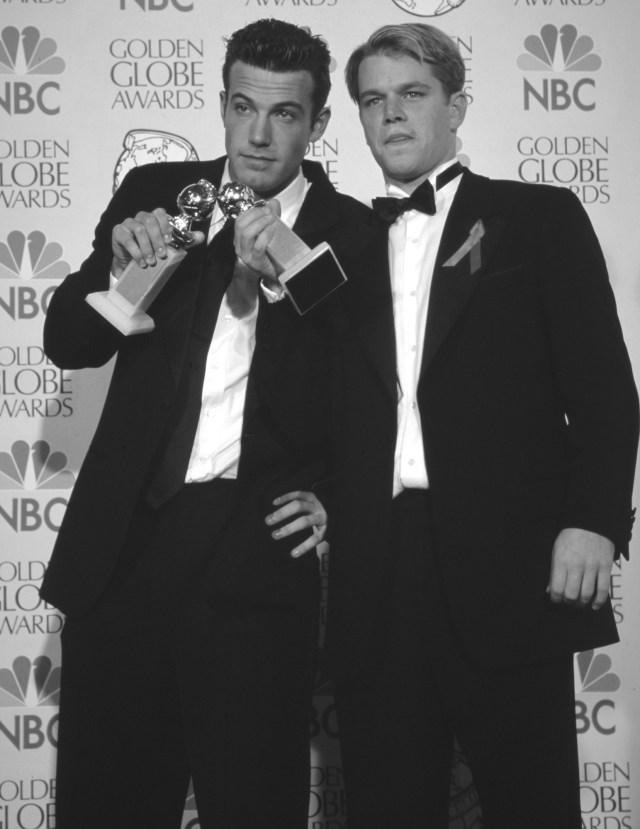 Golden Globe Moment: When Matt Damon Became "Matt Damon!", 1998
January 1, 2022
—
Ana Maria Bahiana
23 years ago, before he was the lean, mean, muscled killing machine that is Jason Bourne – and a star and key power player in the industry – Matt Damon had caught our eye as a razor-thin, drug-addicted Army medic in director Edward Zwick's Courage Under Fire. The Boston native already had entries in his filmography – a bit part in the indie hit (and Julia Roberts' feature film debut) Mystic Pizza, some TV work and more substantial roles in School Ties and Geronimo: An American Legend. The sheer physicality of his performance in Courage, however, raised everybody's awareness – watch out, there's new, real talent in this town.
One year later we met Matt in person for the first time. 1997 was a very busy year for him – in April he was seen in a bit part in Kevin Smith's Chasing AmyFrancis Ford Coppola's The RainmakerGood Will Hunting, directed by Gus Van Sant from a script written by Matt and his longtime friend Ben Affleck. We caught up with Matt at a very special time, in the last months of the year. "It's daunting", he told us about the struggle of being a young professional trying to find a place in a highly competitive industry. "We are a cynical generation but it's idealistic too. We're willing to run into brick walls until somebody opens a door for us."
Eight weeks later Matt (and Ben Affleck) would be onstage at the Beverly Hilton accepting a Golden Globe for Best Screenplay for Good Will Hunting (Damon was nominated for his performance, as well). Other accolades would follow, including an Academy Award. The brick wall, all of a sudden had a wide open door.