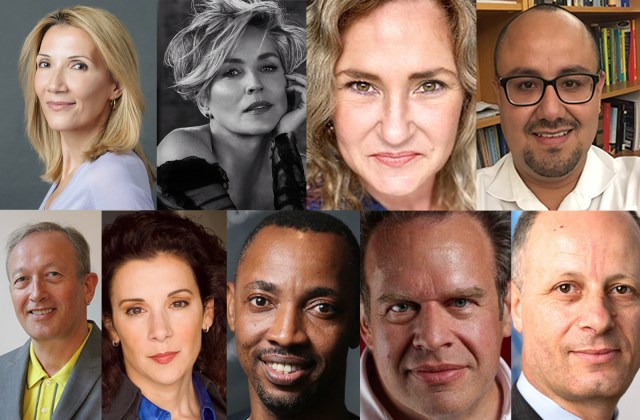 The HFPA And World Bank Announce Global Forum Panelists on Edutainment
The Hollywood Foreign Press Association (HFPA) and the Narrating Behavior Change Program of the World Bank announced the panelists participating in the first in a series of Global Forums focused on the growth of edutainment programming around the world and the use of entertainment media with educational objectives.
Educational entertainment programming was first coined by Walt Disney in 1954, but its roots go all the way back in history with writers using literary devices to convey meaning and to educate on important issues of the day. Even Shakespeare's sonnets sought to convey the importance of politics, class, and societal structures in ways ordinary commoners could grasp and act on.
But in today's modern context, educational entertainment or "edutainment" is rapidly moving to the forefront of policymakers and creative producers as a more effective means of conveying messaging about today's development, security, and environmental crises are affecting billions of people, with emerging markets and developing economies experiencing dramatic retreats in goals aimed at alleviating suffering.
The World Bank and United Nations have long sought to encourage the global adoption of their Sustainable Development Goals (SDGs) which focus policymaking at fixing many of these problems even as we are in the grips of a global heat wave and persistent droughts.
Entertainment media reaches and influences global audiences and their communities. Worldwide, there are 5.4 billion television viewers, over 5 billion smartphone users, and 1.6 billion Facebook daily active users. Stories that go viral can trigger and sustain crises, as recently shown by the COVID-19 misinformation infodemic. On the other hand, profound demographic shifts together with explosive access to online and mobile platforms are reshaping commercial and development opportunities for the entertainment industry.
By 2050, almost all the world's population growth will occur in emerging markets and development areas. These trends are diversifying and enriching the stories the world hears.
The Hollywood Foreign Press Association and the World Bank Narrating Behavior Change Program are joining forces to present the first in a series of forums to understand how the entertainment and development sectors are leveraging entertainment media to reach audiences with more inclusive and persuasive behavior change messaging during today's multiple crises.
The event will consist of short presentations and a panel that will discuss the existing evidence base of edutainment and recent partnerships between the entertainment and development sectors to systematically use edutainment to combat global challenges, such as gender equality and the COVID-19 pandemic.
For Hollywood content producers, the opportunity to carry messages that educate and entertain and move and motivate people to take decisive action backed by development groups and government entities to promise a powerful union and force for change.
The online event will be in English and will have interpretation in Arabic, French, and Spanish.
WHAT: "Global Challenges require Global Solutions: Innovative Partnerships between the Entertainment and Development Sectors" Presented by the HFPA and World Bank in an online forum. Please go here to the event page for more information.
WHEN: Wednesday July 27, 2022
11:00am-1:00pm PT / 2:00-4:00pm ET
WHO: Helen Hoehne
(President, Hollywood Foreign Press Association)
Actor/Producer/Activist
(Director, Development Impact Evaluation Department (DIME), World Bank
(Senior Economist and Edutainment Lead, World Bank)
(Founder & CEO, Entertain Impact)
(President & CEO, Geena Davis Institute on Gender in Media)
(Executive Director, ONE Campaign Africa)
(Arts & Health Lead, World Health Organization)
(Director Outreach Division, Global Communications Department, United Nations)
WHY: While previous World Bank forums focused on publicly funded productions for audiences in developing countries, the new HFPA-World Bank forums will explore the challenges and opportunities for public-private partnerships to systematically scale up investments in edutainment, including with the LA-based industry and its celebrities. The online event will be publicly available and will target both the entertainment and development sectors.
Edutainment promotes and supports programs designed to combat poverty, gender inequality and climate change, among others. These issues are at the core of the environmental, social, and governance (ESG) frameworks of investors, and the United Nations Sustainable Development Goals (SDGs), which are an urgent call for action by all countries to address today's global challenges.
Founded in 1947 and with 189 member countries, the World Bank works in every major area of development with the goals to end extreme poverty and promote shared prosperity in a sustainable way. In partnership with researchers, development practitioners and media firms, the World Bank's edutainment program is rigorously testing edutainment innovations in the main entertainment hubs of developing countries, including India, Mexico, and Nigeria.
These new HFPA-World Bank forums will tackle issues such as harnessing the power of entertainment and popular culture to support development goals and help educate, empower and motivate communities around the world to action.
The working group for the global forums includes HFPA, the World Bank, and former NASA producer Michael Carbajal, an LA-based creative advisor.
The Panel will be available in the following languages:
Arabic:
https://video.ibm.com/embed/24632289
English:
https://video.ibm.com/embed/24632286
French:
https://video.ibm.com/embed/24632288
Spanish: