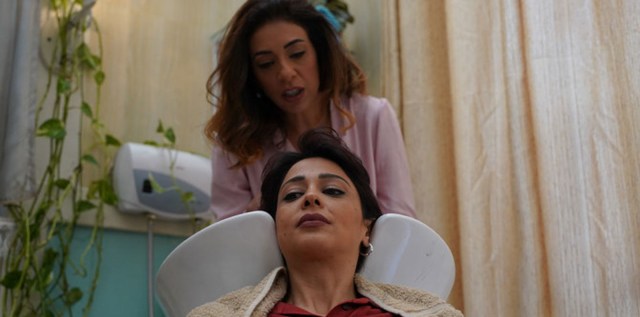 Huda's Salon Wins the Dutch Movies Matter Award
April 20, 2022
—
Howaida Hamdy
Hany Abu-Assad received the Dutch Movies Matter award for Huda's Salon from the 14th edition of the Movies That Matter Festival. The international film festival homing in on human rights ran April 8-16, 2022, and screened its films in The Hague, online, and in cities across the Netherlands.
The winners were announced on April 16, 2022, during the awards ceremony at the Pathé Buitenhof cinema in The Hague.
Sixteen years after his Golden Globe award for Best Foreign Film for his movie Paradise Now, which also earned him an Oscar nomination, Palestinian-Dutch director Hany Abu Assad presented his new film Huda's Salon, based on real events about a female hair salon owner, who uses manipulation tactics to coerce Palestinian women to cooperate with a secret organization.
The film starts with Reem, a beautiful young wife and mother of a baby girl, entering Huda's salon for a hairstyling service. As they start chatting, Reem tells Huda that she is not happy with her husband and Huda quickly realizes that she got a new potential victim she can lure into her trap. She offers Reem a cup of coffee which she had previously drugged. After waiting for Reem to fall unconscious, Huda strips her of all her clothes and photographs her with a young man she had hired for this purpose; she then uses the photos to blackmail Reem to force her to cooperate with the secret organization, which Reem refuses to do. She runs away from the salon, terrified.
When Huda falls into the hands of Palestinian men, they take her to a dark hideout and confiscate her phone. Upon examining the pictures on it, they identify the young man who helped her in blackmailing her victims. They arrest him and burn him alive without trial in an extreme, violent, and brutal scene.
In a dark interrogation room, the two rivals, Hassan – the leader of the Palestinians – and Huda sit at a small table. Hassan lays the photos of the naked women on the table like playing cards, and Huda sits, dignified and confident, across from him. Huda admits that she is the only culprit and insists that no blame should be put on her female victims as ultimately, they are all like her, victims of an oppressive husband. They all suffer under a patriarchal society of double standards and hypocrisy, that exercises systematic injustice over its weakest members.
It is easy to notice the difference in the portrayal of the two opponents, as Hassan is portrayed as a despicable and lousy traitor, while Huda shows nobility and bravery by appearing to take responsibility in order to protect her victims. The narrative shifts so Huda becomes the one investigating a sad and trembling Hasan.
The film dialogue is cleverly written. The lighting and colors present a stark contradiction between Huda's outdoor salon which is bright and full of cheerful flowers and the other side, painted in a black and gray palette, portraying life behind the separation wall as cruel and ugly.
A month ago, the film was screened in the Arab world and the audience was angered, demanding that the film be banned and that the actress, director, and crew be brought to trial. Part of their anger was directed at a scene with a completely naked Palestinian actress, Maisa Abd Elhadi, regardless of its dramatic significance.
In a press release, the religious bodies in the Arab World demanded the withdrawal of the film, as they regarded it to be highly offensive and described it as a moral crime that breached public decency. The Palestinian Artists Association demanded on its official Facebook page that the film be banned and legal measures be taken against its creators.
Huda's Salon, written, directed, and produced by Hani Abu Asaad, stars Ali Suleiman, Maysa Abdel Hadi, and Manal Awad. It just received a special mention from the jury of the 5th Beirut Women's Film Festival.