In 1954 The Globes Ceremony Was The International Press of Hollywood Awards
December 4, 2015
—
Elisa Leonelli
The 1954 awards were held jointly by the HFCA (Hollywood Foreign Correspondents Association) and the FPAH (Foreign Press Association of Hollywood), the two organizations that would merge in 1955 to form the HFPA (Hollywood Foreign Press Association). The invitation came from The International Press of Hollywood for the Presentation of the Golden Globe and World Film Favorites of 1953, on Friday January 22, 1954 at Club Del Mar, 1910 Ocean Front, Santa Monica.
Spencer Tracy won a Golden Globe as Best Actor drama for The Actress, Audrey Hepburn Best Actress for Roman Holiday, David Niven Best Actor comedy for The Moon is Blue, Grace Kelly Best Supporting Actress for Mogambo, Frank Sinatra Supporting Actor for From Here to Eternity.
We discovered a short B&W film of the 1954 ceremonies, where Rock Hudson accepts an award from Jean Simmons, on behalf of A Queen is Crowned, as Best Documentary of Historic Achievement.
Special awards with different names and motivations were common in the early years of the Golden Globes. New Star of the Year, discontinued after 1983, was called International Star of Tomorrow in 1954. The name more frequently used for this award was Most Promising Newcomer, but it had other variations, like Best Acting Debut in a Motion Picture, Most Outstanding Future Star, Newcomer Most Likely to Achieve International Recognition, etc.
In 1957 Ronald Reagan received the Hollywood Citizenship Award, for "most exemplary conduct and contributions to better citizenship." In 1958 Jean Simmons won an award as Most Versatile Actress, Shirley MacLaine was the recipient of the same award in 1959. In 1960 Hedda Hopper and Louella Parsons won a Journalistic award. In 1962 the Journalistic award, "for outstanding service in the Hollywood field," was given to Army Archerd of Daily Variety, and Mike Connolly of the Hollywood Reporter.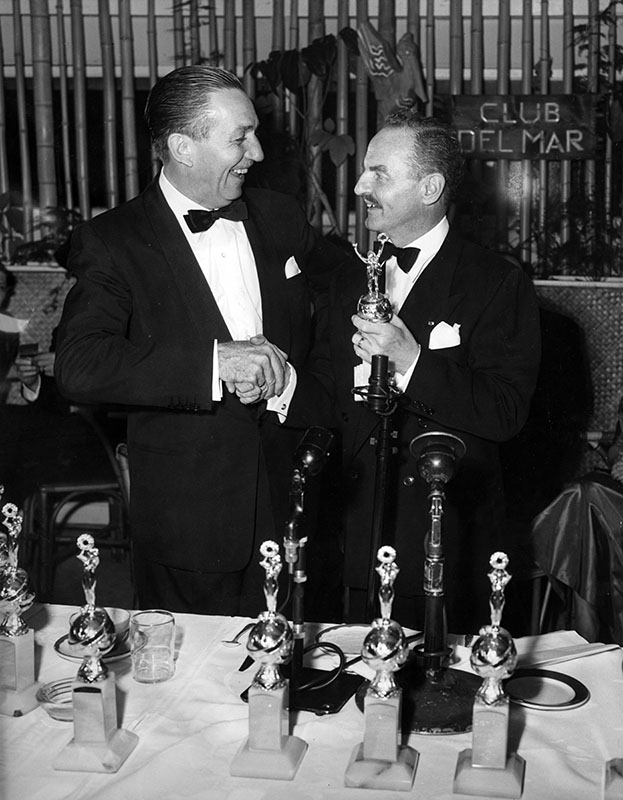 Photo credit: Los Angeles Herald Examiner Collection/Los Angeles Public Library
The Cecil B deMille recipient in 1954 was producer Darryl Zanuck. 1953 winner Walt Disney hands him the special trophy, a globe surmounted by a male figure holding a laurel wreath in one outstretched hand. On the table are more trophies for special awards, a globe surmounted by a female figure holding up a wreath with both hands, replacing the Henriettas, a tall statuette a naked woman holding a flower, which had been handed out by the FHCA at their World Film Favorite Festivals in 1952 and 1953.