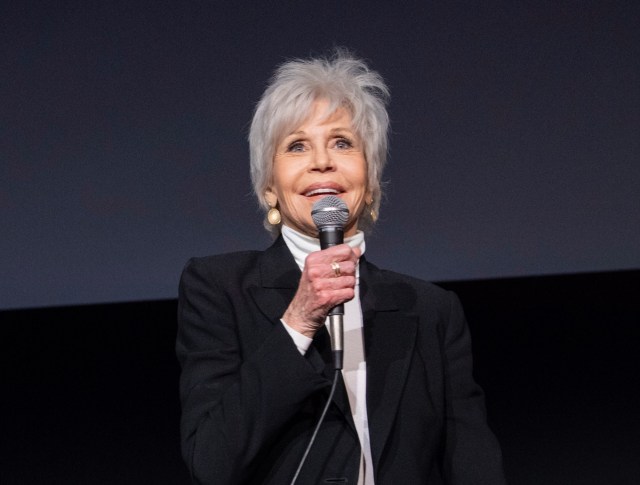 Jane Fonda: The 2021 Recipient of the Cecil B. deMille Award
January 25, 2021
—
Luca Celada, Elisa Leonelli, Ana Maria Bahiana
When Jane Fonda spoke at last year's HFPA Restoration Summit, she described herself as "a newbie at this whole film restoration thing." That may have been partially true (in fact it was the second year that she had done us the honor of speaking at our Summit), but Ms. Fonda cannot be said to be a novice at many things film.
In fact few Hollywood figures are as accomplished as this year's recipient of the Cecil B. deMille Award for outstanding contributions to the world of entertainment. Actress, producer and documentarian, Jane Fonda has been a fixture of American cinema since the heady days of New Hollywood. As an entrepreneur, activist and author she has left a wider imprint on popular culture. She is a global star.

Born to Hollywood royalty, she grew up in Beverly Hills with her movie star father Henry Fonda, so it was perhaps inevitable that she and her younger brother Peter would become actors. In 1958 Jane studied acting with Lee Strasberg at the Actors Studio in Malibu California and in the 1960s embarked on a thriving movie career, making her debut in Joshua Logan's Tall Story (1960) with Anthony Perkins. Her first role won her a Golden Globe in the (since discontinued) category of New Star of the Year – talk about prescience!
By the time the decade was over she had starred in 16 more pictures from Walk on the Wild Side (1962) with Laurence Harvey to Period of Adjustment (1962) by George Roy Hill, Cat Ballou (1965), the comedy western with Lee Marvin, Any Wednesday (1966) with Jason Robards, Barefoot in the Park (1967) with Robert Redford and the campy Barbarella (1968) directed by her French husband Roger Vadim.
This was just the beginning for the actress who, barely a decade in, had already worked with Robert Redford and Marlon Brando, George Cukor, Arthur Penn and Otto Preminger. In 1969 Fonda, who had been living in Paris, returned to Los Angeles with her baby daughter Vanessa, and became a political activist to oppose the Vietnam War. She also started making more substantial films. That year she starred in Sydney Pollack's depression-era drama They Shoot Horses Don't They? which earned her fifth Globe nomination in nine years.
In April 1970, with Donald Sutherland, she embarked on a tour of U.S. Army bases in the Pacific with the anti-war stage show FTA, the restored version of which she presented at our Restoration Summit last year. Her anti-war activism in this period was relentless – and controversial. Fonda was unwavering in her moral commitment to pacifism – which she always put before career considerations.
Back stateside, she shot Klute (1971) by Alan J. Pakula with Donald Sutherland: it garnered her her second Globe, this time for Best Actress – Drama. The following year she earned a third Globe as World Film Favorite (a category since discontinued). In 1973 she married Tom Hayden (one of the original defendants of the Chicago Seven trial and longtime liberal political figure.) In 1976, with her politician husband, they founded the grass-roots organization Campaign for Economic Democracy. Interviewed by the journalists of the Hollywood Foreign Press in 1985, Fonda attributed her political commitment to her father's influence: "I was always brought up to stand up for the underdog, to try to use whatever abilities, skills, talent, power I had to help people who were disenfranchised. My father believed that in his innermost self, and because I loved him, I took that on."
In 1977 Fonda made the comedy Fun With Dick and Jane with George Segal and played Lillian Hellman in Julia by Fred Zinneman with Vanessa Redgrave. The role earned her a fourth Golden Globe win.
Wanting more control over the roles she played, she started a production company, IPC Films, with her partner Bruce Gilbert. Their first film was Coming Home (1978) by Hal Hasby with Jon Voight and Bruce Dern, which dramatized the emotional costs of the Vietnam War. The Best Actress – Drama and again World Film Favorite Globes she would win with that film would constitute the fourth and fifth trophies in six years.
If that was not enough she was nominated again in 1970 for her work in The China Syndrome (1979) by James Bridges with Jack Lemmon and Michael Douglas, about the corporate cover-up of problems at a nuclear power plant. She did not win the Best Actress Globe but took home another World Film Favorite statuette. Ms. Fonda was truly unstoppable.

She started the 1980s with Nine to Five (1980) with Lily Tomlin and Dolly Parton, a comedy about working women overthrowing their sexist boss, which endures as a feminist touchstone, and Rollover (1981) by Alan J Pakula with Kris Kristofferson, exposing the structure of international finance. She also made two modern westerns, Comes a Horseman (1978), again by Pakula with James Caan and The Electric Horseman (1979) by Sidney Pollack with Robert Redford.
In the last film produced by IFC, On Golden Pond (1981) by Mark Rydell she worked with Katharine Hepburn and her father Henry Fonda. The film allowed her to explore the complicated relationship she had with her father, after her mother's suicide when she was 12, and his marriage to a younger wife. She said to the HFPA in 1981: "I reconciled with my father at least 10 years ago or more. Whatever little differences we had around the Vietnam War or earlier, when I was trying to discover my own identity that happened quite a long time ago. My father is a very introverted person, and sometimes we needed to be reminded that he loved us because we weren't sure of it."
Fonda continued to produce engaging films throughout the 1980s, the TV movie The Dollmaker (1984), Agnes of God (1985) by Norman Jewison, The Morning After (1986) by Sidney Lumet with Jeff Bridges, Old Gringo (1989) with Gregory Peck, Stanley & Iris (1990) by Martin Ritt with Robert De Niro. She retired from acting after her marriage to TV mogul Ted Turner in 1991 and moved to Atlanta, Georgia, to live with her third husband. As she explained to HFPA in 2005: "I was miserable. Every day I would wake up to go to work scared to death and I didn't want to do it any more. Then I met Ted Turner and I didn't have to do it. I was very grateful."
In 1996 she wrote a cookbook, "Jane Fonda: Cooking or Healthy Living", then, after divorcing Turner in 2001, she started working on her memoirs, publishing "My Life So Far" in 2005, and returning to films with the Jennifer Lopez comedy Monster-in-Law, Georgia Rule (2007) by Garry Marshall and Peace Love and Misunderstanding (2011).
She had a recurring role in the TV series The Newsroom (2012-2013-2014) and played Nancy Reagan in The Butler (2013) with Forest Whitaker. In 2011 Fonda wrote another book, "Prime Time", full of practical tips for older women, and she continues to produce fitness videos, as she has been doing since the early 80s, now focusing on exercises for seniors.

Having worked with teenagers since the 1980s, when with Tom Hayden she opened the Laurel Springs Children's Camp in Santa Barbara, then having founded the Georgia Campaign for Adolescent Pregnancy Prevention in 1996, this year Fonda published a book of advice for teenagers, "Being a Teen: Everything Teen Girls & Boys Should Know About Relationships, Sex, Love, Health, Identity & More."
With a glowing resume that frames an edgy career spanning 55 years and dozens of awards, you'd think Jane Fonda had nothing more to prove, but she is apparently far from done. The "golden age of television" brought her a Netflix series: Grace and Frankie, playing the straight-laced Grace to Lilly Tomlin's free-spirited Frankie as two mature women reinventing their lives. At the same time she is still the toast of major festivals, whether appearing in Cannes as part of the stellar ensemble cast of Paolo Sorrentino's Youth (2015) or in Venice to receive an honorary award with her longtime co-star Robert Redford and present their Our Souls At Night (2017)
"It's harder to make mistakes when you're older", she once told the HFPA on the set of Grace and Frankie. "My whole life, I did nothing but take leaps of faith and sometimes missed and sometimes landed on my feet. And mostly good things happened because I took leaps of faith." Indeed: from her political activism to her role as leader of the fitness revolution, and her latest incarnation as a leader in the global environmental movement which has garnered her a new generation of followers (and, yes, a fresh rash of arrests for civil disobedience), Jane Fonda continues to be an artist and a humanitarian, a role model, a woman of influence and a Hollywood star for the ages.
We cannot think of a more deserving recipient for the Cecil B. deMille Award.