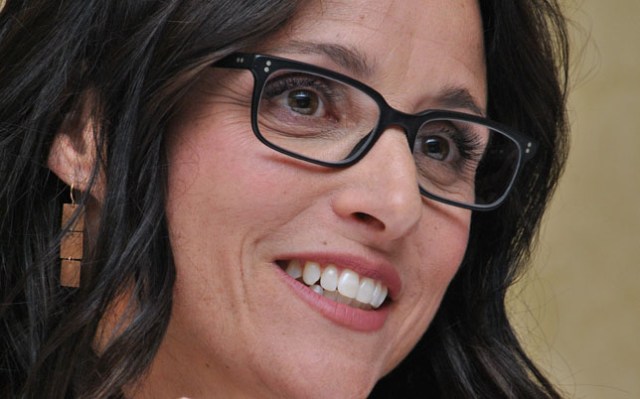 Julia Louis-Dreyfus (Veep and Enough Said)
January 3, 2014
—
Kirpi Uimonen
It's been twenty years since Julia Louis-Dreyfus was first nominated for a Golden Globe award. At that time in 1994, she was thirty-something and played a neurotic but intelligent and assertive Elaine Benes on Seinfeld, the hit show that became a cultural phenomenon. That year she won the golden statue for Best Performance by an Actress in a Supporting Role in a Series, Mini-Series or Motion Picture Made for Television. The next year she was nominated again for the same role.
Her character, Elaine, was the best friend of her ex-boyfriend, Jerry Seinfeld, who played a fictionalized version of himself. Jerry Seinfeld created the show with Larry David, whom Louis-Dreyfus met during her years (from 1982 to 1985) on the late-night live sketch comedy show Saturday Night Live. The gig on Seinfeld lasted nine seasons, from 1990 to 1998.
Acting wasn't necessarily an obvious choice for Louis-Dreyfus. She was born in New York City on January 13, 1961. Her parents divorced when she was a year old. Her mother, Judith, was at the time a writer and special needs tutor. Her father is a multi-billionaire businessman, Gérard Louis-Dreyfus. His great-grandfather Léopold Louis-Dreyfus founded the Louis Dreyfus Group in 1851, which is one of the world's largest commodities trading and merchandising firms.
Regardless of the family business, Louis-Dreyfus created her own path. She studied theater for several years at Northwestern University in Illinois, but dropped out before graduating because she landed a professional acting job. She appeared with Second City, one of Chicago's best-known improvisation theatre groups and also with another Chicago-based theatre company, The Practical Theatre Company, which led her to Saturday Night Live, where she was the youngest female cast member in its history at that time. She was 21.
In 1987, she married writer-actor-director Brad Hall, 55. They met at Northwestern University and they both performed on SNL. They have two sons, Henry, 21, and Charles, 16. After Seinfeld, Louis-Dreyfus did voice roles for the animated movies A Bug's Life and Animal Farm, and she also appeared on three episodes of the Simpsons. In 2001, she played herself on several episodes of Larry David's improvised comedy series, Curb Your Enthusiasm. From 2002 to 2003 she starred in the sitcom Watching Ellie, created by her husband. She then concentrated on taking care of her children.
The sitcom The New Adventures of Old Christine in 2005 renewed her success. She played Christine Campbell – a single mother who manages to maintain a good relationship with her ex-husband while running a women's gym – for five seasons. She received her third Golden Globe nomination for that role.
In early 2011 she started work on the HBO show Veep. She got her fourth Golden Globe nomination for playing U.S. Vice President Selina Meyer in that satirical comedy. Her character is a former senator from Maryland, a one-time presidential candidate and the first female vice president of the United States, who struggles to achieve her political agenda from a position of very little power and influence.
Regardless of fame and money, Julia Louis-Dreyfus is still funny. This year she is a double nominee. One nomination, for Best Performance by an Actress in a Television Series – Comedy or Musical, is for Veep. The other, for Best Performance by an Actress in a Motion Picture – Comedy or Musical, is for the romantic comedy, Enough Said. In that film she plays Eva who befriends a woman and starts dating a man at the same time, only to find out that her two new friends are former spouses. Enough Said is one of James Gandolfini's final film roles.