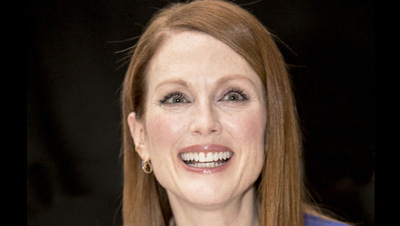 JULIANNE MOORE (Still Alice)
The term 'versatile' is often bandied about in describing actors, but some merit it more than others. Julianne Moore's name, though, comes top or close to the top on any authority's list of versatile actresses thanks to a phenomenal ability to immerse herself so completely into each character. A snapshot of her two-decade-plus career instantly attests to this fact. From edgy roles in such cult classics as Boogie Nights (1997) or The Big Lebowski (1998) to her double 2002 take on the plight of hapless 50s housewives in both Far From Heaven and The Hours.
While some actresses note that their roles have lessened as they reach their 40s and 50s, Moore, at 54, is still very much front and center stage, while doing the best work of her career. 2014 has been one of the very best years yet for this immense and diverse talent. In May she won the Best Actress trophy at the Cannes Film Festival for her tragically funny and desperate portrayal of a fading movie star who sees her best years in the rear-view mirror, in David Cronenberg's biting Hollywood satire Maps to the Stars. "She is a pretty extreme and lonely person as well as being a pretty unconnected person. You definitely relate to that idea of wanting to get a part, every actor can; sometimes you get the part and sometimes you don't but I think we have all been there," she says, candidly. More recently, she was critically lauded for her role as a 50-year-old woman with early-onset Alzheimer's in Still Alice. Unsurprisingly, both roles have earned her Golden Globe nominations, Best Performance by an Actress in a Motion Picture – Drama (Still Alice), and Comedy or Musical (Maps to the Stars). "We all love to be validated but the most important thing is to have something to work on. When you're starting out as an actress, all you want is a job. It doesn't matter what it is, you're like, 'I'll do that!' Sometimes young actors will say to me, 'What should I do?' But you are not going to have the luxury of that choice at the beginning and it's important when you're younger to make mistakes and to learn what you like, and what you don't like. Now that I'm older the spectrum is pretty wide."
To date, Moore has amassed four Academy Award nominations, won two Emmys, and been nominated for nine Golden Globes (winning one), and seven individual SAG Awards. In 2012 she won a Golden Globe, a Primetime Emmy and a SAG award for her alarmingly realistic portrayal of Sarah Palin in Game Change. She has certainly ventured a long way from her beginnings in soap operas such as The Edge of Night (1984) and As the World Turns (1985 – 1988, and 2010). Moore was one of a very few actresses of her generation able to parlay a career from the small to the big screen.
Some of her early film work includes Benny and Joon (1993) and a small but memorable role in The Fugitive released the same year, but it was her work with Robert Altman in his tragicomical ensemble drama, Short Cuts (1993) and her stunning turn in Todd Haynes' Safe (1995) that proved the official launch of this unique talent.
After making another significant impression in 1997's Boogie Nights, she reunited with its director Paul Thomas Anderson for the sprawling saga, Magnolia (1999). That same year she won much acclaim for The End of the Affair (1999) before reprising the iconic role of Clarice Starling in Hannibal (2001), a role popularized by Jodie Foster in Silence of the Lambs. More recently, she has favored edgy romantic comedies such as Crazy, Stupid, Love (2011), and Don Jon (2013). Not one to fear playing unlikeable characters, Moore played the Piper Laurie role as the sadistic, manipulative mother in the 2013 remake of Carrie, and President Alma Coin in The Hunger Games: Mockingjay Part One, which she will reprise in the series' final installment next year.
When not in front of the camera, Moore is also a New York Times best-selling children's author, having had great success with her Freckleface Strawberry series. Each of her three books delivers the message that children can overcome their problems.
One of Hollywood's most prolific actresses, next up for Moore is a starring role in Seventh Son, and Freehold.
Michele Manelis