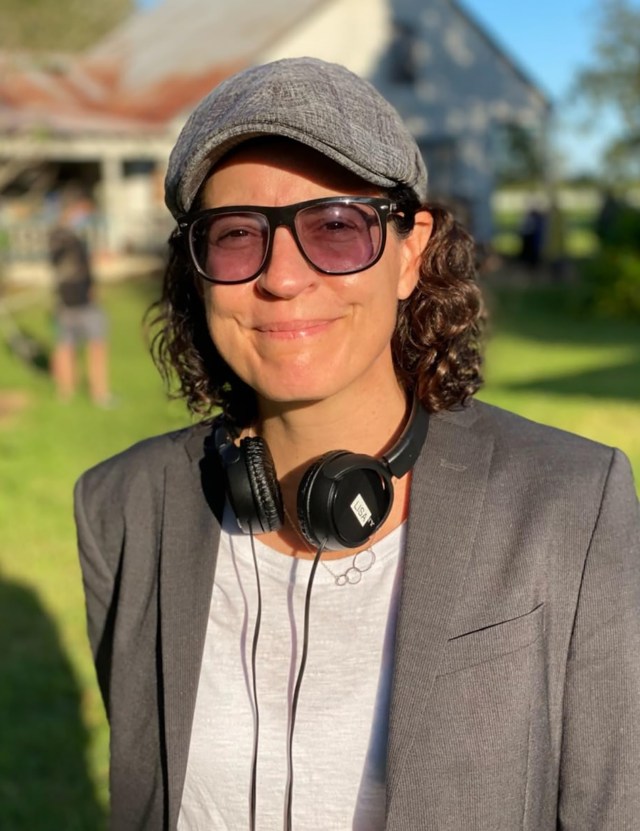 Lisa France on the Importance of the LGTBQ+ Sisterhood
June 11, 2023
—
Tina Jøhnk Christensen
When Lisa France stumbled across the romance film Meet Joe Black (1998) shooting a few blocks from where she lived in her New York neighborhood, right there the former professional basketball player and scholar made up her mind that she was going to pursue filmmaking. She was 29 years old.
One year later, she directed, wrote, and produced her first short film Love in Tow starring Zach Braff and Quentin Crisp which won the Best Comedy award at the Filmstock Film Festival in London. She directed her first feature film, Anne B. Real in 2003 which won more than 30 film festival awards and nominations, including two Independent Spirit Award nominations (Debut Performance and the John Cassavetes Award). Her other credits include the features Love and Suicide, The Unseen and the documentary Roll with Me.
We spoke to Lisa France via Zoom from her home in Los Angeles about being queer, making it in the business and how Ava DuVernay has been a huge supporter of the sisterhood and inspired her to be the same.
You wear many hats as a filmmaker. You have acted, written, produced, directed. What is your main passion?
I think where I am really connected to a creative spirit is when I am directing. I serve the story and I always think of what is going to make the story better. You are just waiting for the idea to come to you. When you are shooting, you are praying for your inspiration that is not scripted and I am very open to that inspiration and find it to be the most available when I direct.
It is a similar situation when I am writing. When I wrote new scenes for The Unseen because I had some amazing actors like Judah Friedlander and Catherine Dent come in later on, I did not even remember that I had actually written these pages. I remember thinking that that is part of the creative process and it is the same with directing. You get so connected to it. The creative self disappears into the creative universe. You become a slave to the story. You serve the story.
You shot several episodes of the TV series Queen Sugar. What is it like working with Ava DuVernay?
I would step in front of a truck for her. I could cry thinking about it. I told her not long ago that if you did not do one more thing to help other people, you have already made a profound difference for every woman you gave a chance to. On Queen Sugar, she gave 42 female directors a chance. None of us had directed episodic television before but she told Oprah that she wanted to support us.
We as women and people of color and part of the LGTBQ world are like the family in Queen Sugar. We are just trying to get a piece of land that we can hold onto and that we can farm. It always feels like someone is attacking us and taking our moment in the sun. But she did the opposite of that. She got a lot of land and she gave each of us a piece of land and then she said 'farm the land' and told each sister to teach another sister how to farm her land. So now there are 42 of us and she created this sisterhood of women, who would support each other. She told us, 'You must support each other.' She steps aside, but when you need her, she is right there.
How would you describe Ava DuVernay?
She is so brilliant and talented and smart and sensitive. She is also strong. She is a strong, powerful force of nature. She has changed all of our lives. I would do anything for her. She is open and beautiful and kind.
Do you have other role models?
Back when I moved to Los Angeles, Lesli Linka Glatter tried to do something similar for women. When I made my first feature twenty-something years ago which was a Black Latinx hip-hop movie, it traveled around the world and it won awards and went to several festivals, [but] I could not get a job or an agent afterwards in spite of it being a success. Ava went through a similar experience and so did the women who directed episodes of Queen Sugar. They will all tell you stories of how they were ignored or not given a chance because they are gay, Black, Latinx or Asian or whatever that is not white man city.
As a filmmaker, how important is it for you to be supportive of the LGTBQ+ community?
Because of the example that Ava set for us, we embrace each other. The show Queen Sugar embraces all of these things and it talked about them in a very difficult way. I got to direct an episode where we are wondering whether Micah is gay. You are wondering what is going on with him and his friend is fluid. These are issues that are hard for Black men to talk about and deal with and we talk about it openly on the show. We see straight men defending someone who might or might not be gay and the fact that this is in Ava's show is great. I appreciate that Queen Sugar deals with these difficult issues in a Black community in the South. And by the way, in Season 5 of Queen Sugar, all the directors were lesbians.
Is it important for you to follow in Ava's foot step's and support the LGTBQ+ community?
Yes. I directed a Christmas movie a few years ago, and the executives said that they were open to me casting any person of color, any sexual orientation, and what a beautiful collage of beautiful creatures are in that movie. It was wonderful. I have always wanted to do that and I have always wanted to uplift people. I love learning about things I don't know anything about and I love exploring new stories about the human experience. When I meet people who have a completely different background from me, I think, 'How do we tell that story?'
It is Pride Month. What does this month mean to you?
It is important and of course I celebrate it. The Writer's Guild is on strike, so we did a Pride strike and it was so much fun. This was the ultimate in Pride: not just about our rights, to being who we are, but it is about being normalized. We just want what everybody else wants.
But LGTBQ+ are not considered 'diverse' which is weird. Only recently did they create a steering committee for the LGTBQ+ group. Yesterday, the Director's Guild of America made an agreement but not everybody marginalized were listed and that is a problem. When you are part of an ostracized community, you need to also take their issues to heart. I am a woman, I have been discriminated against since the day I was born but I was always an ally to everyone marginalized and my dad used to call me the United Nations. I have been a rainbow since I was a kid.