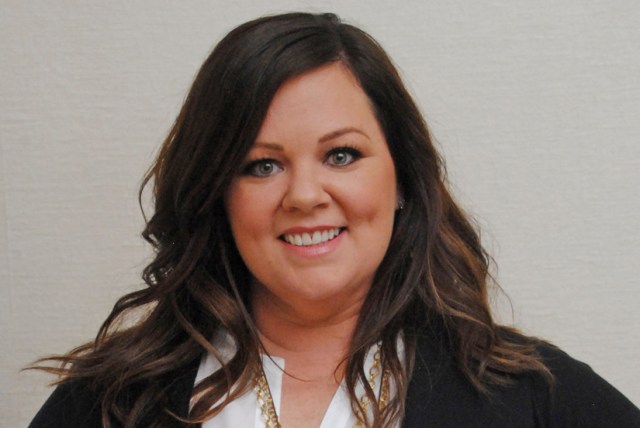 Melissa McCarthy
Being a Bridesmaid has been good to Melissa McCarthy. Since playing Megan Price, the groom's bawdy sister in Paul Feig's Bridesmaids, Melissa has marched to the center of comedy cinema. Now, she's the third highest paid actress in the world, behind Jennifer Lawrence and Scarlett Johansson, according to Forbes.
The Illinois native got her own star in the Hollywood Walk of Fame last May. And this year, Melissa is who you gonna call: Feig's Ghostbusters reboot celebrates girl power by tapping four actresses as leads this time around: McCarthy, Kristen Wiig, Leslie Jones and Kate McKinnon.
From Bridesmaids, for which Melissa earned her first Oscar best supporting actress nod in 2012, she moved up to the Golden Globe Awards' best actress-comedy or musical category for her portrayal of Susan Cooper, an unassuming desk-bound CIA analyst who goes out to infiltrate the world of an arms dealer, in Spy. It's her first Golden Globes nomination.
Aside from the physical demands of doing stunts as an undercover agent in the comedy, which was also directed by Feig (she is virtually his muse), Melissa had two "challenges", who go by the names of Jude Law and Jason Statham.
She got to wrestle Jason. The star recalled, "At one point, we were both on our knees. I can't get up because it was the 15th time we had done it. I thought, he's probably going to be able to spring up. He went, 'I can't get up.' "
As if she's not busy enough, Melissa, who was dreaming of a career in fashion before she pursued acting, launched her fashion line, Seven7.
It's been a fun ride for McCarthy whose growing up years on a farm with no neighbors in Plainfield, Illinois sparked her comedic imagination. She began as a standup comedian in New York clubs. After moving to LA in the late 1990s, Melissa started landing roles in television and film.
The alumna of The Groundlings, the LA-based comedy troupe where many actors honed their craft, made her TV debut in Jenny, which starred her cousin, Jenny McCarthy.
Melissa's first big break came when she clinched the Sookie St. James role in the TV series, Gilmore Girls. Other roles paved the way for her lead character in the sitcom, Mike & Molly. On the big screen, her comic shenanigans in Bridesmaids became her gateway to starring roles.
In the upcoming The Boss, Ben, with whom Melissa has two daughters, directs her again as a follow-up project to their first collaboration, Tammy. The couple, who met at The Groundlings, develop their projects at On the Day Productions, which they co-founded.
In the animated film, B.O.O.: Bureau of Otherworldly Operations, she is the voice of Watts, the partner of Jackson Moss (Seth Rogen). They are newbie agents committed to protecting humans from evil forces.
"I want to do crazy comedies because they make me laugh," she explained. "People need a good laugh sometimes. You can't take it so seriously," added the actress who also made a memorable turn opposite Bill Murray in This is no blushing bridesmaid. Watch Melissa tackle them all.
Ruben V. Nepales