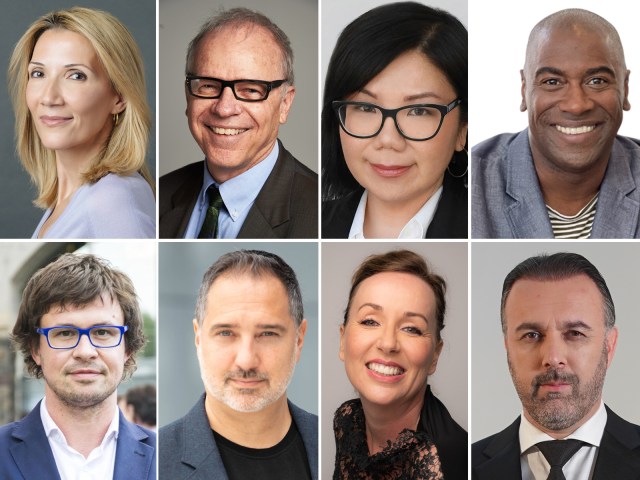 New Membership Board of Directors and Timeline Announced for the 81st Annual Golden Globe® Awards
Nominations will be Unveiled on Monday, December 11, 2023;
Live Ceremony will take place on Sunday, January 7, 2024
For the Awards Timetable, please click HERE
Today, the Golden Globes® announced its newly formed Membership Board of Directors responsible for selecting, ratifying and accrediting journalists as voting members for the 81st Annual Golden Globe® Awards. The Membership Board of Directors will uphold and enforce rigorous standards and practices for the voting body, and is composed of nine in total, of which five are appointed independent entertainment or media professionals and four others elected from within the Golden Globe Association membership. Helmed by Golden Globes President Helen Hoehne, the newly implemented Board reflects a diverse group of distinguished leaders across the entertainment industry with a range of subject matter expertise and backgrounds. Tim Gray, former awards editor and Senior Vice President for Variety, joins the Board and Golden Globes organization as Executive Vice President effective immediately.
In addition to Hoehne, the list of Board Members can be found below. An additional member will be announced in the coming weeks.
●  Tim Gray, former awards editor and Senior Vice President for Variety, has been named Executive Vice President of the Golden Globes, with oversight of the Membership Board of Directors. In 2021, he was named Print Journalist of the Year by the National Arts & Entertainment Journalism Awards. In his 40-plus years at Variety, he held a number of positions including Editor in Chief and wrote extensively about awards, including the Golden Globes. He has overseen special reports on important issues such as an 80-page study of Hollywood and violence, marriage equality, and criminal justice reform. He also is the author of the Rizzoli book, "Variety: An Illustrated History of the World," about world events and their connection, or disconnect, to entertainment, and he wrote "75 Years of the Golden Globe Awards," to honor their diamond anniversary.
●  Judy Lung, Vice President, Public Relations & Communications, Toronto International Film Festival, has spent more than 20 years creating innovative and award-winning PR, marketing, and social media campaigns for leading entertainment companies including TIFF, Cineplex, Corus Entertainment, the Academy of Canadian Cinema & Television, and eOne. Known for fostering strategic partnerships, and with a commitment to building a more inclusive and equitable screen sector, Lung is a frequent speaker and moderator at industry events. Most recently, she was a member of the Board of Directors of BIPOC TV & FILM, an organization committed to increasing representation of Black, Indigenous, and People of Colour in front of and behind the camera.
●  Neil Phillips is an innovative speaker and entrepreneur who focuses on creating opportunities that elevate human value in education, business, and the public and private sector. A sought-after inspirational speaker on topics of diversity, education, and culture, Phillips is a Harvard University graduate and former professional basketball player whose early career was spent in youth sports and character development at One On One Basketball and Positive Coaching Alliance. Phillips later spent ten years serving in administrative leadership roles at his alma mater, Landon School. Motivated to do more to address the national crisis of boys of color, Phillips co-founded Visible Men Academy (VMA). He continues to work with educators, leaders, and media partners who are committed to the elevation of black male achievement, fulfillment, and societal contribution. Currently, Phillips is working on a documentary film with The Nantucket Project, focusing on race and human value.
●  Javier Porta Fouz is the Artistic Director of BAFICI (Buenos Aires  International Festival of Independent Cinema) and a critic professor at the University of Cinema. He is also content curator for the VOD platform Qubit.tv and a  film columnist and critic with La Nación newspaper and Hipercrítico. He spent fifteen years as a writer and editor at El Amante-Cine magazine, and has collaborated with publications such as Clarín, Rolling Stone and Le Monde Diplomatique, among others. He wrote the book "Estudio Crítico Sobre El Aura," published the book "Buenos Aires Sin Mapa" in 2022, and is working on his first novel.
●  Gerardo Prat is an Argentine-American journalist and author, specializing in broadcasting as a reporter and producer. A member of the Golden Globes for two years, Prat currently reports from Hollywood for Hispanic media outlets worldwide, including Hola TV, MSN Latino, ATB, Teleantillas, Cronica.com.ar, and BAE Negocios. Prat began his career as a radio news announcer and journalist in Argentina at the age of 17. As a media entrepreneur, he founded two news companies in Hollywood (Media2air/News2air and SucoPress, Inc). He established production, administration, and strategic alliances to create and distribute news content worldwide. Gerardo was an invited fellow of the Konrad Adenauer Foundation and in that capacity, has delivered dozens of lectures throughout Latin America related to the study and critique of the media.
●  Elisabeth Sereda is an accomplished print, radio and TV journalist in news and entertainment with an emphasis in music and film. A Golden Globes member since 1994, her reporting has appeared in German Cosmopolitan, ORF, and in Austrian radio and national public service broadcaster Ö3. Currently, Sereda writes for the Austrian daily Kurier, the magazine OOOM, and reports for various Austrian TV broadcasters. She is the author of two non-fiction books "Starporträt" and "Hollywood Backstage," and has been nominated for the International Media Award by the Publicists Guild numerous times. Her first English-language novel "Casket Girls" is slated to be released at the end of 2023.
●  Barbaros Tapan has been a member of the Golden Globes since 2016 and is the founder and president of the Hollywood Turkish Film and Drama Days. Tapan's sports and entertainment reporting has appeared in a variety of media outlets from the Turkish daily sports news publication Fanatik, CNNTurk, to Turkish TV network TRT and Kanal D. Tapan became the U.S. representative of Turkey's biggest media company, the Demiroren Media Group in 2000. He currently writes for Demiroren Media's daily newspaper Hurriyet, produces TV shows for BeIN Media-Turkey, and currently serves as the U.S. editor of the Turkish Airlines magazine Skylife. Frequently recognized for his outstanding coverage in film, Tapan was honored every year from 2018-2020 by the Entertainment Journalists Association of Turkey.
"We are proud of how the Golden Globes has evolved over the past two years and where the organization is headed," said Hoehne. "With its unique international footprint and global perspective on the entertainment world, this esteemed and trusted board truly sets the Golden Globes apart as an organization intent on recognizing achievements in film and television with superior credibility and integrity."
"I spent 42 years of my life at Variety, so it would take a special job opportunity to get me to leave. This is definitely it," said Gray. "Major changes are already underway at the Golden Globes and I think people in Hollywood, and around the world, will be pleased when they see integrity restored while the sense of fun remains. I'm impressed with each person on the board – their experience, reputation, and their high standards."
This year, Ernst & Young LLP, a trusted global leader in assurance, tax, transaction and advisory services, marks its 51st consecutive year overseeing the voting, balloting and tabulation process for the Golden Globes, as well as safeguarding results and maintaining control of the ballots throughout the live telecast. The firm will ensure voting procedures continue to meet strict standards that support the integrity and security of the voting results.
The awards timetable was also released, with nominations set to be announced on Monday, December 11, 2023, and the Golden Globe Awards taking place on Sunday, January 7, 2024. The full list of the new voting body and distribution partner will be shared by October 2, 2023.
81st Annual Golden Globe Awards Timetable
Monday, October 2, 2023
Submission website opens for 2024 Golden Globe Motion Picture and Television entries
Monday, November 6, 2023
Deadline for submission of Golden Globe Motion Picture and Television entry forms
Monday, November 20, 2023
Deadline for Television nomination ballots to be sent to all voters
Monday, November 27, 2023
Deadline for receipt of Television nomination ballots by Ernst & Young at 5:00 p.m. PST
Tuesday, November 28, 2023
Deadline for Motion Picture nomination ballots to be sent to all voters
Tuesday, December 5, 2023

Final screening date for Motion Pictures:

Final date for Golden Globes voters to attend non-exclusive, all-access Motion Picture press conferences

Wednesday, December 6, 2023
Deadline for the receipt of Motion Picture nomination ballots by Ernst & Young at 5:00 p.m. PST
Monday, December 11, 2023 at 5:00 a.m. PST
Announcement of nominations for the 81st Annual Golden Globe Awards
Friday, December 15, 2023
Final ballots sent to all voters
Wednesday, January 3, 2024
Deadline for the receipt of final ballots by
Ernst & Young at 5:00 p.m. PST
Sunday, January 7, 2024 at 5:00 p.m. PST
Presentation of the 81st Annual Golden Globe Awards