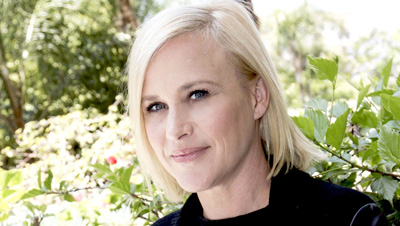 PATRICIA ARQUETTE (Boyhood)
December 31, 2014
—
Ana Maria Bahiana
Shooting a movie for 12 years, with all the ups and downs, the creases and frowns that come with the passing of time, would be a daunting prospect for any actress. But it did not scare Patricia Arquette. "I didn't have any concern about it at all", she says, talking about Richard Linklater's Boyhood, filmed over such a period, and centered around the lives of a single mother (Arquette) and her children (Ellar Coltrane, Lorelei Linklater). "Maybe in an ego way is very hard to see yourself aging, but it's also great."
This inner strength, the fierceness that shines through her delicate face and sweet voice, has become Patricia Arquette's trademark. As a psychic dealing with a gamut of life and afterlife issues in the hit TV series Medium (for which she won an Emmy) or a tough-as-nails hooker in Tony Scott's True Romance, an angry and confused recovering addict in Martin Scorsese's Bringing Out the Dead or the seductive and self-confident owner of a Floridian speakeasy in Scorsese's HBO series Boardwalk Empire, Arquette brings this mix of power and vulnerability to all her roles.
The granddaughter of actor, comedian and musician Cliff Arquette (of "Charlie Weaver" fame in the 1950s and 1960s), Arquette was born in Chicago, the youngest of four children of actor and comedian Cliff Arquette (part of the Second City improv group) and actress and therapist Brenda "Mardi" Denaud. Both parents were deeply involved with the counterculture movement and, in 1970, when Patricia was two years old, the family relocated to a commune near Arlington, VA. Youngest son David was born while the Arquettes lived in the commune.
The experiment lasted five years. In 1975 the Arquettes relocated to Los Angeles, where Lewis found work in TV (he had a long-running character in the series The Waltons), Mardi ran a children's theater workshop and older sibling Rosanna blossomed as an actress.
When Patricia was 15 she decided to join her sister – moving in with Rosanna, she began taking drama classes at the Los Angeles Center for Enriched Studies and doing the audition rounds. Her first break came in 1987 with A Nightmare on Elm Street 3: Dream Warriors, followed by a series of roles in small independent films (including the Danish production Time Out, in 1988). In the 1990s Arquette had a series of recurring roles on TV, in the series thirtysomething, The Outsiders and Tales From the Crypt.
In 1991 her role as Viggo Mortensen's loving girlfriend in Sean Penn's directorial debut The Indian Runner placed Arquette at the heart of the expanding wave of American independent films. Her Alabama, the unexpected love interest of Christian Salter's Clarence in the Quentin Tarantino-written, Tony Scott-directed True Romance turned Patricia into a veritable indie muse. She went on to work with Tim Burton in Ed Wood (playing the Z-movie director's muse and wife Kathy O'Hara, she of the angora sweaters), John Boorman in Beyond Rangoon, David O. Russell in Flirting With Disaster, David Lynch in Lost Highway and Martin Scorsese in Bringing Out the Dead.
The debut of the CBS series Medium, in 2005, made Arquette a household name. As the fictional version of real-life psychic Allison Dubois, Arquette conquered the heartland, the world and the critics. A three-time Golden Globe, Emmy and SAG nominee, Arquette won the Outstanding Lead Actress in a Drama Series Emmy in 2005.
Arquette continued a stellar TV career as the tough and sexy bar owner/ bootlegger Sally Wheet in HBO's Boardwalk Empire and a recurring role as Cyber Psychologist Avery Ryan in CSI: Crime Scene Investigation and its new offshoot, CSI: Cyber.
And all the while, for the past 12 years, Arquette had been returning to Austin, Texas, to continue her work as the Mom of Richard Linklater's fictitious Boyhood family – without missing a beat. "There were times when my life was the opposite to the film. And sometimes I've just had the same experience. I knew what it felt like to get divorced, and break up a family and have guilt about that. It was a collaborative process."
Ana Maria Bahiana