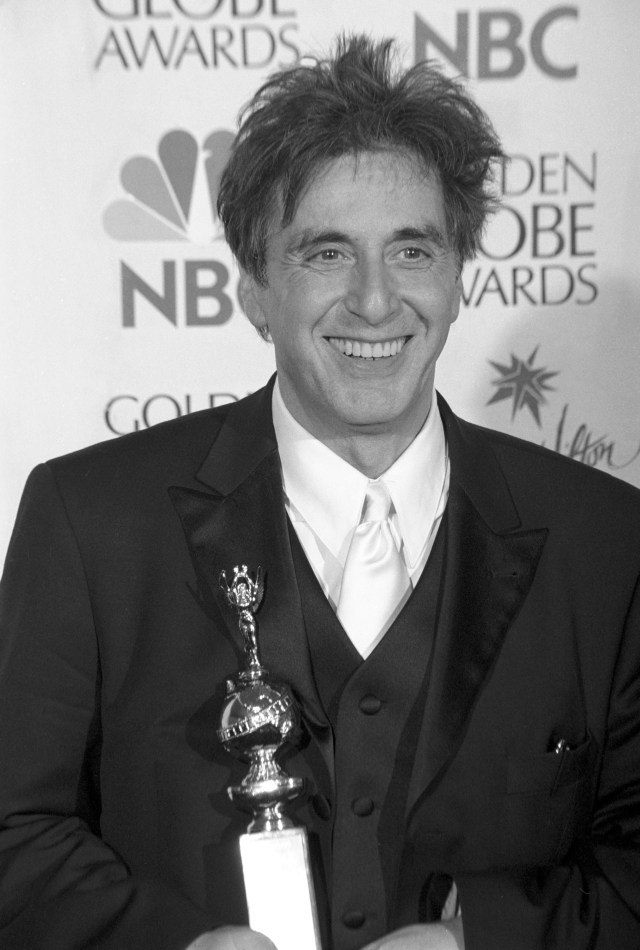 Ready for My deMille: Profiles in Excellence – Al Pacino, 2001
June 1, 2020
—
Philip Berk
Cecil B. deMille Award was presented to its namesake visionary director, the Hollywood Foreign Press Association has awarded its most prestigious prize 66 times. From Elizabeth Taylor to Steven Spielberg and 62 others, the deMille has gone to luminaries – actors, directors, producers – who have left an indelible mark on Hollywood. Sometimes mistaken with a career achievement award, per HFPA statute, the deMille is more precisely bestowed for "outstanding contributions to the world of entertainment". In this series, HFPA cognoscente and former president Philip Berk profiles deMille laureates through the years.
Al Pacino refused to talk to the press. Yet recently when interviewed he is unstoppable, rambling, at times long-winded, but always endearingly coherent. Nominated for his fifth Golden Globe this year, he could well be the screen's greatest living actor, working non-stop despite being fully engaged in writing his autobiography.
Lee Strasberg, who played supporting roles in two of his films, was his early inspiration. "He believed you learn from the parts that aren't really right for you," he told us at a press conference. "You tend not to do these roles, you shy away from them, in fear of falling or failing. So that's one of the reasons I do experimental work on my own. There should be a place where you can work these things out, but in the world of commerce that's difficult."
"Arial",sans-serif;mso-fareast-font-family:"Times New Roman";color:black;
mso-themecolor:text1″>Eugene O'Neill'scolor:#18191A">Hughie, mso-fareast-font-family:"Times New Roman";color:#18191A">'s SaloméMe, Natalie but it was his second movie The Panic in Needle Park, which brought him to the attention of Francis Ford Coppola, who, against the studio's wishes, cast him as Michael Corleone in The Godfather. That role earned him both a Golden Globe and an Oscar nomination, and he's never looked back since.
Marlon Brando who won as best actor. His retribution came when for the next three years he was nominated as Best Actor for his superb work in Sidney Lumet's Serpico, Coppola's The Godfather Part II and again in Lumet's Dog Day Afternoon. Lumet was always his favorite director.
One of only four actors ever to be nominated four years in a rowthe others are Marlon Brando, Elizabeth Taylor, and Bette Davis#2A2A2A"> As a change of pace, he chose to costar opposite Marthe Keller in Bobby Deerfield, and she became one of the many long term relationships he has had with costars which includes Diane Keaton, Tuesday Weld, Jill Clayburgh, Kathleen Quimland, and Beverly D'Angelo. The latter is also the mother of his twins, a boy, and a girl.
And Justice for All earned him his first Golden Globe nomination as Best Actor in a Musical or Comedy. Hot off The Exorcist, William Friedkin hired him to play a detective who goes undercover to solve a murder in the gay New York subculture, in the X-rated Cruising. The film failed to win over audiences or critics but is today considered a minor classic. He returned to comedy with Author! Author!, for which again he was nominated for a Golden Globe as Best Actor, and then Brian De Palma provided him with what is now considered his signature role, Scarface, although at the time it was disparaged by critics.
Chariots of Fire satisfied neither critics nor audiences, and he sought refuge doing theater for the next four years, where he won acclaim in a revival David Mamet's American Buffalo. His one film in this period, Sea of Love, was welcomed by both critics and public still eager to see him back on the screen (he earned his ninth Golden Globe nomination) and following that he did a cameo for Warren Beatty playing a cartoon character in Dick Tracy, which earned him another Golden Globe nomination, this time in the supporting category, his first.
Michelle Pfeiffer in Frankie & Johnny, a less than satisfactory transfer of play to screen, but then followed three memorable roles, in David Mamet's Glengarry Glen Ross, De Palma's Carlito's Way and finally the role that would earn him his long-overdue Golden Globe and only Oscar, as the blind lieutenant in Scent of a Woman.
Michael Mann'sDe Niro. It is now considered a classic, but at the time it didn't catch fire, Al, however, was once again on a hot streak.
The Insider, the latter two again with Mann. A number of forgettable movies (by now he had four mouths to feed) culminated in one of his greatest films, although made for television. Mike Nichols' masterful adaptation of Tony Kushner's monumental play Angels in America earned him his first Emmy award as Best Actor and his first Golden Globe as Best Actor in a motion picture made for television. It was the event of the year and remains Nichol's greatest achievement. Since then he's worked non-stop.
You Don't Know Jack, and last year he made a spectacular comeback, as an agent in Tarantino's Once Upon A Time in Hollywood and as Jimmy Hoffa in Scorsese's The Irishman, for which he earned his seventh Golden Globe nomination.