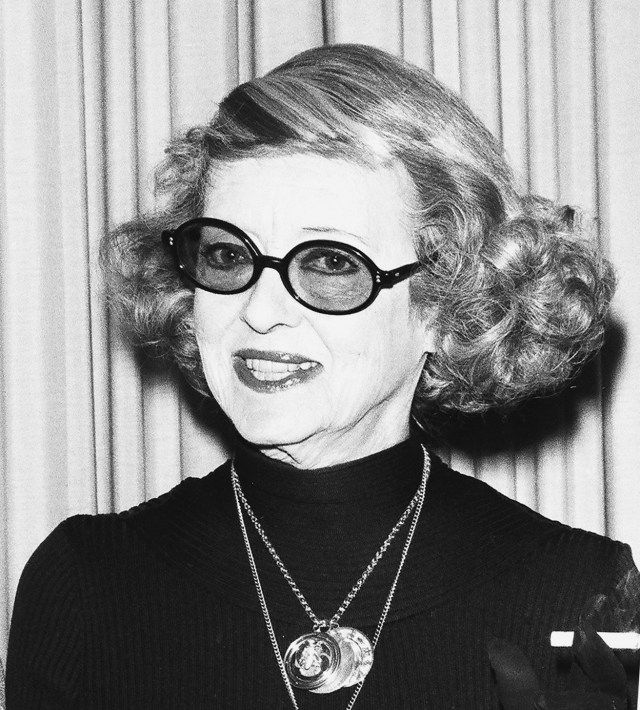 Ready for my deMille: Profiles in Excellence- Bette Davis, 1974
Beginning in 1952 when the Cecil B. deMille Award was presented to its namesake visionary director, the Hollywood Foreign Press Association has awarded its most prestigious prize 66 times. From Walt Disney to Bette Davis, Elizabeth Taylor to Steven Spielberg and 62 others, the deMille has gone to luminaries – actors, directors, producers – who have left an indelible mark on Hollywood. Sometimes mistaken with a career achievement award, per HFPA statute, the deMille is more precisely bestowed for "outstanding contributions to the world of entertainment". In this series, HFPA cognoscente and former president Phil Berk profiles deMille laureates through the years.

"Fasten your seatbelts, it's going to be a bumpy night," the most famous quote from a Bette Davis film (All About Eve) could well describe her turbulent career.
The Cecil B deMille-winning actress is generally considered the greatest actress of all time by all who have followed her. Yet looking back on her career, she was more of a star than an actor, identified by her clipped speech, her forthright manner, and her ever-present cigarette. Those qualities made her the most popular actress of the 1940s and elevated films like All This and Heaven Too, Jezebel, Dark Victory, The Old Maid, The Great Lie, Mrs. Skeffington, and particularly Now, Voyager into classics. In terms of star magnetism, there never was anyone like Bette, and there never will be.
That period of her career, from 1939 to 1946, were her halcyon years. After that, she battled her studio for better scripts and were it not for All about Eve, the end of her Warner Bros. contract might have spelled finis to her legendary career. All About Eve revitalized her and in fact, it remains her best film. Ironically, she was only offered the part after Claudette Colbert dropped out, not willing to accept director Joseph Mankiewicz's working hours. She wouldn't work past 5 p.m. Bette made no such demands, and when offered the part she called it the best script she had ever read.
In fairness, it should be noted, she did make a few other films that won awards most notably The Letter and The Little Foxes, both directed by "the love of her life" William Wyler, but the shocking truth is – she has only one classic in her filmography, and it isn't a Warner Bros. picture.
Even though she's arguably the greatest of all Warner contract players, a list that includes Humphrey Bogart, Olivia de Havilland, Barbara Stanwyck, John Garfield, Ida Lupino, and Edward G, Robinson, her professional relationship with studio head Jack Warner was always volatile.
Surprisingly, she started out not at Warner Bros. but at Universal. Carl Laemmle had brought her to Hollywood, but after three bad roles, she was let go. She would have returned to the Broadway theatre, where she had made a name for herself if, it weren't for British actor George Arliss, who convinced Jack Warner to sign her. He felt she was the only actress who could play opposite him in The Man Who Played God and thus began her 18 years at the studio. She got good notices for that part, but her reward was co-starring roles in run-of-the-mill Warner pictures. Convinced she was capable of greater things. she was able to get Jack to loan her to RKO for Of Human Bondage.
When she received the Oscar the following year for Dangerous, considered a consolation prize first not having won the previous year for Bondage, Warner finally realized they had a major star on their hands and began grooming her. She starred opposite Leslie Howard, Humphrey Bogart, Paul Muni, and Henry Fonda, her name always above the title, in A-list movies, but it was Jezebel that turned the tide for her. After that, she was unequivocally queen of the lot.
That ten-year reign, when she made her most famous movies ended with Beyond the Forest. Now free of Jack L. Warner she began her freelancing years. All About Eve should have been poetic justice for her but it wasn't. True she found a whole new audience and a new husband (costar Gary Merrill) but it also brought her disappointment. She should have won the Oscar that year, and she would have if it weren't for Sunset Boulevard. That Billy Wilder masterpiece marked the return to the screen of the great star of silent pictures Gloria Swanson. The two of them battled for awards all year, and when they knocked each other out in the Oscar balloting, then unknown newcomer Judy Holliday ended up the winner.
A devastating disappointment for Bette. After that, she starred in a number of A pictures, but her acting career was essentially over.
Until Robert Aldrich offered her What Ever Happened to Baby Jane? , ironically a Warner Bros release, for which she was again nominated for an Oscar but lost out to another "upstart" Anne Bancroft. This time Bette was more vocal, publicly declaring she should have won. Despite her anger, the film became a huge box office hit prompting a sequel, Hush Hush Sweet Charlotte and offered her supporting roles in innumerable forgettable movies, Death on the Nile being the one exception.
She did make a successful return to the Broadway stage when she originated the role of Maxine in Tennessee Williams' Night of the Iguana, but the role went to Ava Gardner when John Huston filmed it.
Davis died in 1989 at the age of 81, working to the very end. Her final memorable quote: "Old age is not for sissies."
Regrettably, like many other Cecil B. deMille honorees, she never won a Golden Globe for a motion picture performance.