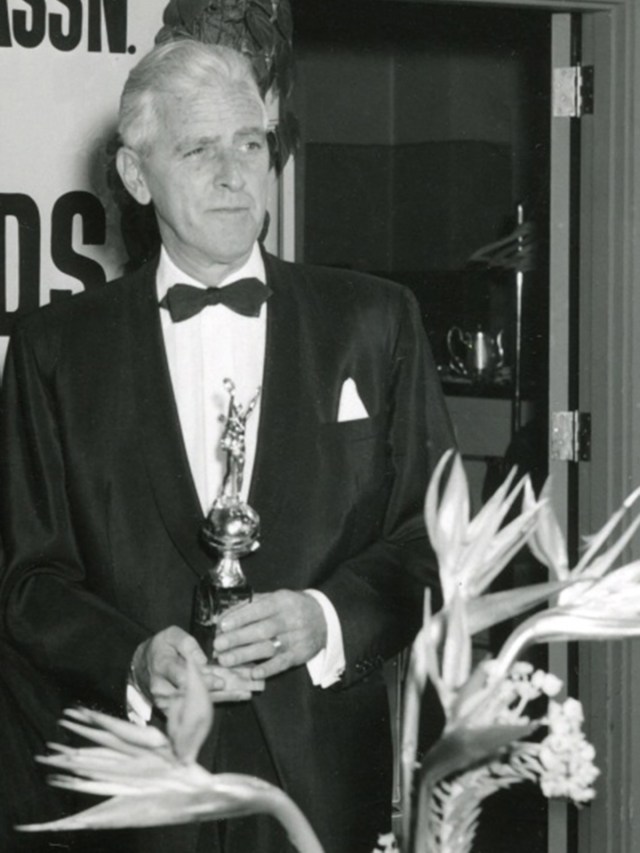 Ready for My deMille: Profiles in Excellence – Buddy Adler, 1958
October 5, 2020
—
Philip Berk
Beginning in 1952 when the Cecil B. deMille Award was presented to its namesake visionary director, the Hollywood Foreign Press Association has awarded its most prestigious prize 66 times. From Walt Disney to Bette Davis, Elizabeth Taylor to Steven Spielberg and 62 others, the deMille has gone to luminaries – actors, directors, producers – who have left an indelible mark on Hollywood. Sometimes mistaken with a career achievement award, per HFPA statute, the deMille is more precisely bestowed for "outstanding contributions to the world of entertainment". In this series, HFPA cognoscente and former president Philip Berk profiles deMille laureates through the years.
The short happy life of Buddy Adler. In fact, two years after he received the Cecil B. deMille award for lifetime achievement (the youngest recipient to receive this honor at the time) he succumbed at the age of 54.
From 1939 until 1943 he worked as a short subjects screenwriter at MGM, where one of his scripts for the popular Pete Smith Specialties won an Oscar as Best Short. He was drafted into the army where he rose to the rank of Lieutenant Colonel without the benefit of a commission. After the war, he returned to MGM where he was groomed as a producer, but it was Harry Cohn who finally gave him his first producer credit.
Although Columbia was considered a minor studio, it had won a handful of Best Picture Oscars and Adler fit in just nicely. Cohn had a number of stars under a short term contract, and Adler provided them with worthy projects starting with William Holden in The Dark Past, an unusual role for him which may have convinced Billy Wilder he could play Joe Gillis in Sunset Boulevard. He found two delightful properties for Rosalind Russell which marked her welcome return to comedy and gave Margaret Sullivan an Oscar-worthy role which turned out to be her last screen appearance, No Sad Songs for Me, and Loretta Young had a suspenseful role in Paula.
Contract players were also taken care of. John Derek fresh from playing Broderick Crawford's son in Columbia's Oscar winner All The King's Men got his first starring role in Saturday's Hero, and Crawford himself had one of his strongest roles in The Last of the Comanches. Incidentally, most of Adler's Columbia films were directed by Rudolph Mate, a once-celebrated cinematographer who photographed the classic films of Carl Theodor Dreyer and Rene Clair.
His next two pictures, however, Salome with Rita Hayworth and From Here to Eternity, for which he earned his only Oscar, sealed his fate at the studio. The first was a critical failure, but the second a huge success, which enabled him to leave the studio and take up residency at Twentieth Century Fox where he would be groomed as Darryl F. Zanuck's eventual successor.
At Fox, bolstered by that Oscar win, he was able to attract Hollywood's top stars, Clark Gable in Soldier of Fortune, Jennifer Jones and William Holden in Love Is a Many-Splendored Thing, Humphrey Bogart in The Left Hand of God, and Jane Russell in The Revolt of Mamie Stover.
And then when Love Is a Many-Splendored Thing became an Oscar contender and won a Golden Globe for Promoting Understanding, he set his sights on winning awards, and in subsequent years he provided nominations for Marilyn Monroe in Bus Stop (she was nominated for a Golden Globe as Best Actress) for Ingrid Bergman in Anastasia (she won both the Golden Globe and the Oscar as Best Actress), for Deborah Kerr and Robert Mitchum in Heaven Knows Mr. Allison (Kerr was nominated for a Golden Globe and Oscar as Best Actress) and for Eva Marie Saint in A Hatful of Rain (she was nominated for a Golden Globe as Best Actress) a film which reunited him with his From Here to Eternity director Fred Zinnemann.
In 1956 he assumed the job of running the studio and among the films the studio produced during his four years the most noteworthy are The King and I, Peyton Place, The Diary of Anne Frank, all Golden Globe and Oscar Best Picture nominees. But sadly to his discredit as the producer of Rodgers and Hammerstein's immortal South Pacific, he allowed director Josh Logan to experiment with color and turn what should have been the year's runaway box office smash into a sorry disappointment.
His final personal production, The Inn of Sixth Happiness, was a bloated prestige picture that not even Ingrid Bergman could rescue, although it won a Golden Globe for Promoting International Understanding.