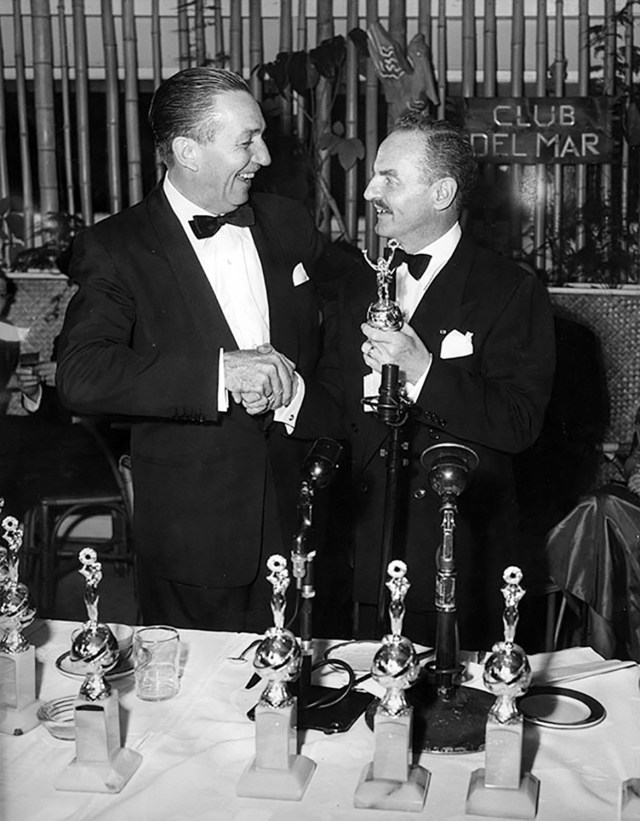 Ready for My deMille: Profiles in Excellence – Darryl F. Zanuck, 1954
July 27, 2020
—
Philip Berk
Beginning in 1952 when the Cecil B. deMille Award was presented to its namesake visionary director, the Hollywood Foreign Press Association has awarded its most prestigious prize 66 times. From Walt Disney to Bette Davis, Elizabeth Taylor to Steven Spielberg and 62 others, the deMille has gone to luminaries – actors, directors, producers – who have left an indelible mark on Hollywood. Sometimes mistaken with a career achievement award, per HFPA statute, the deMille is more precisely bestowed for "outstanding contributions to the world of entertainment". In this series, HFPA cognoscente and former president Philip Berk profiles deMille laureates through the years.
It was Orson Welles who once said, "Everybody thinks that Hollywood is only interested in making money, but what they really want is to win awards".
The perfect definition of our Cecil B. deMille honoree Darryl F. Zanuck, who fittingly bailed out Welles whenever he needed cash to complete his quixotic projects.
For 30 years Zanuck single-handedly ran his studio, Twentieth Century Fox, and even after he was unceremoniously let go, he came back and returned the studio to its greatest glory. The names Twentieth Century Fox and Darryl F. Zanuck are interchangeable. The studio was established in 1935 when William Fox, on the verge of bankruptcy, merged his once-powerful studio (Fox Film Corporation) with Twentieth Century Pictures, which had been created by Louis B. Mayer to provide an executive position for his son in law William Goetz. Before that merger, the two studios had produced occasional hits and prestige films. But when Darryl F. Zanuck was put in charge of production, he set himself the task of competing with his powerful rivals MGM, Paramount, and Warner Bros. Of course, they all scoffed at the idea because he had no stars that could compare with MGM's Clark Gable and Greta Garbo or Paramount's Marlene Dietrich and Bing Crosby or Warner's James Cagney and Ossie Davis. But it was his discoveries during the '30s and '40s that changed all that.
When Zanuck assumed his legendary title, "in charge of production," the studio had only one superstar, Shirley Temple. By the end of the decade, he had his own stable of stars, that transformed 20th Century Fox into a major studio. Starting with Alice Faye, he nurtured the likes of Tyrone Power, Betty Grable, June Haver, Linda Darnell, Jeanne Crain, Gene Tierney, and finally Marilyn Monroe. These nine stars kept the studio solvent for decades, and their movies were the top moneymakers for 20 years until it was sunk by Cleopatra's cost overruns which forced the sale of much of the studio backlot to ALCOA, which developed what is today the Century City neighborhood.
Ironically Zanuck's career began at Warner Bros. where at the age of 22 he was Jack Warner's head of production. His biggest star there was Rin Tin Tin. During his tenure, he executive produced The Jazz Singer, Little Caesar, The Pubic Enemy, 42nd Street, among others, and when Warner Bros. merged with First National, Zanuck felt he deserved to be made a partner. When Jack refused, he jumped ship and was put in charge of Twentieth Century Pictures. Among his successes, there were Clive of India, Les Misérables, and The House of Rothschild. Ultimately, when the studio merged with William Fox's studio to form 20th Century Fox, he was put in charge of production.
His first challenge was to make Fox contract player Shirley Temple the screen's number one box office attraction, and he succeeded, yet never once took onscreen credit as a producer of her string of box-office hits. Neither did he for On the Avenue, which boasted a score by Irving Berlin and prompted the studio to make their own brand of musicals, which even today are delightful viewing. The early ones (Rose of Washington Square) invariably starred Alice Faye, but it was Down Argentine Way with Faye's replacement newcomer Betty Grable that made the 20th Century Fox musical the top box-office performer of the war years and Grable the number one attraction.
During this time Zanuck insisted on producer credit on a number of studio hits including the remake of Seventh Heaven, and Thin Ice which launched the career of Norwegian skater Sonja Henie who went on to make half a dozen hit films for the studios. Another personal production was In Old Chicago which became one of the year's biggest moneymakers and earned a supporting actress Oscar for Alice Brady. It also heralded the start of his long collaborations with director Henry King and screenwriter Lamar Trotti.
Not only was he running production, green lighting every film the studio made, and making material changes when necessary, he was also producing those he considered award-worthy. No wonder he worked a 20 hour a day schedule.
A turning point in his career was 1939 when he personally produced John Ford's Young Mr. Lincoln, although they later had an acrimonious relationship. Supposedly when Ford was assigned to working with Zanuck during WW2 – they were both commissioned into the service – Ford famously complained, "Can't I ever get away from you? I bet if I die and go to heaven, you'll be waiting for me under a sign reading 'Produced by Darryl F. Zanuck'."
Despite that apocryphal story, the two of them worked together on Zanuck's first universally acclaimed movie The Grapes of Wrath although they came to a parting years later on Pinky. Nevertheless, from that point on Darryl was hell-bent on winning awards. The Grapes of Wrath was a landmark movie that no one believed Hollywood had the courage to make, but little did they know Zanuck. The film sidestepped David O. Selznick's Gone with the Wind – Darryl purposely delayed its release – but to no avail. Selznick's Rebecca released the following year, won the Best Picture Oscar.
Undeterred, for the next ten years he personally produced singular films he believed would end up in the winner's circle. He got his wish the following year when How Green Was My Valley won the Oscar as Best Picture eclipsing the greatest movie ever made, Welles' Citizen Kane. (Was that the reason he always had a soft spot for Orson?) Throughout that period, thanks to his leadership, the studio continued making hit after hit, most of them starring Tyrone Power, who for a time was Hollywood's top matinee idol. Power enjoyed a dazzling career until it was tragically interrupted when America entered the war in 1942.
Zanuck had also enlisted and served as a Lieutenant Colonel leaving the studio in the capable but (from his point of view unwelcome) hands of William Goetz, his Twentieth Century Pictures nemesis. Unhappy with his war experiences, he returned to the studio in l944 to rescue an early version of Song of Bernadette, which ended up winning our first Golden Globe as Best Picture. He championed a director he had earlier fired Otto Preminger to direct Laura and it became a box office sensation. He brought Broadway's Elia Kazan to Hollywood to learn the ropes and gave him his first film, the memorable A Tree Grows in Brooklyn.
When Goetz decided to start his own film company, International Pictures, Zanuck once again assumed the role of production chief but found time to personally produce Wilson, which he was confident would win the Oscar. When it was eclipsed by Going My War – in retrospect the far better choice – he made his disappointment public. His next attempt to win the Oscar was The Razor's Edge, which marked the return of Tyrone Power from his war service. It won numerous Golden Globes and Oscars, but Best Picture honors eluded him; his unbeatable challenger was Samuel Goldwyn's internationally acclaimed The Best Years of Our Lives. This time he knew he had been outclassed.
A year later he was finally rewarded. His personal production of Kazan's Gentleman's Agreement not only won both the Oscar and the Golden Globe as Best Picture, but it was also a huge box office hit, even though it dealt with a controversial subject, anti-Semitism. Its success reinforced Zanuck's belief that message films can command mass audiences.
Three years later his personal production of Joseph L. Mankiewicz's All About Eve became his crowning achievement. It won the Golden Globe Best Motion Picture Comedy or Musical (as well as five Academy Awards) and remains one of Hollywood's best-loved classics. Zanuck was never able to top that, and faced with an unprecedented decline in movie attendance, he concentrated on making mindlessly entertaining films. The joke at the time was, if you called a theater asking what time the movie goes on, you would get the reply, "When can you get here?"
Every studio was scrambling to attract audiences. But it was Zanuck who came to their rescue. He bet big on CinemaScope and it soon became the industry standard. After three losing years, Fox regained box office leadership with The Robe and its biggest asset, Marilyn Monroe. But then, after running the studio for twenty years he felt it was time to hand over the reins to someone else. He asked for and was relieved of his duties. He formed his own production company and moved to Europe where the movies he made consistently failed to live up to their promise.
By 1956 he was working on what he hoped would be his comeback movie, The Longest Day. Profligacy had forced the sale of half the studio property to ALCOA, and fearing his movie (financed by Fox) might end up a residual casualty, he flew back to the U.S., confronted the 20th Century Fox Board of Directors, and succeeded in getting his long-time former boss, Spyros Skouras fired. He was hired as his replacement, and he in turn hired his son Richard to run the studio. That tenure resulting in a spectacular comeback for the studio. Patton won the Oscar as Best Picture, M*A*S*H became a box office phenomenon, and The Sound of Music replaced Gone with the Wind as the biggest moneymaker of all time, a fitting turnaround for Zanuck, whose The Longest Day was also a blockbuster.
By the end of the decade, however, the studio was in decline. Bad decisions resulted in Richard's termination. Darryl too was let go. He squandered his last years making films that starred his many acquired mistresses, none of them (the films) were successful.
He died in 1979, an almost forgotten man. But undoubtedly a film genius.
The Hollywood Foreign Press acknowledged that twenty years earlier when he was the third recipient of the Cecil B. deMille award.