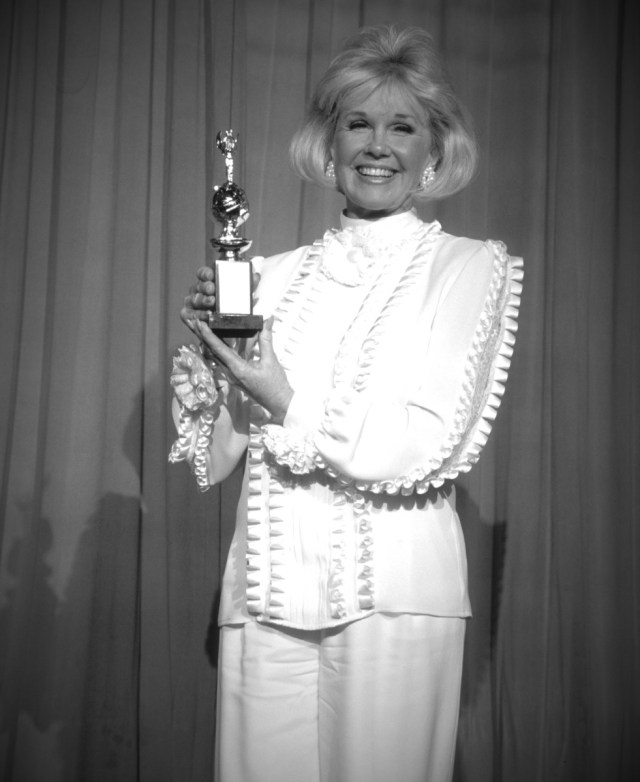 Ready for My deMille: Profiles in Excellence – Doris Day, 1989
November 25, 2019
—
Philip Berk
Beginning in 1952 when the Cecil B. deMille Award was presented to its namesake visionary director, the Hollywood Foreign Press Association has awarded its most prestigious prize 66 times. From Walt Disney to Bette Davis, Elizabeth Taylor to Steven Spielberg and 62 others, the deMille has gone to luminaries – actors, directors, producers – who have left an indelible mark on Hollywood. Sometimes mistaken with a career achievement award, per HFPA statute, the deMille is more precisely bestowed for "outstanding contributions to the world of entertainment". In this series, HFPA cognoscente and former president Philip Berk profiles deMille laureates through the years.
It's been 30 years since we honored Doris Day with our Cecil B. deMille Award for lifetime achievement. Ours was the only lifetime award she ever received although she was approached by both the Academy and the AFI but declined their honors.
What a spectacular career she had! Before her passing this year she celebrated her 97th birthday, as she always did, far from the Hollywood she once dominated.
Born Doris Kappelhoff, she began her career as a big band singer. Her recording of "Sentimental Journey" in 1945 encouraged her to embark on a solo career and landed her a recording contract with Columbia Records that lasted 30 years. Famed director Michael Curtiz recognized her screen potential and signed her to a seven-year contract, which was ultimately absorbed by Warner Bros. Her first movie, Romance on the High Seas which featured the standard "It's Magic", immediately established her as a star.
She followed that with My Dreams Is Yours and It's a Great Feeling, both replicating that same magic. But then she got her first dramatic role in Young Man with a Horn with Kirk Douglas. Playing a night club singer she was still able to warble a number of standards including "The Very Thought of You" and "Too Marvelous for Words."
Now under contract to Warner Bros., she made a string of homespun nostalgic classics that bear repeat viewing. She was irrepressible and irresistible in On Moonlight Bay, By the Light of the Silvery Moon and in Tea for Two in which she played opposite Gordon MacRae. Her 1951 musical I'll See you in My Dreams, the life story of Gus Kahn (played by Danny Thomas), was her most successful Warner Bros collaboration benefitting no doubt from working again with Michael Curtiz. She followed that with another memorable role in Calamity Jane, which won both the Golden Globe and Oscar for best song, "Secret Love."
Her last Warner Bros. film Young at Heart teaming her with Frank Sinatra was a tepid remake of John Garfield's Oscar-nominated Four Daughters, and following that she chose not to renew her contract on the advice of her husband and agent Marty Melcher. And thus began the start of her new career as an iconic superstar, five times voted World Film Favorite by the HFPA.
The film that established her as a serious actress was Love Me or Leave Me in which she played Ruth Etting opposite James Cagney in one of his greatest roles as the Gimp. She held her own opposite him in every scene. As producer Joe Pasternak said at the time, "I was stunned that Cagney was nominated for an Oscar but Doris wasn't."
But then Doris never got much love from anyone other than the Hollywood Foreign Press Assn., who nominated her six times for a Golden Globe.
Following that performance, she was recruited by famed director Alfred Hitchcock to star opposite James Stewart in his remake of The Man Who Knew Too Much, in which again she sang the Golden Globe and Oscar-winning song, "Que Sera Sera."
She returned to Warner Bros to star in The Pajama Game, directed by Stanley Donen and George Abbott, one of the best translations of a Broadway musical ever. She was delightful in Gene Kelly's The Tunnel of Love and then began a new phase in her career with producer Ross Hunter starting with Pillow Talk, which heralded her successful pairing with Rock Hudson, with whom she maintained a close friendship, publicly supporting him when he was diagnosed with AIDS. With Hudson she also made Lover Come Back and her best romantic comedy, Send Me No Flowers.
Finally, at MGM, she made a string of box office hits including Billy Rose's Jumbo and The Glass Bottom Boat.
At the press conference for her final movie, With Six You Get Eggroll, she was charming and forthcoming, despite being given the Sour Apple award four times by the Hollywood Women's Press Club as "Most uncooperative star."
A sad chapter in her life was her discovery, after his death, that Melcher had squandered her earnings leaving her in debt. But she persevered and eventually prevailed.
Among her other commendable attributes, she could point to her loyal support of a ravaged Rock Hudson in his final days and her devotion to animals.
Her classic movies? None really but all of them have charm and distinction.