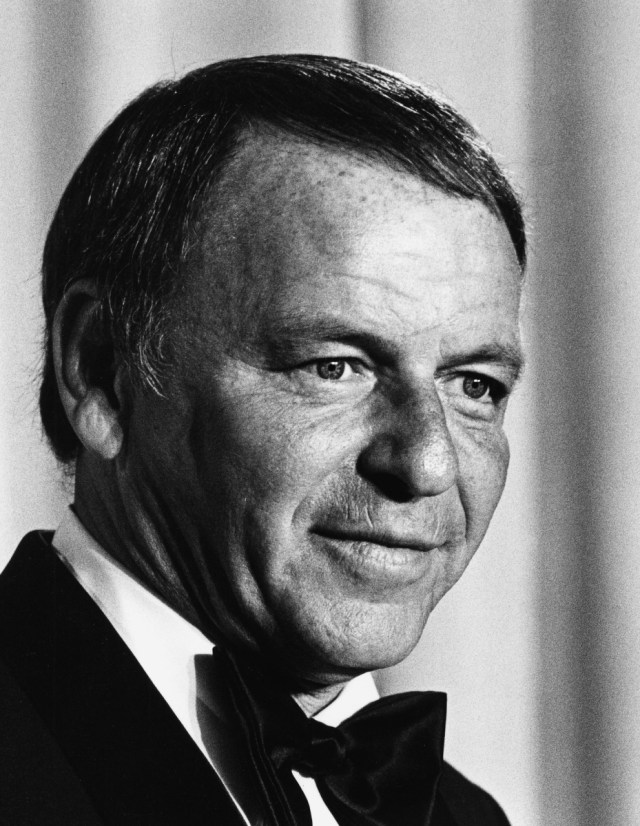 Ready for My deMille: Profiles in Excellence – Frank Sinatra, 1971
December 23, 2019
—
Philip Berk
Beginning in 1952 when the Cecil B. deMille Award was presented to its namesake visionary director, the Hollywood Foreign Press Association has awarded its most prestigious prize 66 times. From Walt Disney to Bette Davis, Elizabeth Taylor to Steven Spielberg and 62 others, the deMille has gone to luminaries – actors, directors, producers – who have left an indelible mark on Hollywood. Sometimes mistaken with a career achievement award, per HFPA statute, the deMille is more precisely bestowed for "outstanding contributions to the world of entertainment". In this series, HFPA cognoscente and former president Philip Berk profiles deMille laureates through the years.

hfpa archives


Who would have believed in 1944, when MGM signed Frank Sinatra to a seven-year contract, that he would have had the staying power to eventually become one of the greatest entertainers of the 20th century. But that's just what our 1971 Cecil B deMille honoree did.
The most singular thing about Sinatra was that he always believed in himself even when those around him didn't. His first gamble was extricating himself from his Tommy Dorsey recording contract and going solo, a successful move that paid off. By 1942 he was the idol of bobbysoxers and dubbed The Voice.
Even though it was MGM that groomed him to star in movies, it was RKO that first signed him, but his performances in their black and white musicals were awkward. It was Gene Kelly who coaxed him to capitalize on his personality which made him an appealing movie star, first in Anchors Aweigh, then in Take Me Out to the Ballgame, and finally in On the Town, which would set a new standard for Hollywood musicals.
Despite this growing acceptance, his films, with the exception of the three he made with Kelly, were unremarkable, and he was unhappy at the studio. Again he decided to terminate his MGM contract, even though it still had two years to run. With no studio eager to sign him, he turned to Las Vegas where he was always welcome as a performer. Still, he hadn't given up on acting, and in 1952 he actively pursued the role of Angelo Maggio in From Here to Eternity, some say with the help of the Mob. Again, betting on himself, he accepted an embarrassing salary cut to play the role, but it was a move that turned his life around and he ended up with both a Golden Globe and the Oscar for that performance which established his credential as a dramatic actor.
From then on he never looked back, and for the next three decades he was one of Hollywood's biggest stars and at the time of his death at 82 acknowledged as the greatest song stylist of all-time. He was also known as the most philanthropic of all entertainers, helping anyone in need, but never seeking recognition for his endless acts of kindness. His devotion to his ex-wife Ava Gardner is legendary, and he continued to support her when she fell on hard times.
Despite his enduring success as a recording artist, it is his film career that makes him an icon. Even though From Here to Eternity proved he was a serious dramatic actor, for a long-time Hollywood typecast him in roles in which he would sing (Young at Heart, Guys and Dolls, High Society, Pal Joey, and Can Can.) It took his Oscar-nominated performance in Man with the Golden Arm to finally convince the industry he could carry non-singing roles.
As part of the Rat Pack, he both produced and starred in Oceans 11 which spawned decades of sequels, and after that he seemed perfectly at ease playing a detective or a treasure hunter.
So which are his iconic roles we remember today? Of course From Here to Eternity.
But he was equally good as the psychologically damaged war vet in Lewis Allen's Suddenly. He played his least idiosyncratic role in The Man with the Golden Arm, another remarkable performance. He was loose and lovable in Guys and Dolls even though he coveted the lead role which went to non-singer Marlon Brando.
He was at his most amiable as Crosby's competitor in High Society, playing the role that won James Stewart an Oscar 15 years earlier. Cole Porter provided Crosby with the two serviceable songs which he had composed for the film, but it was a 40-year-old chestnut, also by Porter, that provided the two of the best moments in the film, "Well Did You Evah, What a Swell Party This Is."
Another musical misfire, Pal Joey, earned him his Golden Globe as best actor in a musical, a role originated on the stage by his pal Gene Kelly. Even though Sinatra was convincing in the role, imagine what he would've done with it if the studio had faith in the original material. Almost all of the songs from that classic Rodgers and Hart Broadway musical were scrapped by the studio.
Sinatra is at his best in his second James Jones adaptation, Some Came Running, even though he didn't think much of his director, the estimable Vincente Minnelli, but he's having a ball with fellow Rat Packers Dean Martin, Peter Lawford, and Sammy Davis Jr. in Lewis Milestone's Ocean's 11.
Finally, there's his most acclaimed movie, John Frankenheimer's The Manchurian Candidate, which invariably shows up on the list of the best films of all time. Despite a stellar cast including Angela Lansbury, Janet Leigh, and Laurence Harvey, Sinatra is the star. The assassination of JFK at the time of its release compelled the studio to pull the movie from theatres, which prompted its screenwriter George Axelrod to later famously quip. "The movie went from failure to classic without passing through success."
Although these movies are rarely revived today, not a day goes by that Sinatra's voice isn't heard on the airwaves, offering his inimitable interpretations, among others, of "That's Life," "My Way," "Chicago," "Witchcraft," "All the Way," and such Broadway standards as, "My Funny Valentine," "I Get a Kick Out of You," "My Heart Stood Still," to, name just three.
Gone but never forgotten.