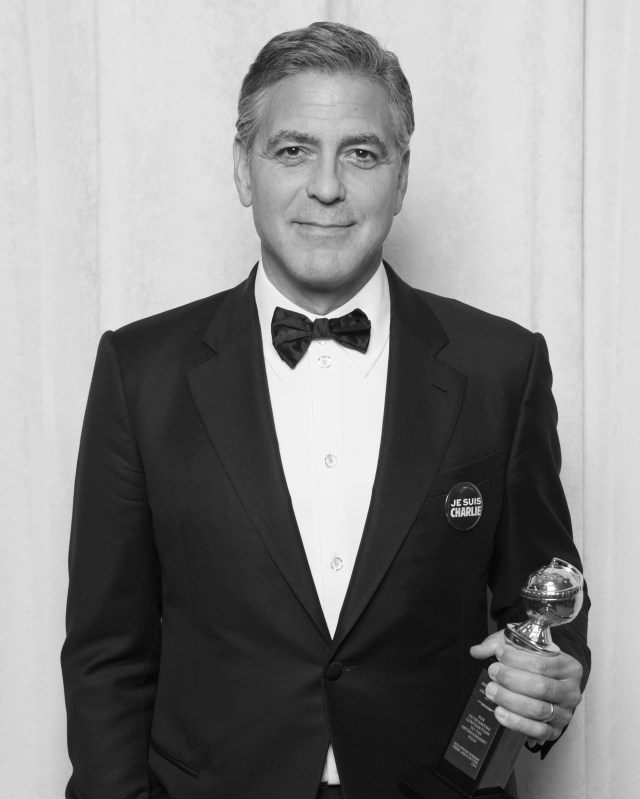 Ready for My deMille: Profiles in Excellence – George Clooney, 2015
June 29, 2020
—
Philip Berk
"Arial",sans-serif;color:#550016″> was presented to its namesake visionary director, the Hollywood Foreign Press Association has awarded its most prestigious prize 66 times. From Walt Disney to Bette Davis, Elizabeth Taylor to Steven Spielberg and 62 others, the deMille has gone to luminaries – actors, directors, producers – who have left an indelible mark on Hollywood. Sometimes mistaken with a career achievement award, per HFPA statute, the deMille is more precisely bestowed for "outstanding contributions to the world of entertainment". In this series, HFPA cognoscente and former president Philip Berk profiles deMille laureates through the years.
ERfont-family:"Arial",sans-serif;mso-fareast-font-family:"Times New Roman";
color:#222222″>made George Clooney a household name, for which he was nominated three years running for playing Dr. Ross in that landmark TV series; yet never once winning a Golden Globe as Best Actor in a TV drama. His reward was getting cast in forgettable TV series and movies of the week, the one exception being a recurring role in Roseanne which he did for three seasons.
Quentin Tarantino did okay, but One Fine Day, which was supposed to make him a big star, fizzled, and Batman and Robin almost ended that lucrative franchise.
David O. Russell's Three Kings, which President Clinton called his favorite film of 1999.
O Brother, Where Art Thou? earned him a Golden Globe as Best Actor in a comedy. However, it was Ocean's Eleven, that changed the course of his career. Not that he hadn't worked with director Steven Soderbergh before (Out of Sight ) but this was the first time they collaborated on a blockbuster. The film was so successful it spawned a second and a third, and it made George a rich man (it was his company that produced all three films.)
Grant Heslov, to generate films of their own, most notably Good Night and Good Luck, for which he was nominated for both the Golden Globe and the Oscar as Best Producer, Director, and Actor in a Supporting Role.
Jose Ferrer, the legendary actor best remembered for his Golden Globe and Oscar-winning performance in Cyrano de Bergerac.
Sam Rockwell his first important role.
SyrianaSteve Gaghan as a formidable writer-director. Now firmly established as Hollywood's leading actor he welcomed a chance to work with Cate Blanchett in Soderbergh's The Good German, but sad to say the result was a lame attempt to recapture the magic of Casablanca.
Michael Clayton which earned multiple Golden Globe and Oscar nominations including one as Best Picture. It also earned Tilda Swinton a Best Supporting Actress Oscar and established her as an international star. George himself was nominated for the Oscar as Best Actor. He tried directing again but Leatherheads a football movie was a sorry failure. He sought refuge with another Coen Brothers farce Burn After Reading, which was nominated for a Golden Globe as Best Comedy, and thanks to its all-star cast did quite well at the box office, but it wasn't welcomed by critics.
Jason Reitman's Up in the Air, which introduced two superlative actresses, Vera Farmiga and Anna Kendrick. All three of them were nominated for Golden Globes and the Oscar. He followed it with a respectable failure The Men Who Stare at Goats which gave his best friend Grant Heslov a chance to direct a movie.
Wes Anderson's Golden Globe and Oscar-nominated animated film Fantastic Mr. Fox, played an aging assassin in the ill-judged The American and followed it with three of his biggest successes, The Ides of March for which he was again nominated for Golden Globes as Producer, Director, and Co-screenwriter. It served to showcase up-and-coming Ryan Gosling who was nominated for a Best Actor Golden Globe. The following year he won the Golden Globe as Best Actor in Alexander Payne's The Descendants, which was also the Golden Globe Best Picture winner, and his first Best Picture win ever. The next year he had another Best Picture contender, Alfonso Cuarón's masterful Gravity which won seven Oscars, but none for George, although his character inspired a classic male chauvinist joke from host Tina Fey at that year's Golden Globes.
Catch 22, a miniseries his company made for television.
Cecil B. deMille Award for lifetime achievement.