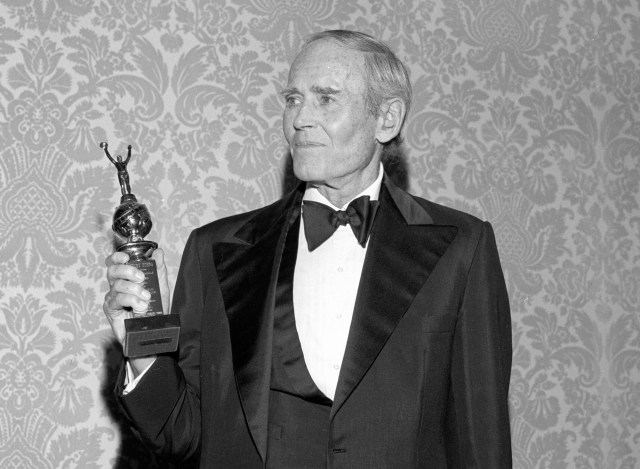 Ready for My deMille: Profiles in Excellence – Henry Fonda, 1980
September 30, 2019
—
Philip Berk
Beginning in 1952 when the Cecil B. deMille Award was presented to its namesake visionary director, the Hollywood Foreign Press Association has awarded its most prestigious prize 66 times. From Walt Disney to Bette Davis, Elizabeth Taylor to Steven Spielberg and 62 others, the deMille has gone to luminaries – actors, directors, producers – who have left an indelible mark on Hollywood. Sometimes mistaken with a career achievement award, per HFPA statute, the deMille is more precisely bestowed for "outstanding contributions to the world of entertainment". In this series, HFPA cognoscente and former president Philip Berk profiles deMille laureates through the years.
Although one of the most celebrated actors of Hollywood's Golden Era, Cecil B. deMille honoree Henry Fonda was reportedly not a happy man. Despite coming from a loving family, in real life, he had difficulty showing that emotion even as he was winning the hearts of audiences the world over.
Always fiercely independent, he rebelled against being tied down to a studio contract, preferring to choose the films he wanted to make. Only when faced with an ultimatum from Fox: if he wanted to play Tom Joad in John Ford's classic The Grapes of Wrath, he would have to sign a seven-year contract, something he later regretted, although he ended up making two of his best movies there, John Ford's My Darling Clementine, and William A. Wellman's The Ox-Bow Incident. The others, he told the HFPA, at a rare press conference, were "forgettable."
Loyalty was also a double-edged sword with him. He had a run-in with John Ford during the filming of Mister Roberts and refused to participate in Peter Bogdanovich's tribute to Ford, but on learning that it was Ford who stood his ground when Zanuck wanted Tyrone Power to play Tom Joad, he relented and contributed glowingly to the documentary.
Although a staunch liberal he disapproved of daughter Jane's "Hanoi Jane" image, and only at the end of his life were the two reconciled.
He was married five times, his second wife and mother of Jane and her brother Peter, committed suicide. She left suicide notes for six people but none for her husband.
He and his lifelong friend Jimmy Stewart disagreed politically — Stewart was a staunch Republican — but they remained close. He was also very close to James Garner, a friendship that began when they both appeared in The Caine Mutiny Court-Martial on Broadway.
While tied to his Fox contract he made three movies with Barbara Stanwyck. At his HFPA press conference, he confessed he was always in love with Stanwyck, but his wife had "learned to live with it."
Surprisingly, Fonda's career is equally divided between his work in theater and his 50-year film career. He got into acting purely by accident. A friend of his mother (who happened to Marlon Brando's mother) thought he had potential; he tried acting and was invited to join a summer stock company where he met his first wife Margaret Sullivan, fellow actor James Stewart, and director Joshua Logan, a friendship which led to leading roles on Broadway, and soon thereafter his first film, The Farmer Takes a Wife, a starring role opposite Janet Gaynor, in a part he had originated on Broadway. Ironically the film was a Twentieth Century Fox release.
After that, there was Trail of the Lonesome Pine for Paramount, That Certain Woman and Jezebel (both opposite Bette Davis) for Warner Bros, and Jesse James for Fox, none of which earned him much notice.
The one that did was Fritz Lang's You Only Live Once which inspired John Ford to hand him two of his signature roles, Young Mr. Lincoln and of course Tom Joad in The Grapes of Wrath, for which earned the first of his three Oscar nominations and screen immortality. But now tied to a seven-year contract, the studio used him in "box office" movies that did nothing for his acting career.
Fortunately, he was allowed to make one of his best films The Lady Eve out on loan to Paramount, the film that established his other screen persona, that of the naive bumpkin who's figured out all the angles. It was his second film with Stanwyck and arguably Preston Sturges' best film. He was able to make The Ox-Bow Incident at Fox before World War 2 intervened.
After that, his career was never the same. Both he and Clark Gable were casualties of that interruption. Returning from combat, with three years to go on his contract, he wasn't willing to take anything the studio offered him. So he worked on loan out, but the fire was gone.
His comeback movie, Anatole Litvak's The Long Night, a remake of the French classic, Le Jour Se Love, was a major disappointment. Far better was John Ford's Fort Apache, but John Wayne had the better role. The Fugitive, again with Ford, couldn't do justice to Graham Greene's great novel, The Power and the Glory. All three movies were made for RKO. The only decent film he made on his remaining contract was Otto Preminger's Daisy Kenyon – but even in that Dana Andrews got the girl (Joan Crawford).
Things were looking bleak, so when his college buddy Josh Logan, now the toast of Broadway, having directed Rodgers and Hammerstein's South Pacific, offered him the role he was born to play, the idealistic Mister Roberts, he was off and running. The play ran for 1200 performances and he won his first Tony for playing the title role.
He stayed with the play for over a year; ironically his Fox nemesis Tyrone Power played that role in the London production. For the next few years, he was a Broadway regular, winning a second Tony for Point of No Return and originating the lead roles in Two for the Seesaw and The Caine Mutiny Court-Martial.
Absent from the screen for eight years he returned to play Mister Roberts on film, a prestige production that had Cagney and Powell in supporting roles and a newcomer Jack Lemmon as Ensign Pullover.
The film was assigned to John Ford, but after an altercation with Fonda, it was completed by Mervyn Leroy. Sad to say, it wasn't the success it was hoped for. Fonda seemed tired and too old to play the role. Nonetheless, it revitalized his movie career and he played Pierre opposite Audrey Hepburn in War and Peace, and The Wrong Man for Hitchcock, but sadly his box office clout was gone.
A new turning point in his career was acquiring the screen rights to Reginald Rose's TV play 12 Angry Men, which was his favorite film. Made for peanuts, it featured a then-unknown supporting cast (Martin Balsam, Lee J. Cobb, Jack Klugman, E.G. Marshall, Ed Begley) and a new director (Sidney Lumet) yet it ended up winning universal acclaim and was nominated by the Academy as best picture. The film is arguably Fonda's most requested title.
After that, he worked steadily, billed above the title but invariably in supporting roles. His best film of this middle period was Franklin Schaffner's The Best Man, based on Gore Vidal's Broadway hit, in which he played — what else — an idealistic U.S. president. He was also a beleaguered president in Failsafe and finally got to play the bad guy in Sergio Leone's Once Upon a Time in the West.
After that, he was the go-to guy for lending gravitas to World War 2 sagas (Midway, Battle of the Bulge, In Harm's Way, The Longest Day). He co-starred with his friend Jimmy Stewart in The Cheyenne Social Club, directed by his liberal buddy, Gene Kelly. He did some notable acting in TV films as well, earning an Emmy nomination for Clarence Darrow.
Near the end of his life, in failing health, and thanks to daughter Jane's perseverance, he made his last film, On Golden Pond, for which he finally earned both a Golden Globe and an Oscar as best actor.
He died shortly thereafter. Characteristically he requested no funeral and, at his request, was immediately cremated.
His classic movie roles? The Grapes of Wrath, The Lady Eve, The Ox-Bow Incident, and yes, My Darling Clementine.