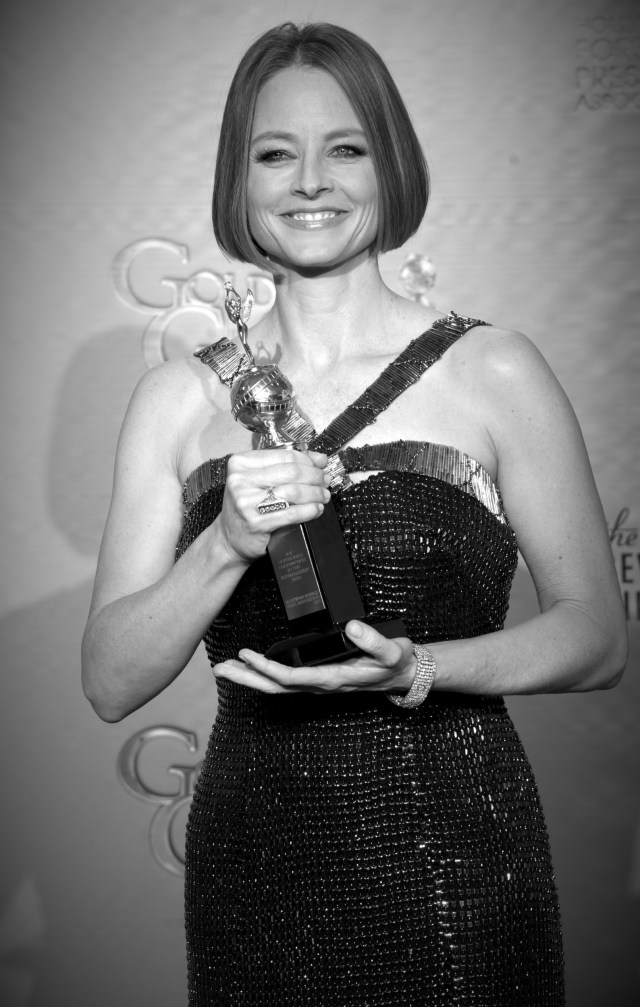 Ready for My deMille: Profiles in Excellence – Jodie Foster, 2013
April 20, 2020
—
Philip Berk
Beginning in 1952 when the Cecil B. deMille Award was presented to its namesake visionary director, the Hollywood Foreign Press Association has awarded its most prestigious prize 66 times. From Walt Disney to Bette Davis, Elizabeth Taylor to Steven Spielberg and 62 others, the deMille has gone to luminaries – actors, directors, producers – who have left an indelible mark on Hollywood. Sometimes mistaken with a career achievement award, per HFPA statute, the deMille is more precisely bestowed for "outstanding contributions to the world of entertainment". In this series, HFPA cognoscente and former president Philip Berk profiles deMille laureates through the years.

Although Jodie Foster has given some of the most memorable performances of recent times, it is her remarkable intellect that is her defining characteristic. Her wide range of portrayals, Clarice Starling in Silence of the Lambs, Iris in Taxi Driver, Sarah Tobias in The Accused, Nell in Nell, and Penelope Longstreet in Carnage, has earned her two Golden Globes, two Academy Awards, and numerous other honors. But what remains singular is the bristling intelligence which has guided her from child actor to Hollywood superstar.
Actress, director, producer, mother, she has done it all, disdaining fortune and fame. "I made a decision at a very young age," she once told the Hollywood Foreign Press, "that I would try to live the same life even if my career has its ups and downs. I didn't want to be one of those actors with a seven zillion-dollar house in Beverly Hills and a huge mortgage, who has to do The Towering Inferno. I don't believe fluctuations with your money should have anything to do with your personality. I will always drop off my letters at the post office, pick up my dry cleaning, drive my own car, because that's what living is. If I stopped living, then what's the point? Just so I can make a few more phone calls!"
You can understand her clarity when you realize she was doing commercials – she was the Coppertone girl – at age two. Her first speaking part when she was all of seven, was on The Doris Day Show. She continued doing guest appearances for the next few years in high profile TV shows, which impressed Disney and she was given her first starring role in Napoleon and Samantha. However, it was her role as Becky Thatcher in Disney's Tom Sawyer which convinced everyone she had a rare talent, particularly Martin Scorsese who cast her in a small role in Alice Doesn't Live Here Anymore and then gave her a career-defining role as a teenage hooker in Taxi Driver.
Suddenly she was a star.
In quick succession, she made The Little Girl Who Lives Down the Lane, the critically acclaimed Bugsy Malone, and then two for Disney: Freaky Friday (for which she earned her first Golden Globe nomination) and Candleshoe.
By 1980 she had matured into a striking young woman and Adrian Lyne's Foxes was the perfect showcase for her. But then, at the age of 18, she made up her mind to quit Hollywood, and she enrolled as a full-time student at Yale University, where she studied Afro American literature, eventually graduating magna cum laude in 1985.
She continued making movies during the summer breaks. The two she might include in her filmography would be Tony Richardson's The Hotel New Hampshire and John Patrick Shanley's first screenplay, Five Corners.
Of course, it was her role in The Accused that turned the corner for her. She was almost ready to quit acting when she discovered the script. She had to audition twice and only after another actress turned down the part did she get the role – for which she won both the Golden Globe and the Oscar. After that triumph, she turned down film after film waiting three years for what would become her most famous film, Silence of the Lambs, which when released early in the year had been dismissed by critics as a sensational horror film, but when it reemerged at the end of the year it became a possible Oscar contender, and it did just that, becoming the third film in history to win the top five Oscars, for best picture, best actor, best screenplay, best director and, of course, best actress. It was Jodie's performance as Clarice, for which she earned her second Golden Globe as best actress, which anchored the film and made it a huge box office success.
After that, the world was her oyster. She not only wanted to act, but she also wanted to direct as well. Little Man Tate was the impressive first result, and it encouraged her to continue directing. Over the years she's directed Home from the Holidays, which gave her a chance to work with an all-star cast, The Beaver, which allowed her to both act with and direct Mel Gibson, and Money Monster which confirmed her reputation when Hollywood royalty George Clooney and Julia Roberts were eager to work with her. But she wasn't ready to give up on acting, yet.
So, she chose to work with Woody Allen – a lackluster collaboration on Shadows and Fog. She fared better working with Richard Gere (Sommersby) and Mel Gibson (Maverick), but her personal project Nell was a big disappointment, even though it received three Golden Globe nominations including one for Jodie's acting. Somewhat disillusioned, she waited three years before working again, first for Robert Zemeckis on Contact for which again she was nominated for the best actress Golden Globe, her fifth nomination, and then signing a production deal with Fox she ventured on a remake of Anna and the King, which did extremely well, and encouraged her to produce The Dangerous Lives of Altar Boys, her first unsympathetic role, which didn't.
After that she handpicked her roles and directors, working, only occasionally, with David Fincher on Panic Room, Spike Lee on Inside Man, Neil Jordan on The Brave One, and Roman Polanski on Carnage. None of these were world beaters but that never was her aim.
As she told the Hollywood Foreign Press when asked how she'd like to be remembered, she answered, "The legacy I want to be remembered by are the details of my life which are ordinary, but spectacular to me. My favorite day is sitting in my house, listening to my records, cooking things for people, laughing hysterically at very, very bad television. I'd rather be remembered for that than any sort of bigger stuff that I've done."
And the bigger stuff? Her Golden Globe-winning performances in The Accused and Silence of the Lambs and her Oscar-nominated one in Taxi Driver. And don't ignore her directorial work, all well worth your time.