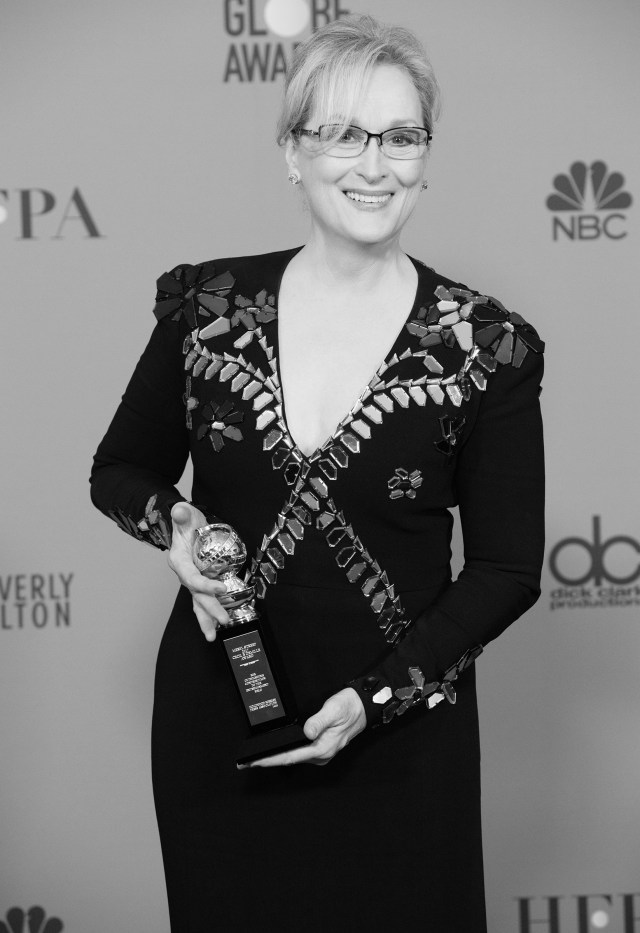 Ready for My deMille: Profiles in Excellence – Meryl Streep, 2017
June 15, 2020
—
Philip Berk
"Arial",sans-serif;color:#550016″> Cecil B. deMille Award namesake visionary director"Arial",sans-serif;color:blue">Walt Disney to Bette Davis, Elizabeth Taylor to Steven Spielberg and 62 others, the deMille has gone to luminaries – actors, directors, producers – who have left an indelible mark on Hollywood. Sometimes mistaken with a career achievement award, per HFPA statute, the deMille is more precisely bestowed for "outstanding contributions to the world of entertainment". In this series, HFPA cognoscente and former president Philip Berk profiles deMille laureates through the years.
Meryl Streep. For that matter neither has any actor.
Kramer vs. Kramer, Sara/Anna in The French Lieutenant's Woman, Sophie in Sophie's Choice, Karen in Silkwood, Susan Traherne in Plenty, Karen in Out of Africa, Lindy in A Cry in the Dark, Francesca in The Bridges of Madison County, Susan Orlean in Adaptation, Hannah Pitt in Angels in America, Miranda Priestley in The Devil Wears Prada, Sister Aloysius in Doubt, Julia Child in Julie & Julia, and Violet in August: Osage County.
normal">cum laude from Vassar College and received her MFA with honors from Yale University in 1975. She began her professional life on the New York stage, where she quickly proved her versatility and verve as an actor. Within three years of graduation, she had made her mark on the Broadway stage winning three Drama Desk and one Tony nominations as outstanding actress in a play.
Robert de Niro in Taxi Driver, she decided to pursue a career in film. A small role in Julia, which starred formidable icons Jane Fonda and Vanessa Redgrave, led to a more challenging role in the TV miniseries, Holocaust, which became a television milestone and in turn led to her being cast opposite her acting idol Robert De Niro in the Oscar-winning The Deer Hunter, for which she received her first Oscar and Golden Globe nominations as Best Actress in a Supporting Role.
Woody Allen's acclaimed Manhattan, a lesser one in Alan Alda's The Seduction of Joe Tynan, and finally, the role that would make her a star, playing opposite Dustin Hoffman in Kramer vs. Kramer for which she won both the Golden Globe and Oscar as Best Actress in a Supporting Role.
Robert Benton (she's always been fiercely loyal) but then she did Sophie's Choice for which she won both the Oscar and her second Golden Globe as Best Actress in a Drama.
color:#222222″> earned her nominations from both the Academy and the HFPA, but it was not popular with her public, neither was Plenty which provided her with one of her more challenging roles which went unrewarded. Her follow up however Out of Africa for which she was again dual nominated became a huge box office success and won both the Oscar and Golden Globe as Best Picture. This was her third Best Picture Oscar winner.
Jack Nicholson made for her friend Mike Nichols was a soufflé that fell flat, Ironwood again with Jack was an unmitigated disaster. Even Fred Schepisi's A Cry in the Dark for which she was again nominated for an Oscar and a Golden Globe failed to connect to audiences. Her spot-on Australian accent, one of many she mastered in her career, was subjected to mean spirited ridicule by snooty critics, but she wisely ignored them. She-Devil, however, was a questionable choice in which she shared billing with then-emerging Rosanne Barr.
Postcards from the Edge, the film itself was another Mike Nichols disappointment. She was game to play opposite comedian Albert Brooks in Defending Your Life and followed it with another quirky choice Death Becomes Her, which didn't win her any followers. This was a transitional period for her, working continuously but with few rewards. Even The House of the Spirits which was supposed to lift her spirits; despite working with an impressive cast and director, did exactly the opposite.
The River Wild which once again jump-started her career, and ever since she hasn't looked back. She's played opposite her director Clint Eastwood in The Bridges of Madison County which was a big box office success and earned her her 12th Golden Globe and 10th Oscar nomination. She coasted along in Barbet Schroeder's Before and After and in Marvin's Room for which she was again nominated for a Golden Globe as Best Actress. She was Renée Zellweger's dying mother in Carl Franklin's One True Thing, another Golden Globe-nominated performance, and she played a real-life school teacher in Music of the Heart, which earned her her first Golden Globe nomination as Best Actress in a Musical.
Spike Jonze–Charlie Kaufman's masterful Adaptation for which she earned both her second Oscar and Golden Globe as Best Supporting Actress. She followed that with a co-starring role in the Golden Globe Best Picture, The Hours, and then appeared in Mike Nichols' TV adaptation of Angels in America, for which she won her first Golden Globe as Best Actress in a TV movie. Finally, they made a great movie together – or rather mini-series.
Mamma Mia!, The Iron Lady, for which she won her eighth Golden Globe and third Oscar for playing Margaret Thatcher, August: Osage County, and The Post, for which she was again Oscar and Golden Globes nominated.
Greta Gerwig last year when she played Aunt March in Little Women, a performance unanimously praised for her undiminished artistry, best summed up by the late Mike Nichols who once told us: "My wish is that Meryl will one day be 90 years old acting in a great role written for a 19-year-old woman."