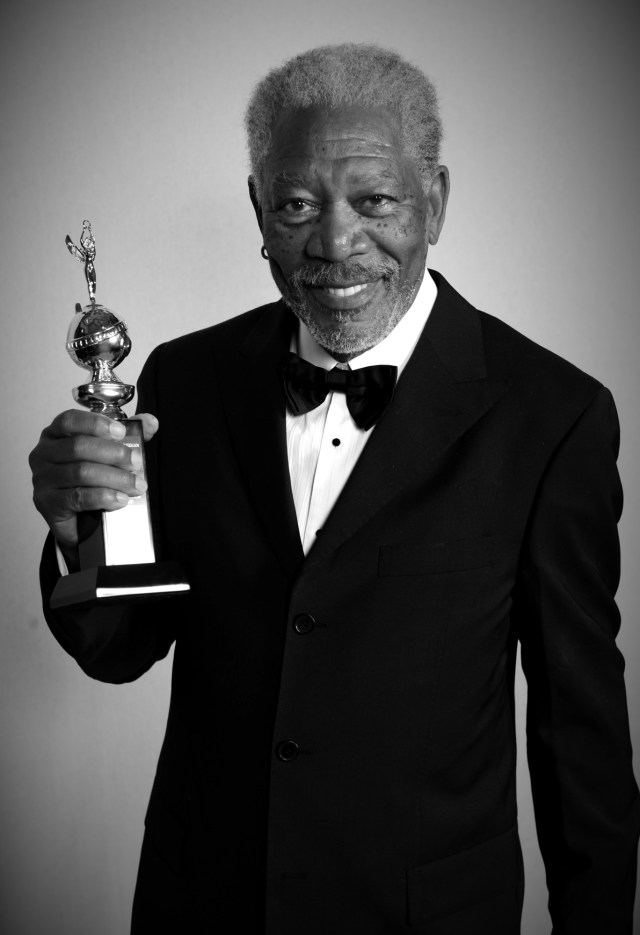 Ready for My deMille: Profiles in Excellence – Morgan Freeman, 2012
April 13, 2020
—
Philip Berk
Beginning in 1952 when the Cecil B. deMille Award was presented to its namesake visionary director, the Hollywood Foreign Press Association has awarded its most prestigious prize 69 times. From Walt Disney to Bette Davis, Elizabeth Taylor to Steven Spielberg and 62 others, the deMille has gone to luminaries – actors, directors, producers – who have left an indelible mark on Hollywood.
Cecil B. deMille honoree Morgan Freeman epitomizes the professional actor. After a long career in the theater, he became a movie star at 52. Despite numerous Golden Globe and Oscar nominations, he's never once complained about losing or not getting nominated. All told he's been nominated five times for a Golden Globe (winning a Best Actor award for Driving Miss Daisy) and five times for an Oscar, finally winning in 2004 as Best Supporting Actor for Million Dollar Baby, which also earned him his second Golden Globe.
Freeman first burst on the screen playing a terrifying and merciless pimp in Street Smart, and once given the role of Hoke Colburn in Driving Miss Daisy, a role which he had created off-Broadway, he's never stopped working. Of course, he already had 23 years of experience as an actor on stage and doing bit parts on television and in movies, but his winning the Golden Globe made him a Hollywood fixture. In quick succession, he played a crusading principal in Lean On Me, and then replaced Alan Arkin in Bonfires of the Vanities. He played a Moor in Kevin Costner's hugely successful Robin Hood Prince of Thieves and then appeared in the first of his numerous Clint Eastwood movies, Unforgiven, which earned seven Oscar nominations but none for him. Both Eastwood as director and Gene Hackman (as supporting actor) won Golden Globes and Oscars that year.
Freeman got his payback the next year when he was rewarded with the role (an Irishman in the original story) that would make him a household name. The Shawshank Redemption earned him his third Golden Globe and Oscar nomination and became one of the best-loved movies of all time. Following that he was stalwart in big-budget movies, Outbreak (fighting a deadly virus) with Dustin Hoffman, Deep Impact playing the first of his many roles as an American president, Chain Reaction, playing a scientist with Keanu Reeves, playing an abolitionist in Steven Spielberg's Amistad, and a hitman in Nurse Betty, opposite Renee Zellweger. His performance as a detective in David Fincher's classic se7en shaped the course of his next few years, and he again played that role as Alex Cross in Kiss the Girls and its sequel four years later, Along Came a Spider, both enormously successful. He was a police lieutenant in Guilty By Association, and comfortable playing a CIA director in The Sum of All Fears, with Ben Affleck.
Until, once again, Clint Eastwood offered him something more challenging, a memorable turn in the unheralded, come-from-nowhere masterpiece Million Dollar Baby which earned him, finally, his long-overdue Academy Award and gave him renewed vigor. After that, he was soothing in Christopher Nolan's Batman Begins and its two sequels, memorable in Lasse Halstrom's An Unfinished Life, an audience favorite playing God a second time in Evan Almighty (sequel to Bruce Almighty), and again a detective in Ben Affleck's first foray into directing, Gone Baby, Gone
He met his match playing opposite Jack Nicholson in the box office hit The Bucket List and continued working for the next ten years, a welcome presence in countless movies, some good, others run-of-the-mill. His last memorable role was playing his lookalike, Nelson Mandela, in Eastwood's Invictus, but when Hollywood finally mounted a film on the great statesman's life, the role went to Idris Elba. Freeman never complained. That's not his style.
Once when asked why Hollywood took so long to discover him, he told the HFPA, "You know, life moves along as it will. The wheel turns and you're either on the upswing or the downswing. Working in New York I had some marvelous successes on the stage, then segued into small parts in movies. Eventually, I managed to get that showcase part in Street Smart, and after that everything fell in place."
He returned to Broadway in 2008 when he played opposite Frances McDormand in a revival of Clifford Odets's The Country Girl, directed by Mike Nichols. It was not the comeback he had hoped for. 20 years earlier he had received successive Obies, off-Broadway's top award, three times, for Mother Courage, The Gospel at Colonus, and Driving Miss Daisy.
He tried his hand, once, at directing. He did a credible job with Bopha and when asked why he wanted to direct, he told us in a press conference, "I needed a challenge, and a number of directors had told me, 'You should direct,' because I'm one of those actors who sidles up to the director and quietly tells him, 'Why don't you try this or do it that way?' They'd say to me, 'You've got good instincts, you'd be good at it. Why don't you try it? And so I did."
Freeman has served as narrator, commentator, and voice actor in so many television programs, series, and shows, he is arguably the most recognized voice in the world.
His classic performances? Driving Miss Daisy and his Eastwood trilogy, Unforgiven, Million Dollar Baby, and Invictus.