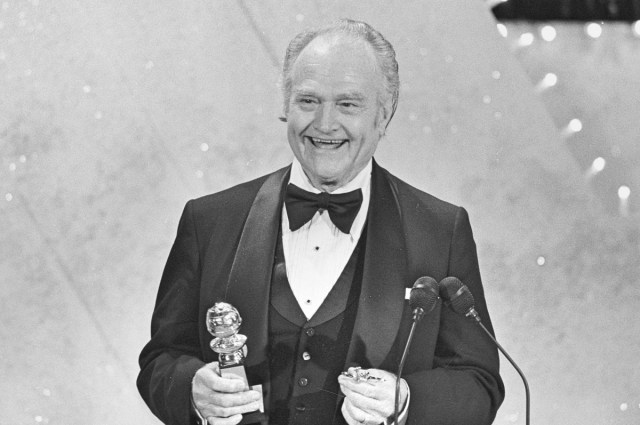 Ready for My deMille: Profiles in Excellence – Red Skelton, 1978
December 16, 2019
—
Philip Berk
Beginning in 1952 when the Cecil B. deMille Award was presented to its namesake visionary director, the Hollywood Foreign Press Association has awarded its most prestigious prize 66 times. From Walt Disney to Bette Davis, Elizabeth Taylor to Steven Spielberg and 62 others, the deMille has gone to luminaries – actors, directors, producers – who have left an indelible mark on Hollywood. Sometimes mistaken with a career achievement award, per HFPA statute, the deMille is more precisely bestowed for "outstanding contributions to the world of entertainment". In this series, HFPA cognoscente and former president Philip Berk profiles deMille laureates through the years.

Don't disparage the studio system. One actor who benefited from it was Cecil B. de Mille recipient Red Skelton. Skelton excelled in creating dopey characters such as the huckster in his famous "Guzzler's Gin" routine, in which while doing a commercial for the product he became successively more inebriated.
During his seven-year contract with MGM, he went from being an aspiring actor to becoming one of the studio's top stars. Before that Skelton had achieved minor success on the radio but his dream was to be in movies. His first role, when he was billed as Richard Skelton, offered him an amusing bit dunking donuts in Ginger Rogers' Having Wonderful Time for RKO. He next appeared in two Warner Bros one-reelers, but it was MGM who signed him to a seven-year contract. They might have had 50 stars under contract but no comedian, and someone there, maybe producer-director S. Sylvan Simon, must have realized he was the one to fill that void.
At first, he appeared in minor supporting roles in dramas such as Robert Taylor's Flight Command, The People vs Dr. Kildare, and Dr. Kildare's Wedding Day. But it was Simon who gave him his first starring role in Whistling in the Dark, which showcased his delightful persona and his unique comic talent and made him a star. From then on he was MGM's one and only comedian, and he went from success to success. At first, he was given a comic bit in Lady Be Good and co-starring roles in Eleanor Powell's Ship Ahoy and Ann Sothern's Masie Gets Her Man.
But it was his top-billed roles in Panama Hattie and DuBarry Was a Lady, both based on successful Broadway shows, which the studio dispensed with their Broadway origin and allowed him full reign.
Realizing now he was their Bob Hope and Danny Kaye, MGM found properties where he was the only attraction, and the public adored him, starting with I Dood It, a remake of Buster Keaton's Spite Marriage which included a hilarious sequence with a game Eleanor Powell. He reprised his Detective Fox character in Whistling in Brooklyn and then did a funny guest spot with Margaret O'Brien in MGM's star-studded Thousands Cheer.
The second phase of his career began when he played opposite the studio's find, Esther Williams starting with Bathing Beauty in which he danced in a tutu, one of his classic routines. The film was a huge hit and together with his radio show, he was unstoppable. He did his hilarious drunk, a guest shot for Ziegfeld Follies, and then tried something different, a remake of The Show-Off, based on the George Kelly play, but the audience wasn't buying the sentiment. They also rejected the remake of Merton of the Movies.
Simon again came to the rescue for The Fuller Brush Man on loan to Columbia, in which he returned to slapstick. Back at MGM for A Southern Yankee, working with his idol Buster Keaton, he was again zany, but apparently his audiences were staying home watching TV.
He was one of four stars in Neptune's Daughter which was a big hit but mainly because of Esther Williams, who was now MGM's top money earner.
His next film, again working with Keaton, The Yellow Cab Man was one of his best, but the writing was on the wall. He was given a straight role as composer Harry Ruby in Three Little Words opposite Fred Astaire, but with his last movies at MGM, Watch the Birdie, Excuse my Dust, Texas Carnival and Lovely to Look At, it was obvious the studio believed he had outgrown his usefulness.
His last MGM film The Clown was a misbegotten remake of Wallace Beery's The Champ. So where to turn? Television of course, and thus began his spectacular 20-year run where his zany characters delighted TV audiences. He made household names of Clem Kadiddlehopper, Freddie the Freeloader. and the Mean Widdle Kid, whose favorite expression was "I dood it!" The show won the Golden Globe as best TV musical comedy in 1951.
Like other Hollywood immortals, he was also a gifted artist. When NBC canceled his show for good in 1971, he took up painting, and his paintings of clown faces have fetched $80,000 and more. He once estimated he earned $2.5 million a year from these lithographs.
He died in 1990 aged 80. No classic movies but a classic career.