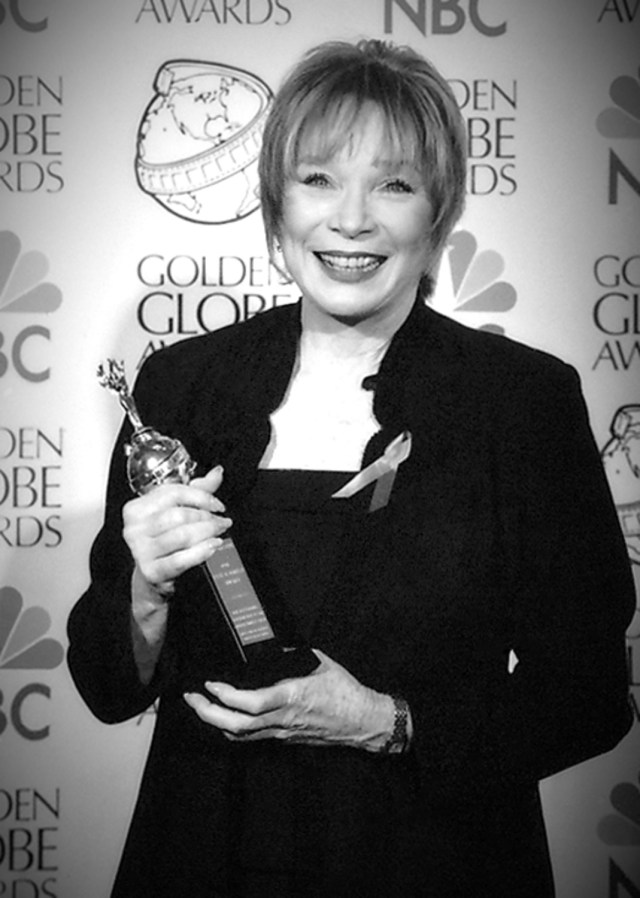 Ready for My deMille: Profiles in Excellence – Shirley MacLaine, 1998
March 2, 2020
—
Philip Berk
Beginning in 1952 when the Cecil B. deMille Award was presented to its namesake visionary director, the Hollywood Foreign Press Association has awarded its most prestigious prize 66 times. From Walt Disney to Bette Davis, Elizabeth Taylor to Steven Spielberg and 62 others, the deMille has gone to luminaries – actors, directors, producers – who have left an indelible mark on Hollywood. Sometimes mistaken with a career achievement award, per HFPA statute, the deMille is more precisely bestowed for "outstanding contributions to the world of entertainment". In this series, HFPA cognoscente and former president Philip Berk profiles deMille laureates through the years.
As part of the only siblings to both earn the Cecil B. deMille lifetime achievement, Shirley MacLaine preceded her younger brother Warren Beatty by nine years in receiving the honor.
The two them have never appeared together at award ceremonies, and during their illustrious careers, they never capitalized on each other's fame. MacLaine, however, was Hollywood's reigning queen at the time, nominated 19 times for a Golden Globe and a six-time winner.
Beatty didn't make his film debut a full five years after Shirley was already an established star. So how did it happen for her? Pure luck. Legendary producer Hal Wallis was in New York searching for talent. He attended a performance of The Pajama Game the night breakout star Carol Haney was indisposed. Shirley was her understudy, and the rest is history.
Wallis signed her to a seven-year contract and immediately loaned her to Hitchcock to star in The Trouble with Harry, for which she received her first Golden Globe as Most Promising Actress. Wallis, unfortunately, had no idea how to use her. It was only after she broke away from him that she found her true calling. He may have been a great producer, but he blew it with her, only using her in supporting roles where she was overshadowed by her more high profile costars.
On loan, again, to MGM for Some Came Running, she stole the movie from her costars Frank Sinatra and Dean Martin and was rewarded with a Golden Globe and an Oscar nomination for Best Actress. That's when Wallis realized her potential but it was too late. She had had it with him.
Now on her own, having forged friendships with her Some Came Running costars, she became a bonafide member of the Rat Pack which helped her career. A second film at MGM, Ask Any Girl, earned her her first Golden Globe nomination as best actress in a comedy or musical. But it was her next role with Frank in Can-Can that made her a star, and her follow-up film the classic Golden Globe and Oscar-winning The Apartment made her a Hollywood icon, in a role for which she earned her first Golden Globe as best actress. She was all of 23 at the time!
Billy Wilder had uncorked that rare chemistry she had with Jack Lemmon and they made Irma La Douce three years later, for which again she won the Golden Globe for Best Actress in a Motion Picture – Musical or Comedy.
She got along famously with Lemmon but had many fallouts with subsequent costars, including Anthony Hopkins and Debra Winger.
In spite of that reputation, William Wyler used her in his remake of The Children's Hour for which she received her second Golden Globe best actress drama nomination, but her costar Audrey Hepburn was left empty-handed.
She inherited two of Elizabeth Taylor's rejects, Robert Wise's Two for the Seesaw and the all-star What a Way To Go, which were both miscalculations. She made a comeback of sorts with Gambit, for which she was again nominated for a Golden Globe as Best Actress in a Motion Picture – Musical or Comedy, her fourth nomination in that category. The next year she was nominated again for Women Times Seven, her least popular movie despite working with director Vittorio De Sica and comic genius Peter Sellers. The Bliss of Mrs. Blossom with Richard Attenborough was another misfire.
Her next was supposed to rescue her career. It was the film adaptation of the Tony award-winning musical, Sweet Charity. Bob Fosse had directed the show on Broadway but he chose Shirley rather than his wife Gwen Verdon to play the lead. It failed mainly because of antipathy towards Shirley, even though again she was Golden Globe-nominated.
Meanwhile in anticipation of her Charity success, Universal pushed her once again as Elizabeth Taylor's replacement in Don Siegel's Two Mules For Sister Sara opposite Clint Eastwood, but all she could show for it was another unhappy set.
She was more effective in Frank Gilroy's Desperate Characters, but there was no Golden Globe nomination this time. It was the Golden Globe award-winning best picture The Turning Point which resuscitated her career, although this time it was her costar Anne Bancroft who won the Best Actress Golden Globe. Shirley wasn't even nominated. Ironically, both she and Bancroft were nominated for the Oscar.
Suddenly she was on a roll. She followed it as Peter Sellers' costar in the highly acclaimed Being There for which again she was nominated for a Golden Globe as Best Actress in a comedy. And then, in her crowning achievement, she played Debra Winger's mother in Terms of Endearment for which finally she won the Oscar and her first Golden Globe for Best Actress in a Motion Picture-Drama.
Her subsequent films were not world-beaters, but it never discouraged the HFPA from giving her her final Golden Globe for Madame Sousatzka (shared with Jodie Foster and Sigourney Weaver) and nominations for Best Supporting Actress in Postcards From the Edge, Best Actress-Drama in Used People, Best Actress in a Musical or Comedy in Guarding Tess, Best Actress in a Miniseries for both Hell on Wheels: The Battle of Mary Kay and Coco Chanel, and finally Best Supporting Actress for In Her Shoes, which essentially was her swansong.
In between those triumphs, she reprised her role in a sequel to Terms of Endearment, The Evening Star, and effectively played Jack Black's enabler in Bernie. She made a splashy comeback playing Elizabeth McGovern's overbearing mother in TV's Downton Abbey, and now at age 86 she's still game to accept whatever's offered her. A true Hollywood trouper.
Her classic movies: The Apartment and Terms of Endearment.