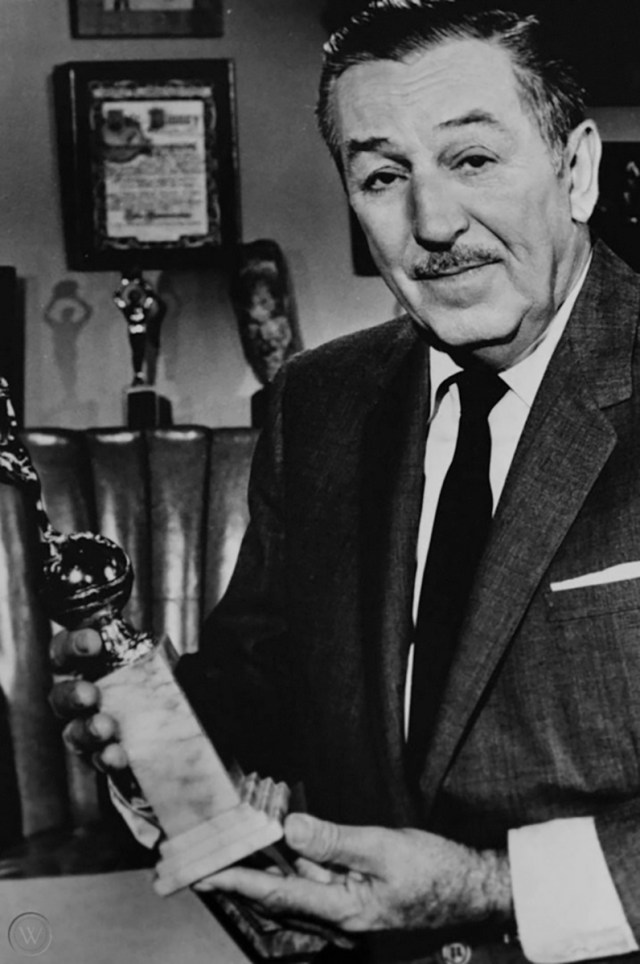 Ready for My deMille: Profiles in Excellence – Walt Disney, 1953
August 17, 2020
—
Philip Berk
"Arial",sans-serif;color:#550016″> was presented to its namesake visionary director, the Hollywood Foreign Press Association has awarded its most prestigious prize 66 times. From Walt Disney to Bette Davis, Elizabeth Taylor to Steven Spielberg and 62 others, the deMille has gone to luminaries – actors, directors, producers – who have left an indelible mark on Hollywood. Sometimes mistaken with a career achievement award, per HFPA statute, the deMille is more precisely bestowed for "outstanding contributions to the world of entertainment". In this series, HFPA cognoscente and former president Philip Berk profiles deMille laureates through the years.
Walt Disney's conservative politics, our second Cecil B. deMille recipient, the first after deMille himself, was a true visionary.
Bambi was released in 1943, and a year later his anti-Nazi classic Der Fuehrer's Face, was applauded the world over and won the animated Oscar once again. He experimented with combining live-action with cartoon characters for Saludos Amigos and The Three Caballeros, which were made at the request of the State Dept. to win over Latin American countries to the Allied cause. They succeeded.
The Living Desert which captured one of three Academy Awards he received in one year and which was a box office hit.
font-family:"Arial",sans-serif;mso-fareast-font-family:"Times New Roman";
color:#222222″>his eighth animated feature was released the next year and although welcomed by audiences it was not as profitable as his live-action films so in quick order he delivered The Sword and the Rose and Rob Roy the Highland Rogue, both hugely profitable.
Mary Poppins was nominated for three Golden Globes and Julie Andrews won one.
Kirk Douglas to star in 20,000 Leagues Under Sea. It was not the blockbuster he was hoping for, but he kept plugging away. His next animated feature Lady and the Tramp did okay, but motion picture attendance had fallen off and Hollywood was retrenching. Disney Studios was able to stay afloat thanks to its numerous television ventures, not the least of which was The Mickey Mouse Club. He became a beloved TV personality introducing a weekly show The Wonderful World of Disney on ABC, but now he was heavily involved in his dream project, Disneyland, which he got the TV network to invest in it.
The Light in the Forest, all celebrating Americana, and all highly popular. A year later he unveiled Sleeping Beauty his least successful animated feature. Could it be because it utilized the music of Tchaikovsky? But the year was saved by the surprise success of The Shaggy Dog and its many sequels, which began the studios' long association with Fred MacMurray. These wholesome family films which later utilized his teenage protégés Kurt Russell and Hayley Mills were all highly popular but instantly forgettable.
"Times New Roman";color:#222222″>and The Sword in the Stone were well received and profitable, but what turned the studio around was the fulfillment of his life long ambition, to bring Mary Poppins to the screen. The film went on to become his biggest moneymaker and made Julie Andrews a huge star. Other hits followed but nothing to compare with the worldwide acceptance of Mary Poppins. Walt continued to oversee the operation of the studio, but he left the running of the studio to his son-in-law. His main interest now was a new park, Epcot,