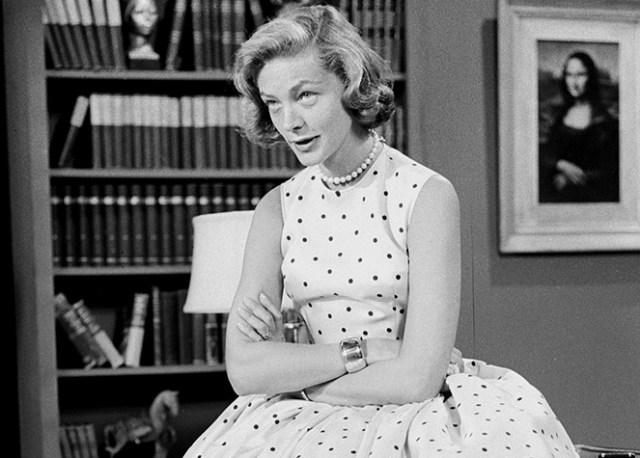 Remembering Lauren Bacall, the True Golden Girl
Movie fans from around the world had barely recovered from the shock of the recent death of Hollywood comic legend Robin Williams, when it was announced that another Hollywood icon was gone. Lauren Bacall, Golden Globes Cecil B. deMille recipient, died August 12th in her New York home after suffering a stroke. She was 89.
Her death was confirmed by her son Stephen Bogart. Mr. Bogart stated:" She lived a wonderful life, a magical life." With a career that spanned decades, the slender actress was known for her husky, sultry voice, and seductive eyes. Lauren's rise to fame is nothing short of Hollywood legend. She was only 19 years old when she took on her first acting role, in 1944's To Have and Have Not, opposite the great Humphrey Bogart, who later became her husband and a lifelong co-star.
Her affair with Bogart, who was married and many years her elder, was the talk of the town. However, they married in 1945, and remained together, raising two children, until Humphrey passed away in 1957.
Between 1945 and 1957, Bacall and Bogart did other films together, including The Big Sleep, Dark Passage, and Key Largo.
Her film career took a five year break after Bogart's passing, and when she returned, she alternated her time between films, the stage, and later, television.
Lauren had more than 40 films under her belt, and her autobiography "Lauren Bacall: By Myself" won a National Book Award.
Born Betty Joan Perske, she took her mother's last name after her parents divorced. Many in her circle of friends in Hollywood called her Betty. She also had a second marriage to actor Jason Robards, in 1961, which produced another child, actor Frank Robards. They divorced in 1969. In her book she candidly mentioned her brief engagement to Frank Sinatra, between marriages.
In 1993, the elegant actress received the Hollywood Foreign Press Association's Cecil B. deMille Award for her "outstanding contribution to the world of entertainment." And she didn't stop there. While many agree that few of her movies had the impact of her first, she continued acting, and in 1997, her role in The Mirror Has Two Faces garnered her an Academy Award nomination and a Golden Globes Award.
Many at the awards ceremony recalled how surprised Lauren was when her name was announced as the winner. With the award in hand, she laughed. Slightly shaky, she said, " It took me a long time to get here, but I am not going to give it back."
She doesn't have to.
In 2010, she received an honorary Oscar "in recognition of her central place in the Golden Age of motion pictures."
A tireless entertainer, Bacall's last credited role was a voice character for FOX's animated series Family Guy, where her husky voice will continue to impress.