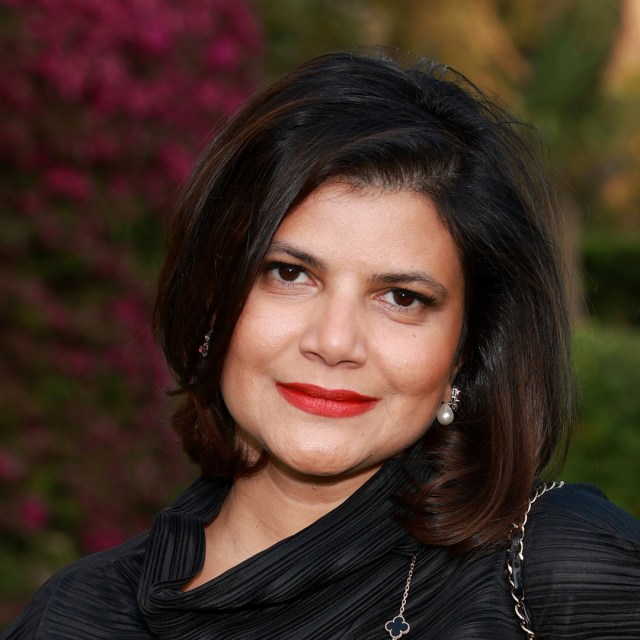 Shivani Pandya Malhotra Added to Golden Globes ® Membership Board of Directors
Los Angeles, CA – (October 24, 2023) – Today, the Golden Globes® announced Shivani Pandya
Malhotra, Managing Director of the Red Sea International Film Festival (RSIFF), as the ninth and final
member of its newly formed Membership Board of Directors. The Board is responsible for selecting,
ratifying and accrediting journalists as voting members for the 81st Annual Golden Globe® Awards,
taking place on Sunday, January 7, 2024. The newly implemented Board reflects a diverse group of
distinguished leaders across the entertainment industry with a range of subject matter expertise and
backgrounds.
"We are excited to have Shivani join the Golden Globes Membership Board and add her expertise in
helping us reach journalists in the growing entertainment centers of the world," said Helen Hoehne,
President of the Golden Globes. "Her leadership and professionalism will be tremendous assets for us as
we continue to recruit highly qualified, experienced and diverse entertainment journalists as future
Golden Globe voters."
The Membership Board of Directors upholds and enforces rigorous standards and practices for the
voting body. The Board is composed of nine in total, of which five are appointed independent
entertainment or media professionals and four are elected from within the Golden Globe Association
membership. As previously announced, the Board includes Hoehne, Tim Gray, Executive Vice President,
Golden Globes, as well as Judy Lung, Neil Phillips, Javier Porta Fouz, Gerardo Prat, Elisabeth Sereda,
and Barbaros Tapan.
Malhotra became Managing Director of RSIFF in 2019, spearheading its inception with a mission to
establish a significant cultural event in Saudi Arabia, dedicated to cross-cultural exchange and the
growth of the Arab film industry. In her role at the Red Sea Foundation, Shivani has overseen
exponential growth for the organization and its flagship event, RSIFF – now preparing its third edition.
Beyond the festival, the Foundation has a year-round set of initiatives to finance, support, upskill and
connect filmmakers in the region – acting as a creative and financial catalyst for the motion picture
community at large. This includes the Red Sea Fund, which since 2019, has supported the development,
production, and post-production of 170 films from the Arab world and Africa; and Red Sea Labs, which
provides networking, workshopping and mentorship opportunities for creators of both film and
television projects.
With an impressive track record of over 25 years in media and entertainment, Malhotra has garnered
acclaim, recognized among Varietys top 500 leaders shaping the global entertainment industry, and
acknowledged as one of the most influential women in the region responsible for evolving the cultural
landscape by The National. She also serves as a member of the Academy of Motion Picture Arts and
Sciences (AMPAS). Her career includes being a core member of the team that launched Dubai Media City
(DMC), serving on the Dubai Film & TV Commission (DFTC), and spearheading both the Gulf Film Festival
(GFF) as Managing Director and the Dubai International Film Festival (DIFF), where under her leadership,
it became recognized as a principal cultural event and the leading festival in the region. She has
launched funding and co-production initiatives, supporting over 300 projects, and currently has various
projects in production in collaboration with emerging regional filmmakers across diverse genres.
Malhotra began her career in India and was branch head for United Studios Limited, a subsidiary of the
UTV Group before moving to the UAE. Shivani has a Bachelor's in Economics, a Master's in
Communication, and a Master's in Project Management, and has completed leadership programmes at
Harvard Business School.
The Golden Globe Awards submission website is now open HERE. The awards timetable, rules and
categories can be found HERE, and nominations are set to be announced on Monday, December 11,
2023.
Multi-Emmy Award®-winning producing duo Glenn Weiss and Ricky Kirshner of White Cherry
Entertainment (WCE) will serve as executive producing showrunners for the 81st Golden Globe Awards,
with Weiss also set to direct. Dick Clark Productions will plan, host and produce the annual Golden
Globe Awards, which has been viewed in more than 200 countries and territories worldwide and is one
of the few awards ceremonies to include both motion picture and television achievements.
About The Golden Globe® Awards
As a premier entertainment award since 1944, the annual Golden Globe Awards has honored
achievements in both television and film. Over the last three decades, the licensing fees from the
Golden Globe Awards have enabled donations of more than $55 million to entertainment-related
charities including scholarship programs, film restoration projects and humanitarian efforts. This funding
has also supported diverse programs in partnership with advocacy groups aimed at promoting greater
access in Hollywood for underserved communities. Dick Clark Productions is the owner and producer of
the Golden Globe Awards. For more information on the Golden Globe Awards, please visit
www.GoldenGlobes.com and follow us on Twitter, Instagram, Facebook, and in Spanish on Twitter, and
Facebook.
About Dick Clark Productions
Dick Clark Productions is the world's largest producer and proprietor of televised live event
entertainment programming including the Academy of Country Music Awards, American Music
Awards, & Billboard Music Awards, Dick Clark's New Year's Rockin' Eve with Ryan Seacrest, "Golden
Globe Awards," "So You Think You Can Dance," from 19 Entertainment and DCP, and "Streamy Awards."
Dick Clark Productions owns one of the world's most extensive and unique entertainment archive
libraries with more than 60 years of award-winning shows, historic specials, performances, and
legendary programming. Dick Clark Productions is a Penske Media company. For more information,
please visit www.DickClark.com.
MEDIA CONTACTS
Dick Clark Productions
Gina Sorial, gsorial@dickclark.com
Lydia Baskharoon, lbaskharoon@dickclark.com
Sunshine Sachs Morgan Lylis