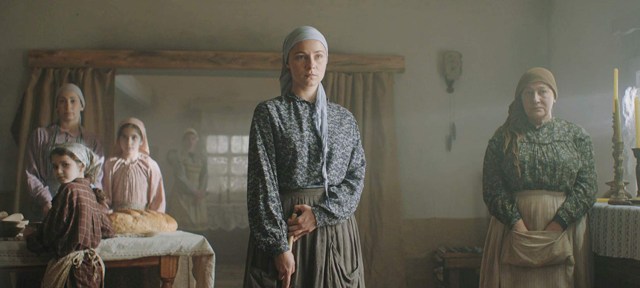 Tevye's Daughters (Ukraine)
November 29, 2018
—
Lena Basse
Tevye's Daughters is a 2017 Ukrainian period melodrama directed by Vladimir Lert, a Latvian immigrant. Lert studied direction at the Brooks Institute in Santa Barbara while simultaneously attending the International Actors School founded by Soviet/Russian actor Alexander Kuznetsov.
Tevye's Daughters tells the story of Yiddish author Sholem Aleichem's most famous character, Tevye the Dairyman, and the various struggles he faces living in a half-Jewish-half-Christian village in Tsarist Russia. The story is most recognized by American audiences through its musical adaptation, The Fiddler on the Roof.
Legendary Russian actor, Evgeniy Knyazev stars as Reb Tevye, a poor Jewish milkman who lives with his wife and five daughters. Tevye and his quick-witted wife, Golde, wrestle with their three marriageable daughters, who wish to marry for love and stray further away from their traditional Jewish values and heritage. As Tevye tries to keep his family together he must also confront rising anti-Semitic rhetoric in his village, which threatens to evict his fellow Jewish neighbors.
After his studies, Lert went to Kiev, Ukraine, where he filmed a number of small budget films and participated in the Kiev Film Festival. When we spoke to him in November, he said that he took the advice of his professors at Brooks and "learned by doing". Although this film is technically Lert's fourth feature film, he considers it his first proper feature and its predecessors more like training for Tevye's Daughters. The film was partially shot at the Pyrohiv Outdoor Museum, a historical museum in Ukraine which recreates early Ukranian country life and folklore.
Even though the film is a period piece, the story discusses many issues that are still topical today, criticizing the many societal boundaries that keep people separate. One character, a Christian man who falls in love with a Jewish woman, says that laws that forbid inter-religious marriage make everyone suffer, not just the minority group. Through the hardships that the family faces, ultimately the film shows that even in the face of adversity, laughter and an optimistic outlook on life can prevail. As said by Tevye himself, "With nothing left, there's nothing to do but laugh". With these words and this story, Lert captures the essence of Jewish culture and values that extend past borders and time.