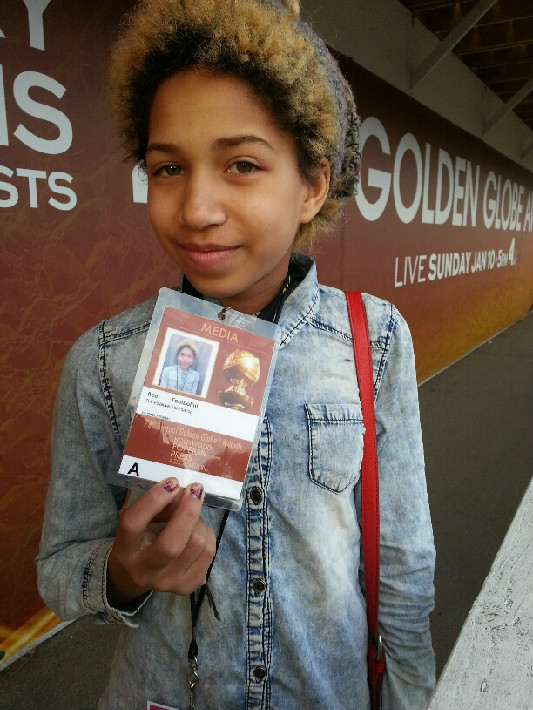 The Youngest Photographer At The 73rd Golden Globes Is Also The Bravest
When the nominees for the Golden Globe walk down the red carpet January 10, they'll pose for some 50 veteran event photographers posted on the line. At 13 years old, Ace Tombolini -Campbell will be, by far, the youngest photographer there, but she stands tallest.
Ace will be there photographing for the Pablove Foundation, because she is a child cancer survivor, one of many that picked up photography at the Shutterbugs program for children with cancer, run by the Pablove Foundation, a five year Hollywood Foreign Press Association's grantee. It'll be the third year of having a Pablove Shutterbug covering the Globes.
At age seven, Ace (her given name) was diagnosed with Wilm's tumor, a rare kidney cancer that affects mostly children ages 3 to 4 ( thanks to advances in the treatment of the disease, the outlook for most children with Wilm's tumor is very good, experts say). Ace went through surgery to remove a kidney and spleen, and several agonizing years of radiation and chemotherapy, and is now in remission.
Said her mother, Patricia ("Tweeti"): " The cancer experience took its toll on the whole family, (Ace is the youngest of four children) and Ace paid close attention to the challenges and hardships that befell us." So, while recuperating, she started The Ace of Hearts Foundation, "to help families of other children with cancer who also go through the financial hardship that a long and expensive therapy process often brings, at a time when such families are most vulnerable. Just the struggle to pay rent, buy food and fix a car can tear families apart." The Ace of Hearts Foundation, which Patricia runs with help from family and volunteers, raises money for families going through pediatric care.
The discovery of her cancer, and the long and painful treatment, did not stop Ace whose list of interests, activities, and accomplishments would easily tire an adult: Not only does she excel academically – ancient history is a favorite subject- she also writes, makes films and takes photographs, improving her skills through the Pablove shutterbug program (her favorite subject matter: plants and flowers).
Now fully recovered, Ace is a gymnast, a purple belt in Tae Kwan Do, participates in several team sports, plays the violin, and takes flying lessons, soloing at age eight.
Says her mother: "One day she may be a professor, a doctor, an artist, or a President. She is so grateful for a second chance at life, that she lives each day as if it could be her last. Living life to the fullest is the ultimate win".
On January 10 you could easily spot Ace at the photographers' lineup along with the Golden Globes red carpet.
Ace is the one standing tallest.
Yoram Kahana