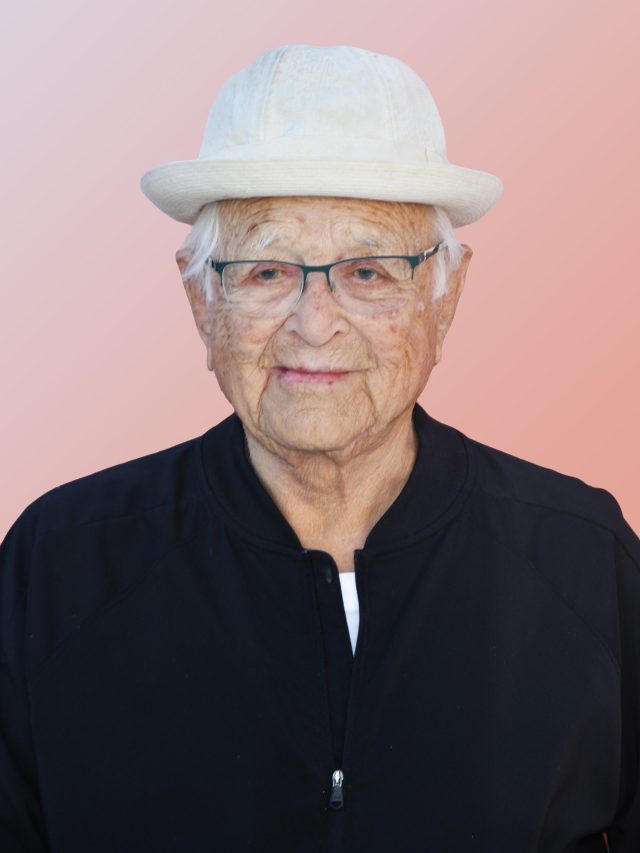 In Remembrance of Norman Lear – Happy 100th Birthday
December 6, 2023
—
Jenny Cooney
TV writer-director-producer Norman Lear died Dec. 6, at age 101. Here's an article the Golden Globes ran last year, to celebrate his 100th birthday and his amazing accomplishments.
As Hollywood continues to enjoy the current 'Golden Age' of television, let's take time out to acknowledge Norman Lear, the man largely responsible for TV's original Golden Age, as he turns 100–years-old on July 27!
At one point in the '70s, Lear had seven shows in the Top Ten ratings – All in the Family (1968-79), Good Times (1974-79), Maude (1972-78), The Jeffersons (1975-85), Mary Hartman, Mary Hartman (1976-77), Sanford and Son (1972-77) and One Day at a Time (1975-84). Over 120 million people were watching his content on a weekly basis and not only were his shows popular, but Lear also used the opportunity to push boundaries and give voice to underrepresented parts of society long before it was a popular cause taken on by the rest of Hollywood.
When Norman joined me on stage in 2017 as I moderated the "HFPA TV Game Changers panel" (alongside other great TV creators: David E. Kelley, J.J. Abrams, Ryan Murphy, Joey Soloway and Shonda Rhimes – all of whom openly gushed about him from the stage), the spritely then-nonagenarian initially tried to downplay those extraordinary achievements. "The fact of life is you work your ass off doing this and then the rest of the world tells you what you did," he insisted. "I am not seeking to minimize it, but there's nothing I can say that hasn't been said about it all. Am I wrong?"
Probably the most famous of all his creations, All in the Family, was a groundbreaking and often controversial series that laid waste to the sitcom mold by tackling taboo issues like racism, gender roles and the war in Vietnam, while managing to still remain one of the funniest and most well-written shows in television history. Though Lear wore his liberal views on his sleeve, All in the Family was strangely also embraced by conservative America, which largely agreed with his creation's curmudgeonly main character, who wanted a return to the 'good old days'.
One we get talking, Lear eventually warms up to reflect on his brilliant career and the anecdotes spill out. There are moments in his life he instantly remembers as sharply as a teenager. They stood for something as far as the artist was concerned. But they also tell us more about who Norman Lear was by looking at what his work stands for.
Asked about how difficult it was to get some of his shows on air, Lear thoughtfully responds, "one anecdote tells it all. On the very first episode of All in the Family, we told a little plotline that it was Archie and Edith's 25th Wedding Anniversary and it was a Sunday, and they were at church, so Mike and Gloria were making a surprise brunch for them and found themselves alone in the house which happened rarely. Mike induces her to go upstairs with him, closes the bedroom door and no sooner than they do that, the front door opens, and Archie and Edith walk in because he hated the sermon, and they left church early. They see balloons, they smell food cooking, they realize what's going on and Mike and Gloria also heard the door, and they are rushing down the stairs while they are buttoning up," he recounts.
"Archie has the first line, which was, '11:30 on a Sunday morning?' and everyone laughed," Lear adds, "but the network said the line had to come out because of the audience thinking about exactly what was going on up there and Archie's words putting their mind to work, and they didn't like that. I don't want to sound brave," he immediately continues back in the mode of downplaying his achievements, "but I already had a three-picture deal as a result of a film called Cold Turkey that I was saying no to in order to make All in the Family, so I was going to be all right anyway. I knew if I gave into what I thought was silly, it would ruin all the weeks or years to come of the show so I said no and told them if they took out the line when the show aired that night, I wouldn't be there tomorrow morning. That night I got a call that they left the line in, but that's how close we came to not having the show – and over nothing!"
On stage at that event, it was the current kind of TV's Golden Age, Ryan Murphy, who reveals that Lear sought him out early in his career that includes Nip/Tuck, Glee, American Horror Story, American Crime Story, and The Normal Heart. "Now I feel a responsibility to find who is the next person who is different from the mainstream, and I try and bring those people and work with them on those shows and train them and talk to them as Norman did with me when I was first starting out. He was one of the first people that reached out to me and said, 'keep being unusual, keep being different and that is how you change the world.' It meant the world to me."
Born on July 27, 1922, in New Haven, Connecticut, Lear was raised in a middle-class home and went to a local high school, where he landed a full scholarship to Emerson College after winning first prize in the American Legion Oratorical Contest for his take on what the U.S. Constitution meant to him. In 1942, he left college to join the U.S. Army Air Force as a radio operator and gunner aboard a B-17 Flying Fortress. After flying over 50 missions, he was discharged in 1945 and moved to New York City, where he attempted to establish himself in public relations. After struggling, he moved to Los Angeles with his first wife, Charlotte, and their firstborn, Ellen and immediately formed a comedy writing team with his cousin, Ed Simmons. A gutsy, blind telephone call to comedian Danny Thomas resulted in their first real entertainment job and the rest is history.
After years of writing and producing comedy-variety specials, he created his first TV show, The Deputy (1959-61), a half-hour Western starring Henry Fonda as a U.S. Marshal and he also launched his film career writing the film adaptation of Neil Simon's Broadway hit Come Blow Your Horn, starring Frank Sinatra, and Divorce American Style (1967), starring Dick Van Dyke and Debbie Reynolds, which earned him an Oscar nomination.
After making his directorial debut with the hit film Cold Turkey, starring Dick Van Dyke, he acquired the rights to the British series Till Death Do Us Part (1965-75) in which Archie Bunker (Carroll O'Connor), a racist, anti-socialist working stiff clashes with his socialist son-in-law nicknamed Meathead (Rob Reiner), who lives in his house. After tweaking the characters for American audiences, All in the Family arrived with record-breaking ratings, numerous awards and a special place in TV history.
Having already won four Golden Globes for Best TV Series Comedy/Musical All in the Family, Norman Lear became only the third person to win the newly established Carol Burnett Golden Globe Award for Achievement in Television in 2019. The new centenarian is an indefatigable creative who shows no signs of slowing down. He arrived on the red carpet at the Golden Globes in 2018 on a motorized red scooter with Oscar-winning West Side Story star Rita Moreno to help promote the reboot of his series One Day at a Time, which Netflix commissioned with a new Latino cast including Moreno. "I've never done anything that I am prouder of than the Latino version of this show we did a long time ago," Lear says with pride. "I am also working on another show I've wanted to do for 40 years about aging, so look out for it."
If anyone can write a hit show on aging, our bet is on Norman Lear. Happy 100th Birthday Norman!