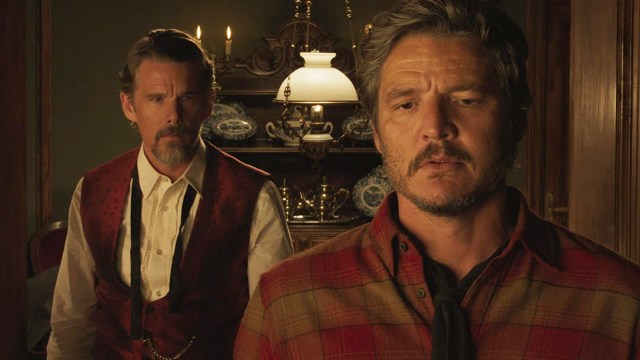 How the West was Won by Queers: Reviewing Queer Western History
We take a look at some movies that show how the western is also a place for "queer" stories.
"In no other western film have we seen two men making a bed," said Spanish filmmaker Pedro Almodóvar when talking about Strange Way of Life, his new short film and the first western in his filmography. The work had its world premiere at the Cannes Film Festival. "That scene makes my film stand out from other westerns," noted the director.
At Cannes audiences finally got to see his take on the gay cowboy movie: a 31-minute movie about a sheriff named Jake (Ethan Hawke) and a cowboy named Silva (Pedro Pascal) who, 25 years after a love affair, reunite in the desert under mysterious circumstances. Director Almodóvar takes the language of this exceptionally virile genre and uses it to compose an absolutely rapturous queer drama along the lines of what Nicholas Ray did in Johnny Guitar (1954).
The film sells itself as a "queer western" that wants to revere the classics of the genre but subvert its conventions.
We know that same-sex sexuality existed back in the American frontier era, though it wasn't something folks often drew attention to. People were still homophobic, some were oblivious, and many simply didn't care. However, Hollywood had clear boundaries to adhere to during the heyday of Westerns, due to the infamous Hays Code.
Still, many filmmakers have leaned into the genre´s latent queer appeal – whether expressed literally or hinted at in a way to escape the repression of the time – all the way back to the genre´s first golden era in Hollywood.
With that in mind, let´s take a look at some of those movies that show how the western is also a place for ¨queer¨ stories.
Red River (Howard Hawks,1948)
Who would have thought that John Wayne, the silver-screen icon whose gruff demeanor cemented cultural understanding of the masculine cowboy, could have agreed to start in this Howard Hawks classic? In it, a strong gay subtext shines through the relationship between Matt Garth (Montgomery Clift) and Valance (John Ireland). The infamous scene where they compare gun sizes doesn't lead to much equivocation. The portrayal of unconventional masculinity hides clear signals about sexuality at a time when the Hays Code prevented such portrayals.
Johnny Guitar (Nicholas Ray,1954)
Another classic, remembered as one of the legendary Joan Crawford´s greatest roles and one of her gayest. Crawford plays Vienna, a saloon owner, frequently dressed in butch western clothing. A woman that, as one of the characters remarks, "is more of a man." Vienna's rivalry with cattle baron Emma (Mercedes McCambridge) is one of the few instances in the genre where women can be tough and talk a lot, with Sapphic overtones that make the film an early lesbian favorite.
Warlock (Edward Dmitryk,1959)
Set amid the framework of law and order in its larval state, the film is about the complex and strange relationship between Marshall Blaisdell (Henry Fonda) and the lame gambler Tom Morgan (Anthony Quinn) who acts as his unexpected bodyguard – a deliberate variation of Wyatt Earp and Doc Holliday. Morgan faithfully followed Blaisdell because the latter was, in the opinion of the former, "the only man who has never call me lame." It seems like the time of subtleties has passed.
Lonesome Cowboys (Andy Warhol,1969)
Talking about subtleties, it took an art world provocateur to get rid of them. This is the unabashed queer art film that one would expect from Warhol. Filmed in Arizona, Lonesome Cowboys was the last film that Warhol directed. This experimental, bisexual reimagining of Romeo and Juliet, labeled "absolute filth" by critics at the time, became one of his least successful works. It is particularly renowned for a violent scene that resulted in Warhol being put under FBI surveillance for a year.
Zachariah (George Englund, 1971)
Hailed as an "electric western," Zachariah is part a rock musical, part psychedelic fantasy, and all very queer. George Englund´s film preached pacifism and free love. It focused on the intimate friendship between its eponymous hero (John Rubinstein) and his best friend, a blacksmith named Matthew (Don Johnson in one of his first screen roles). Though the ways of the west send these two down different paths, their connection palpable. Zachariah is said to be the first film to feature two cowboys openly, earnestly declaring their love for each other.
Desert Hearts (Donna Deitch, 1985)
Despite not being considered a classic western, it takes place in the scorching Nevada desert in 1959. This adaptation of the novel by Jane Rule centers on a blossoming lesbian romance between a professor at Columbia University (Helen Shaver), that arrives in Reno intending to establish temporary residency in the state so that she can obtain a quickie divorce, and a defiant drifter (Patricia Charbonneau) whose only crime is being a lesbian in the 1950s. A new frontier for the representation of lesbian love onscreen.
Brokeback Mountains (Ang Lee, 2005)
Since its release, this film has emerged as one of the most prominent gay romances in commercial adult cinema, despite resistance from those who don't view it as western. For some, Ang Lee´s work is a straight-up attack on the "American values." Be it as it may, there was an appreciation that endures, a sign that the film beams with exquisite work done by Lee and his actors, Jake Gyllenhaal and Heath Ledger, in telling a story of buried emotions and personal acceptance.
The Power of The Dog (Jane Campion, 2021)
Like Brokeback Mountain, Jane Campion´s stirring western uses myth-like cowboy bravado to comment on toxic masculinity. Phil Burbank (steely played by Benedict Cumberbatch) is actually a closeted homosexual. He masks his unorthodox sexual orientation with a rough and tough appearance to throw off anyone who might suspect otherwise.
The World to Come (Mona Fastvold, 2021)
Another representation of lesbian love, although it cannot be considered a classic western either. The story depicts a same-sex relationship flowering in the harsh conditions of the US frontier in 1846, where timid Abigail (Katherine Waterston) and brash, flame-haired Tallie (Vanessa Kirby) drift away from their husbands (Casey Affleck and Christopher Abbott) and into each other's arms.
Lonesome (Craig Boreham, 2022)
A dark and contemplative Australian neo-western that tells the story of Casey (newcomer Josh Lavery), a somber ranch lad who escapes his mysterious past and travels to the big city of Sidney. There he meets and falls in love with Tib (Daniel Gabriel), a city boy struggling with his own scars of isolation. Beautifully shot, the film is proof that "queer western" is a subgenre that can exist beyond the American frontier, is alive and well, and has many stories to tell.