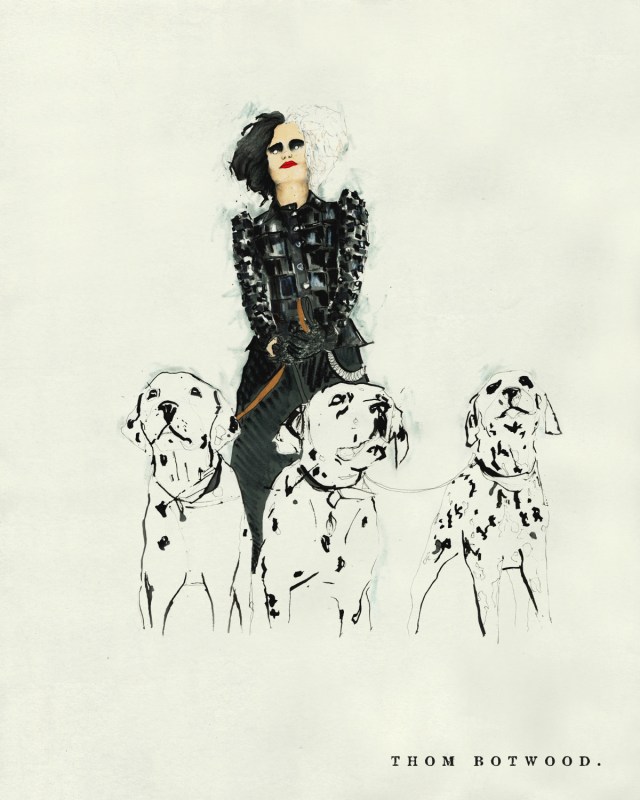 BAFTA and Oscar Winner Jenny Beavan – Dressing Heroes and Villains
March 13, 2022
—
Aniko Navai (Skorka)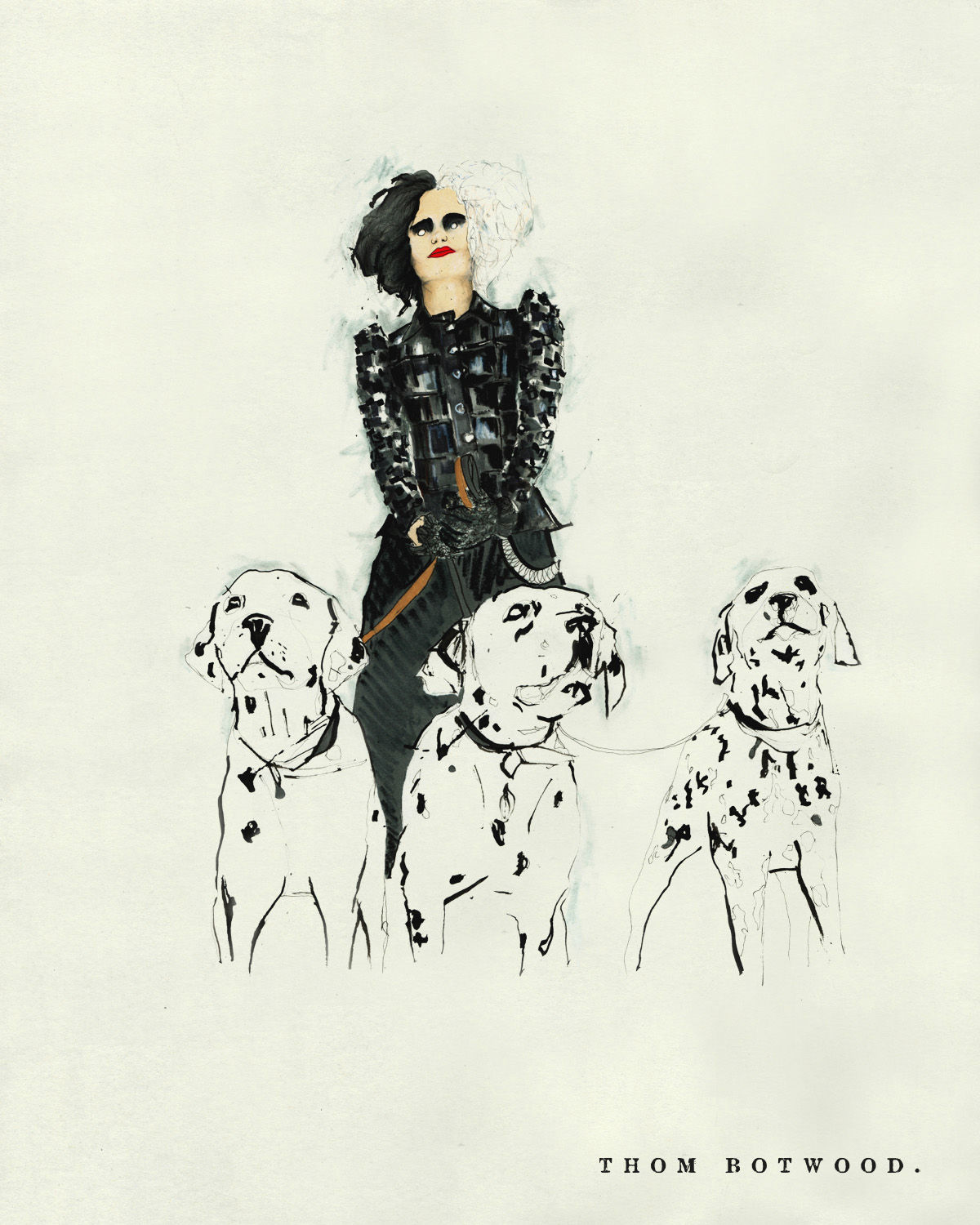 When you think long-term, you win. Jenny Beavan got her first break on an unpaid position as a costume designer on a small Merchant/Ivory picture, followed by many more from the famous independent producer team, including A Room with a View which got her first Oscar.
A daughter of musicians, born and raised in London, she got the art bug and work ethic from her parents, and her thirst for period pieces from costume designer James Bright (who runs a huge costume rental house in London) and who collaborated with Beavan on many movies. Jenny's second Oscar came for Mad Max: Fury Road in 2015 (she made waves with her ominous jacket from the movie at the ceremony). In her 40-year career, she worked with the Who's Who in directing: James Ivory, Ang Lee, Franco Zeffirelli, Robert Altman, Brian de Palma, Tom Hooper, Oliver Stone, Lasse Hallström, Guy Richie, Marc Forster and George Miller. This year she's nominated again for an Oscar, this time for Cruella.
Aniko Navai
Jenny Beavan on the Grand Slam she won
(at the Oscars, backstage interview)
Congratulations on winning both a BAFTA and an Oscars. How does it feel to have won the Grand Slam?
I feel it's quite odd in one way, but I'm so thrilled for my team because it absolutely cements the fact that they're the best in the world. And what they did, they did for me and for the film was extraordinary in terms of the sheer creativity and generosity in what they produced and that brimming skill. I had one of the top people which Claire Sprage found, she got some extraordinary team together, and she's my plus one tonight, but it is wonderful for them. And hopefully, they realize that it's them, not just me.
Continued interview Published March 13, 2022:
You studied to become a production designer. Why did you deviate from that plan?
Life takes strange turns. I wanted to work in theater, it never occurred to me to work in film. I loved designing sets and I was taught by a wonderful Hungarian brought up in Germany, Ralph Koltai, an extraordinary set designer in London in the sixties. But my mother sent me to a dance class when I was little, and I met a boy, Nick Young, who ended up as a commissioning editor on a television arts program in London, and he commissioned a movie by Merchant/Ivory and asked me if I could help. So, I ended up in India with a very famous English actress, Dame Peggy Ashcroft, and I ended up doing everything there: I helped collect crowds, props, acted in it, and in the end, they just asked me to keep working on films.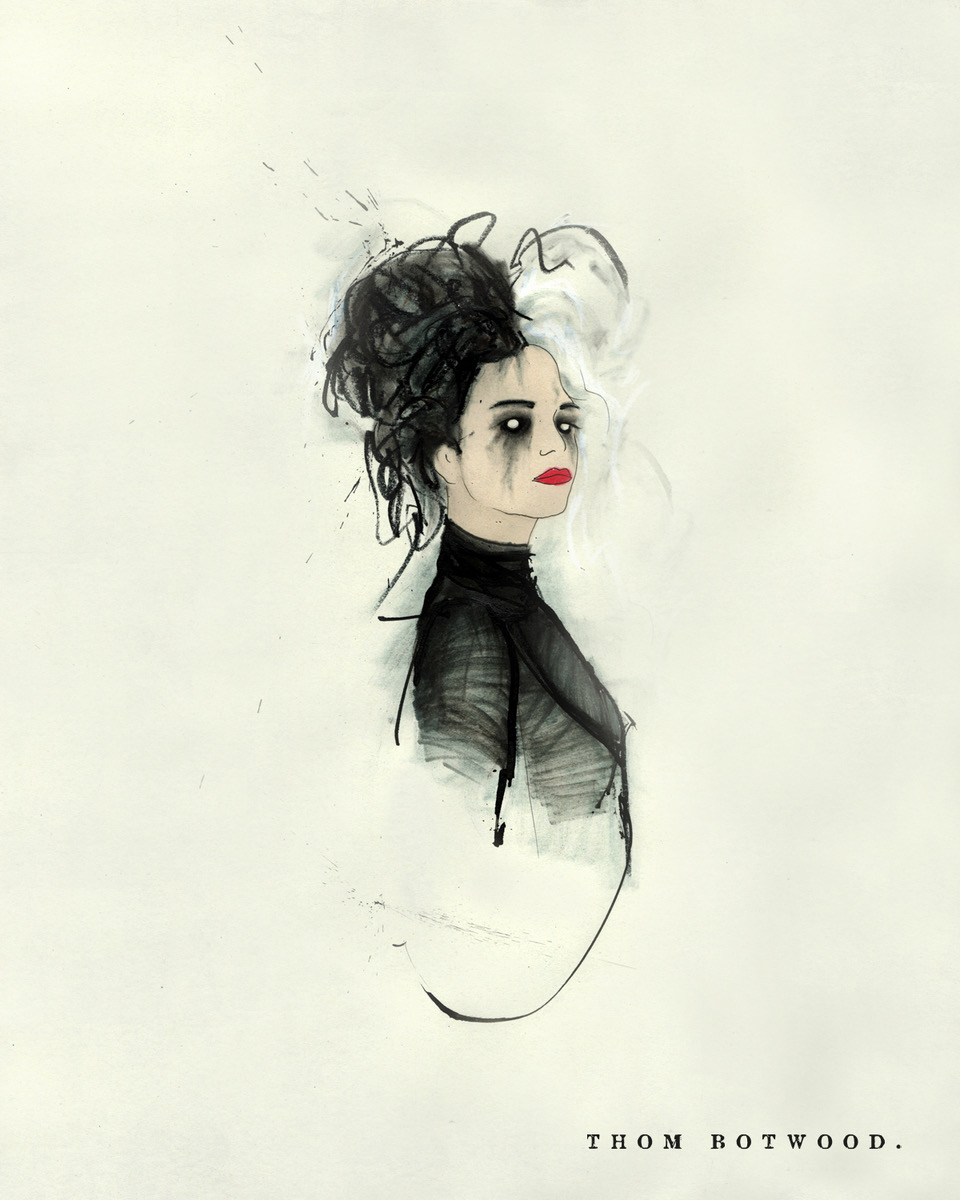 Having worked on shows for the BBC, you earned your first major credit on A Room with a View, and all of a sudden you got nominated for an Oscar. What was your reaction?
Surprise. But I was nominated with John Bright. Our first real credit was The Bostonians, two years before. We knew it was going to be a nice film, but I don't think any one of us thought it was going to make such a mark. The funny thing was when I got to Los Angeles, people kept saying, "I think you're going to go home with your suitcase being a little bit heavier," and we did. That was extremely nice.
Howards End, Anna and The King, Gosford Park, Sense and Sensibility, The King's Speech… you became the queen of period movies. Was it your choice?
No. I was just led from film to film. I was the main wager, I had a daughter, I had to keep earning money, and films paid way better than theater. So, I did what I was offered. Yes, I did two Jane Austens, but the stories are so different that you are never going to use the same clothes, and even if the period was the same, the characters were very different.
What was the most difficult film you worked on?
Probably Mad Max: Fury Road because I was so out of my comfort zone.
Are the costumes on Furiosa, the prequel to Fury Road that you're currently prepping, going to be similar or very different stylistically from the original?
The clothes will be equally apocalyptic, wasteland style, made out of what they can find, and things don't change a lot. There's no wasteland mall, they can't go shopping. Stylistically it's no different, but the story is the growing up of Furiosa who becomes Charlize Theron, and while Fury Road was a road race, here's more of a story.
If you look at this year's Best Actress nominees, and let's just take Nicole Kidman as Lucille Ball, Kristen Stewart as Diana and Jessica Chastain as Tammy Faye, they will all testify to it that the most important department is costume. How do you develop a relationship with an actress or an actor to make sure they feel complete in your designs?
I think the real trick is to be a team with them and not impose your ideas. When I get the script and I'm looking at the character and quite often I don't even know who's going to play it, I make lists of what they need. I also look for images and build up a mood board of what I think they should look like. And if it's a period film, I would go to Cost Prop, my main protocol, a costume house in London, and then I make a notebook on the rack of what I think would work. And when it comes to fitting, I always show them my ideas and listen to their ideas, and between the two of us, we normally come to an agreement. I've been doing this for a long time now so I'm much better at finding what they want or like. I'm no threat to them. I'm small, I'm fat, I'm not into fashion, I wear jeans and a very simple shirt, and my main thing is to make them feel that I'm completely supporting them with the clothes I'm providing.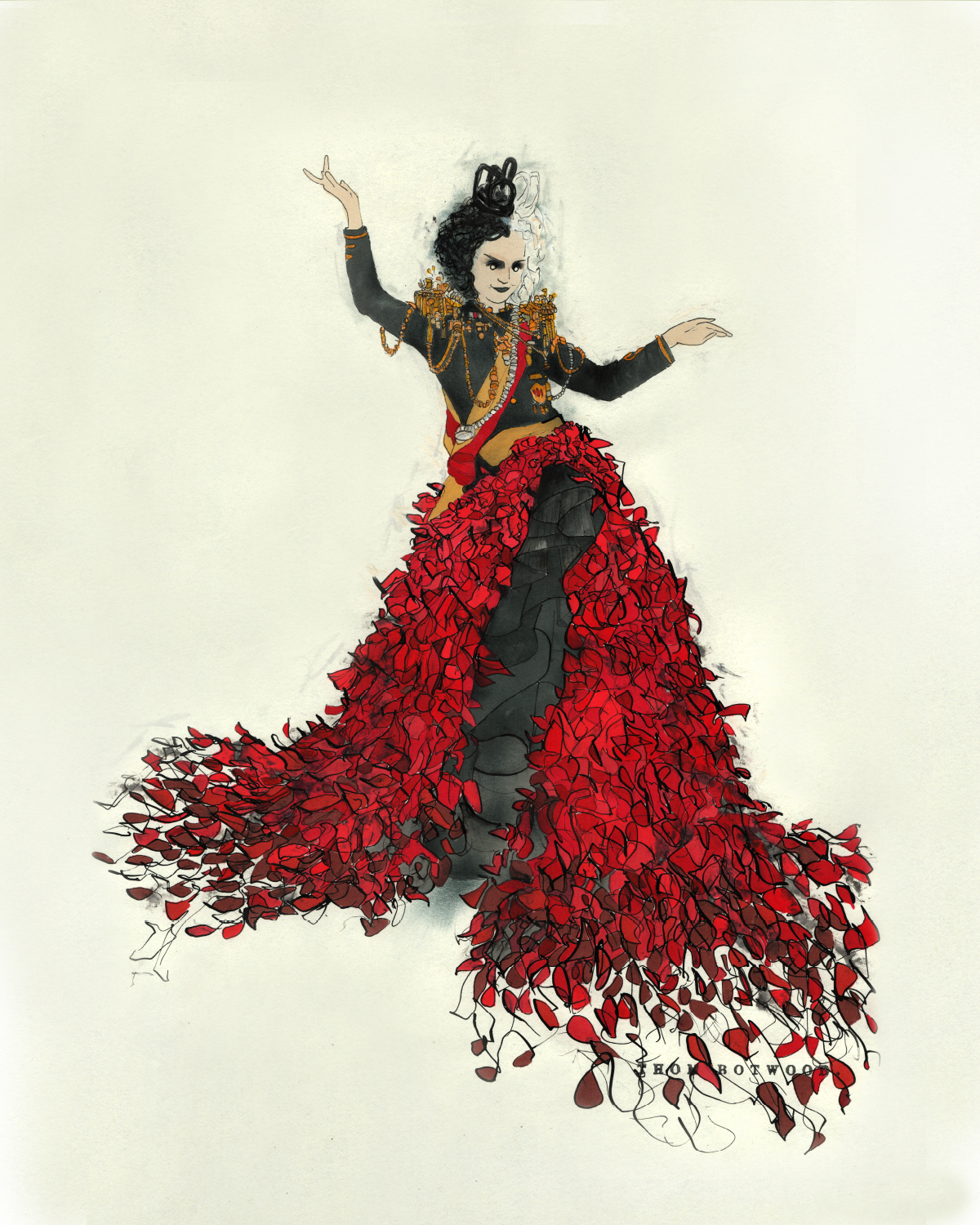 On Cruella, you had to be so fashion-forward that the film got nicknamed De Vil Wears Prada. How did you start the process?
It's all in the story. They're both fashion designers, and one of them – it was in the original script – when she was little, she was making clothes out of her mother's laundry basket and was wearing a weird combination of clothes. What was lovely was to see her journey pick up from school, then becoming a fashion designer. The Baroness was also a very good designer, but a bit past her sell-it-by date. She's good and stylish but a bit old-fashioned. It was clear to grasp it, but not easy to do. So, it was going back in the past, looking at fashion magazines of the period online, and remembering where I used to go to shop on Portobello. I used to go every Friday before when we were prepping, and I got a military jacket there that cost £3. And of course, we needed a lot of clothes, so it was more pressure on me than maybe on some movies I did, in a much different way because I'm not a fashionable person, but I'm a storyteller. So here I was, simply telling a story with 1970s clothes.
Both Emmas, Stone and Thompson, are fashion savvy. Did you listen to them?
Emma Thompson has a house up in Scotland, so we flew to Glasgow and went to this terrible hotel right by the railway station because it was really easy for her to get to and from her house. The first time we went we really took shapes, just made in black cotton, and out of those shapes, we developed a sort of asymmetric style that became the Baroness's trademark. She was really happy with everything we were doing, hyperventilated, went like "ha-ha-ha, Jen, it's so exciting". There was a suit that looked a bit ordinary on her, and she said, 'I don't think it's quite right,' and I absolutely agreed with her, but normally she was thrilled.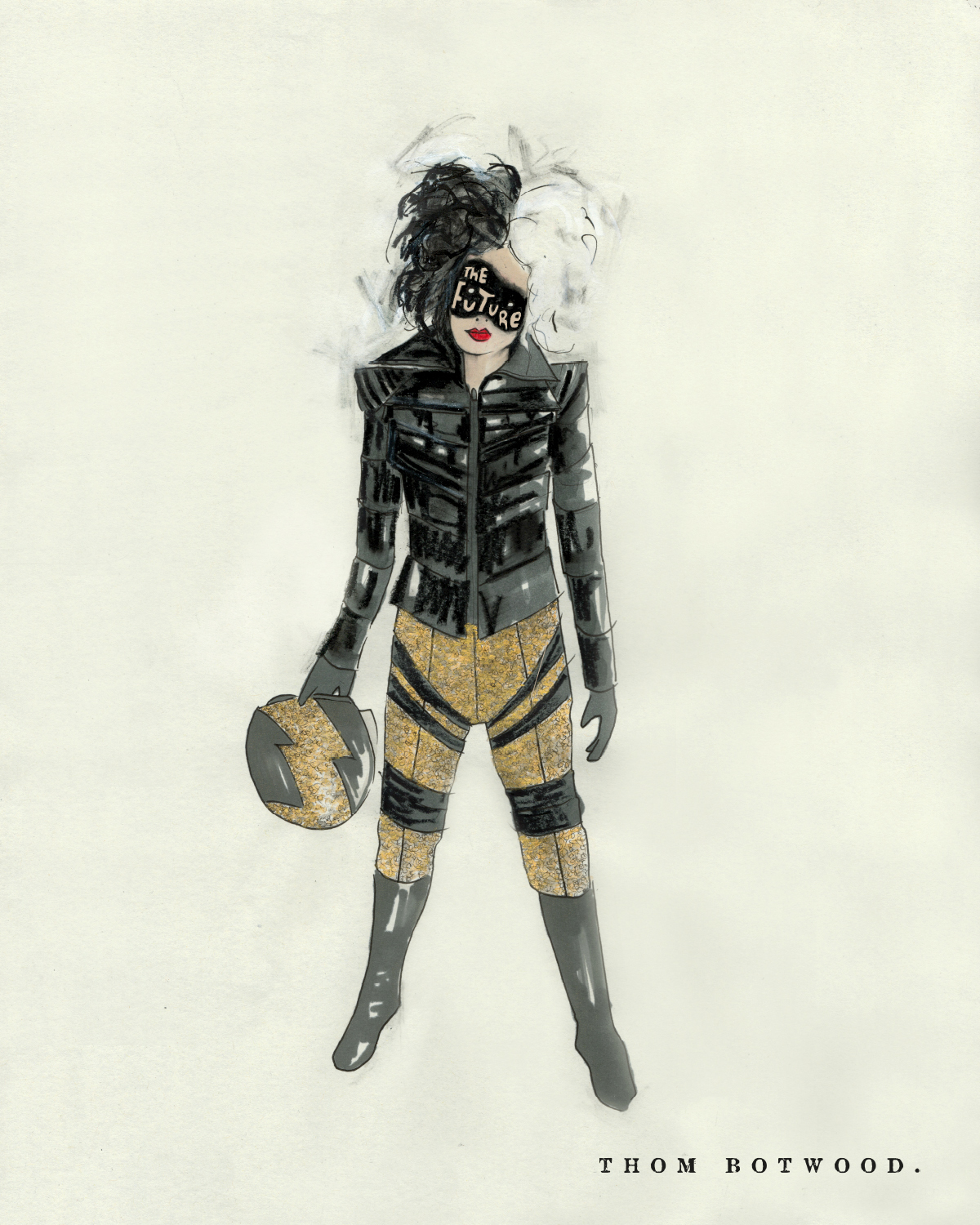 And Emma Stone?
The first time I actually met her, I went to her house in Malibu, and we were doing the fitting in her house. And it was really good fun because she has a garage which was extremely useful, so we just loaded the clothes in the garage and basically fitted her in the kitchen. And it was so normal and real. With hundreds and hundreds of photographs of her in the kitchen… they were just ideas, the things I brought from vintage stores, from markets, just to try to see what did and didn't work. It was not what she'd normally wear, and she was really happy with what I had to offer. And she would put it on and really bring it to life and put all her heart and soul into it. I only heard lovely things about her and I have to say she's a thoroughly good human being.
You designed 47 looks for Emma Stone, it's almost like… playing cards. How did you keep track?
You don't see all the clothes in the film, and I probably overdid the amount that I needed. But because the story takes place in so many days and often you see her quite briefly but in different situations, and you also see her develop as a designer and then, of course, you see her lose it all in the fire, so like you say, it was really playing cards. I fit her, photographed it, cut them out and literally played cards with what she should wear throughout the scenes, how the progression would be. So, I had a big board where I used to pin those cut-out photographs and shuffle them around to get what I felt was a good progression.
Did she ask you for any tips on how to design and how to draw?
Oh, I don't draw. Drawing to me is too two-dimensional and has nothing to do with the life of a human. I have artists who do drawings because everybody wants them. So, the one who did Cruella, Thom Botwood, also became the hand of Cruella, so when she was designing, he would do all his drawings. And he does these wonderfully abstract, funky drawings that you wouldn't make a costume from, but you're inspired by it. But only by trying it on you know what it's really going to look like, so you got to try it on the real actor.
You must have spent quite a lot of time with Emma and Emma.
As much as possible. It was really hard getting them. You have a couple of big fittings in the beginning when they first get cast, but then you're trying to grab them when you can.
Did you create all the garments, or did you find some of the pieces?
We created an awful lot of them, but some of them we found from Portobello. The shops and markets there are really great. And for Emma Stone, I went to LA a bit earlier and I got some stuff at those vintage stores on Melrose, and I went to a wonderful fair called Current Affair, which is a traveling massive vintage show in the USA, and we stopped in Brooklyn and got some really good stuff there. These were mostly ideas, and from these ideas we created the clothes, because we needed doubles.
What's the piece that you are the proudest of?
I found this beautiful military jacket in a shop on Melrose that became the base of what she wears when she swishes her skirt around.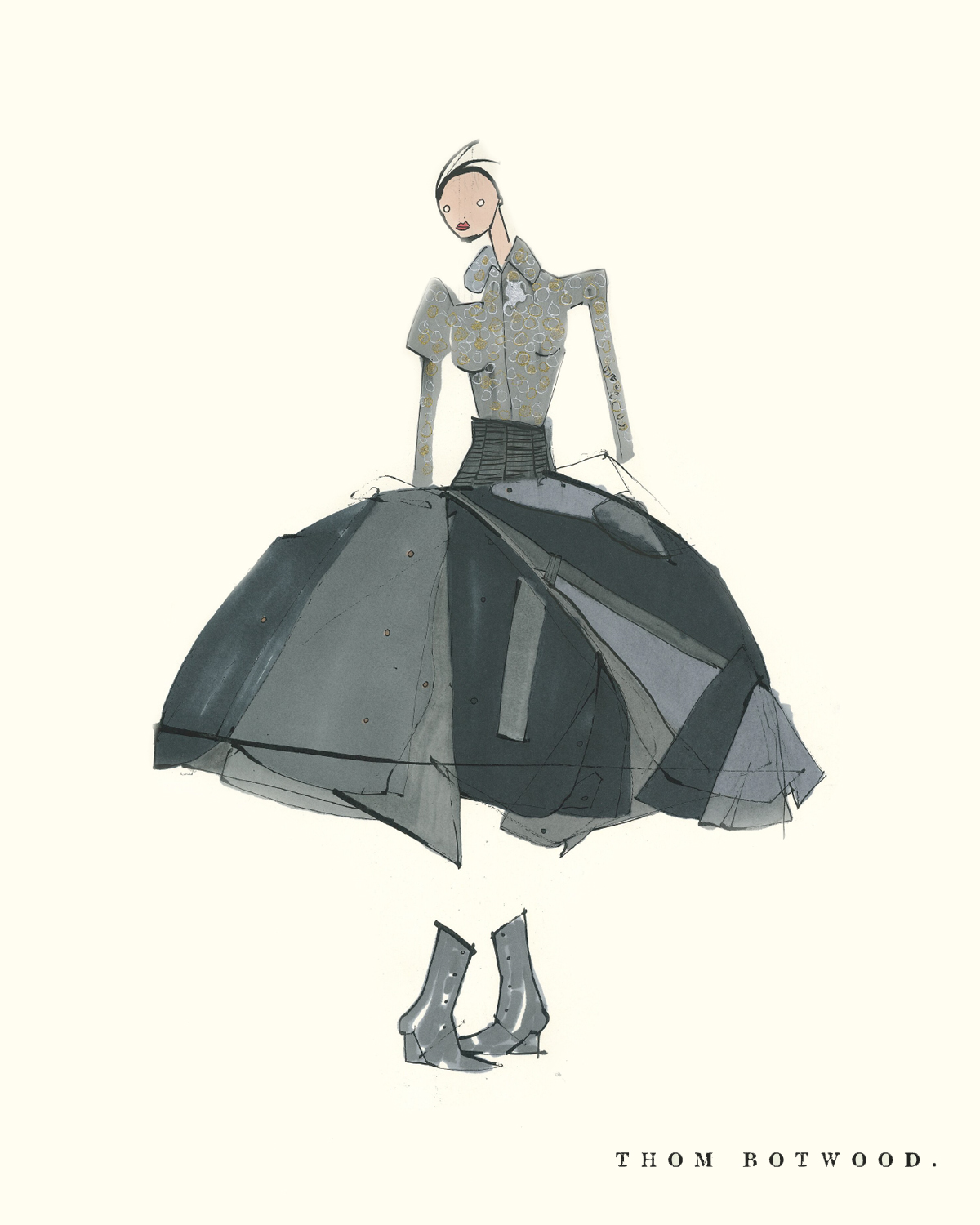 Do you have a team that you've groomed like John Bright groomed you, and never want to part with?
Yes, I do. Claire Sprage has been my supervisor since the '90s. We've done a lot together. I have great cutters, wonderful fitters and so many fabulous buyers, and I was very happy that we had ten weeks to put the whole thing together, and an extra six because Emma Stone broke her collarbone and she was mortified, but I was so grateful to her because she gave us an extra six weeks to prep. I told her, "As long as you're not in too much pain, thank you so much" because it really was lifesaving.
Did the two Emmas give you any presents at the end?
Oh, I got gorgeous presents. I got some very special gin and tonic and a lovely wooden box with gorgeous glasses and my favorite perfume from Emma Stone. From Emma Thompson I got a wonderful cushion which says, "Love and Hisses from the Baroness!" She had it specially made, and I was very pleased with that.
With eight Oscar nominations and two wins, you have enough experience sitting in that room waiting for the moment when they announce the winner. How different is it going to be this time?
It's really odd this time, because it's such a strange time in the world, and I'm still not quite sure how they're going to be doing it. I heard the upstairs and downstairs will be separated. My family are coming, and I haven't seen them for two months and won't see them for some time. It's going to be absolutely brilliant, my daughter and my stepsons and their wives decided to patch up and some friends, they just want to support me. Cruella has certainly won some stuff so far, that's nice, but I don't expect anything. For my crew, I would love it.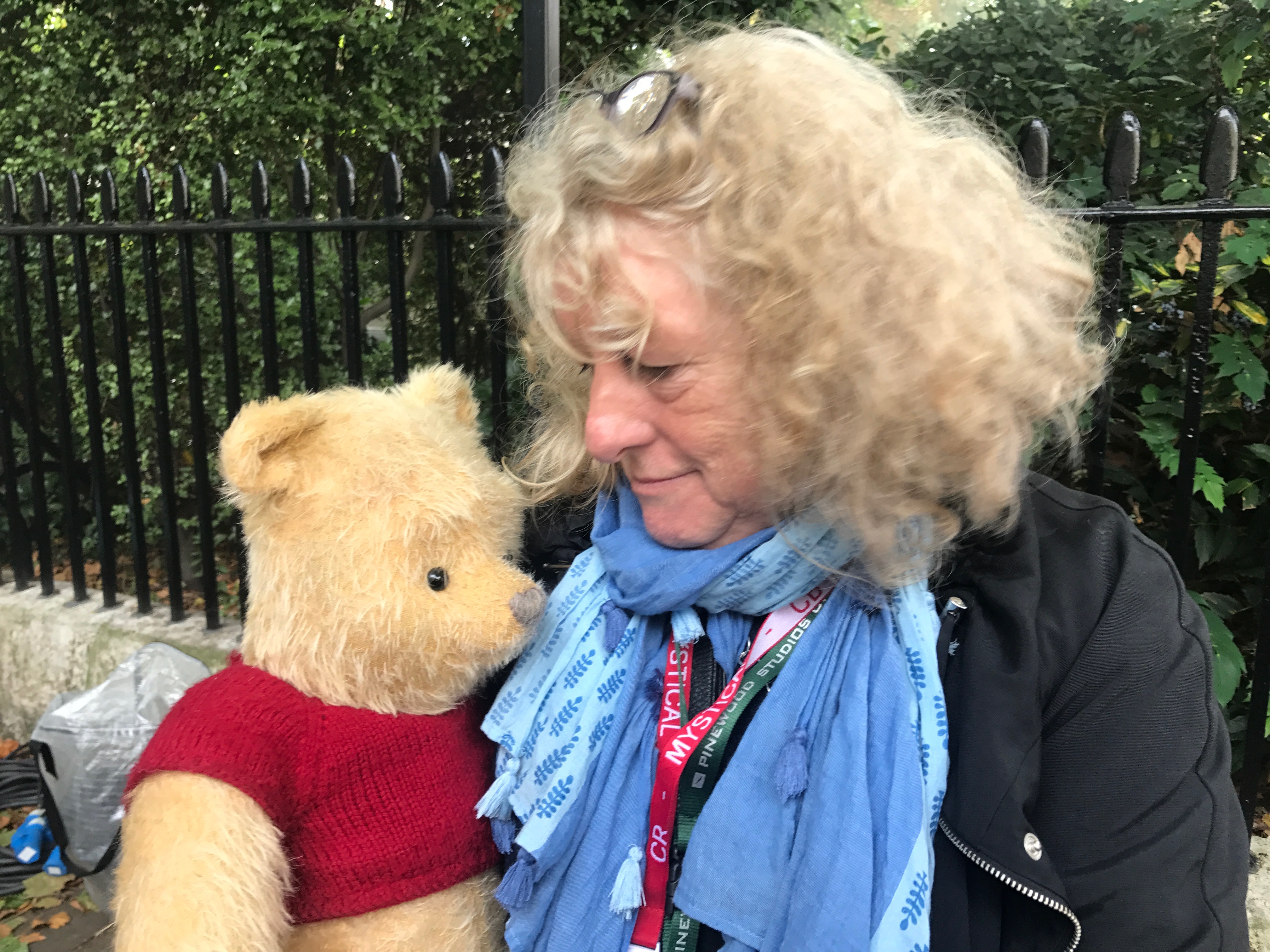 What are you going to wear at the Oscars? Because last time you won you made waves in your Fury Road jacket.
I will not make waves this time! Let me just say it will be an homage to Cruella. I will be releasing my inner Cruella. It will be recycled, homemade, my crew here is helping to put it together. It's definitely not going to be exciting, but it will be… rebellious!