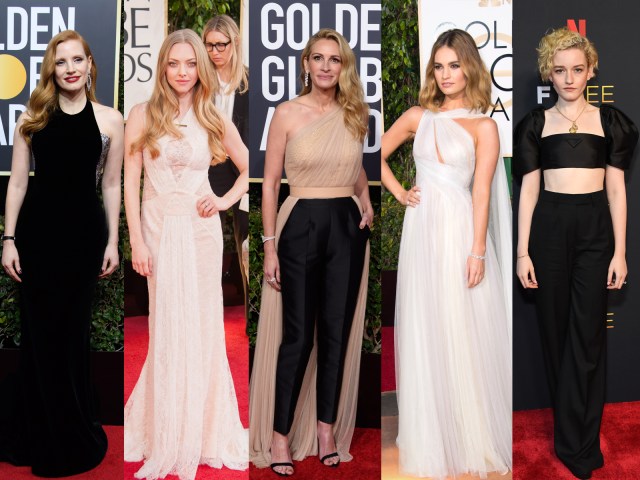 Golden Globes: Nominees – Style – Best Actress – Limited Series, Anthology Series or Television Motion Picture
December 27, 2022
—
Margaret Gardiner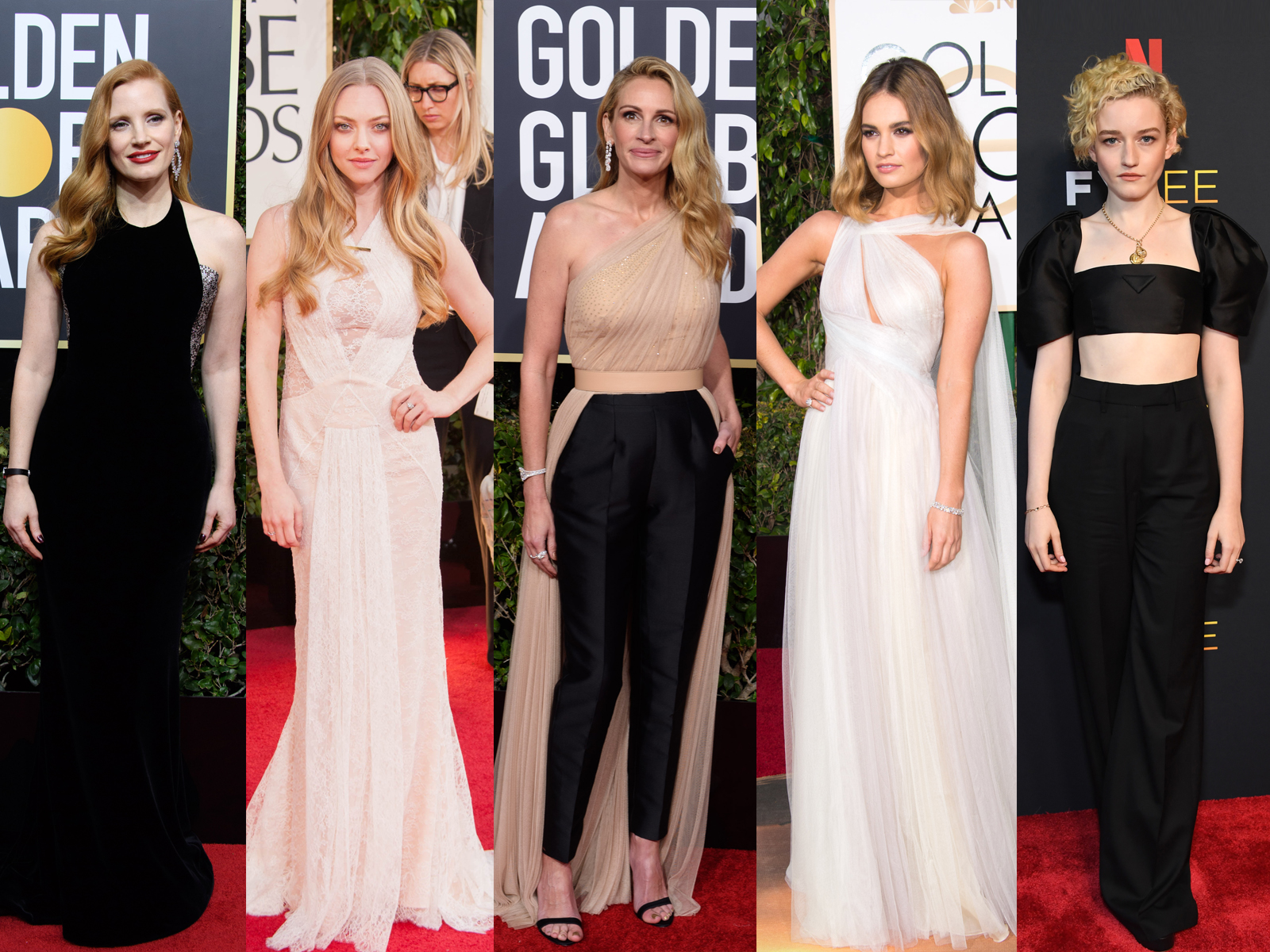 Best Actress? Best on the red carpet? This group of women are definitely in the running for the 'Best of the Best' – no matter the criteria of the category. Julia Roberts, Jessica Chastain, Amanda Seyfried, and new mega weights, Julia Garner and Lily James are nominated for Best Actress – Limited Series, Anthology Series or Television Motion Picture, but they consistently make 'notable' choices on the red carpet.
None of these women are casual in their approach. They take traditional looks and take calculated risks, that work – like their choices when creating a character.
Let's jump in with Julia Roberts. This veteran actress has all the tools on screen and off. Nominated in the costume-rich Gaslit, Ms. Roberts is distinctive not just for the smile that is fives states wide, but for her surprise choices at award shows.
She has a sly style that combines classic looks and still surprises.
(l) 2014: The va-va-va-voom strapless black gown with cinched waist detail is the go-to for the young starlet. Ms. Roberts layers the Dolce & Gabbana gown over a shirt, with rolled-up sleeves, making it an instant classic and one of the Best Golden Globe looks of all time.
(r) 2019: Julia Roberts did a throwback to the sweeping trouser skirts of the 1950s. The 'Golden' flesh-toned fabric of the bodice had a ballgown appeal in its asymmetrical structure finished with a band at the waist. Then it got super-interesting as it parted in an open/skirt cape revealing slim-legged trousers.
She completed the Stella McCartney look with our fav ankle strap sandals, side-swept hair, statement jewels – and…, toe rings!
Expect: style panache.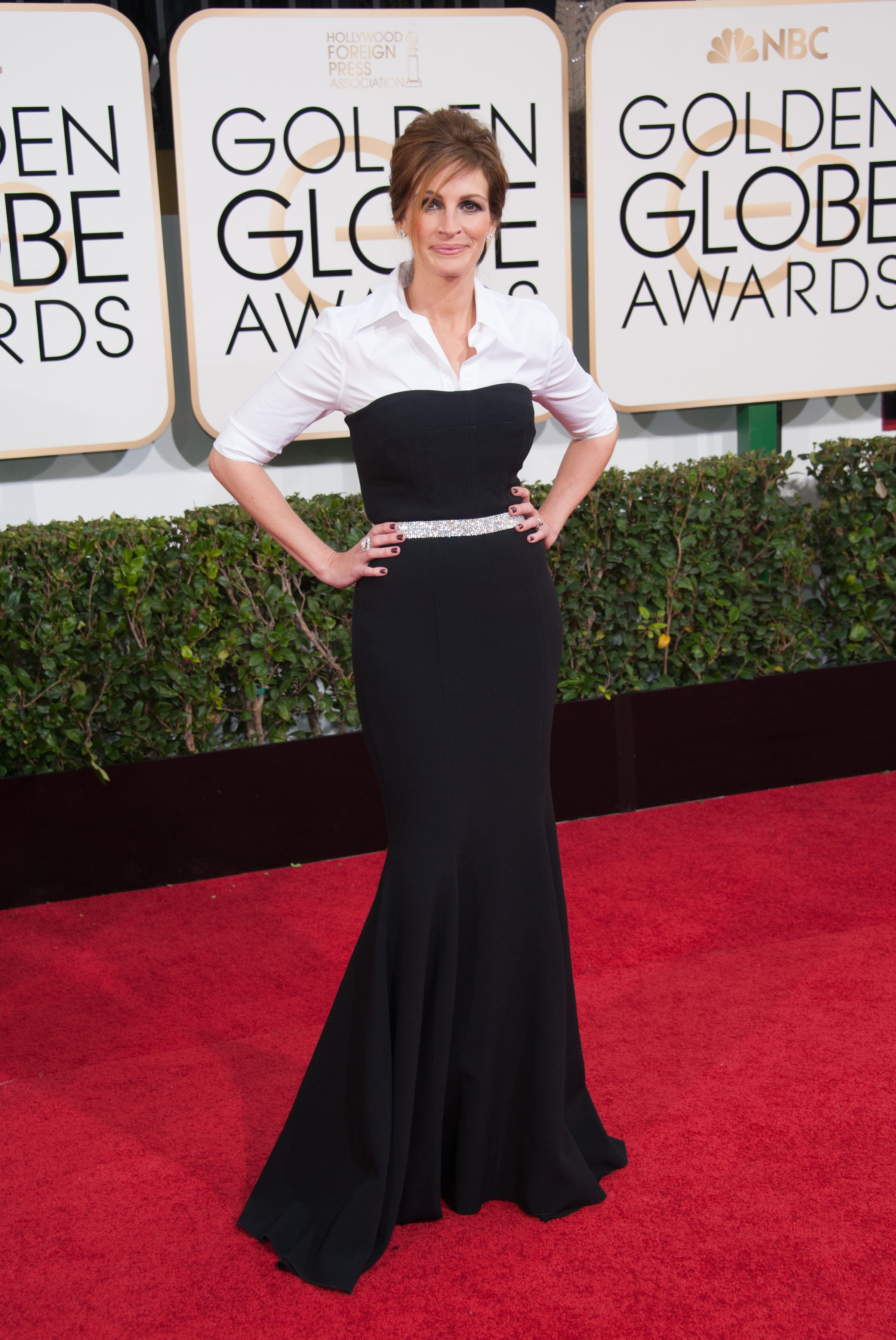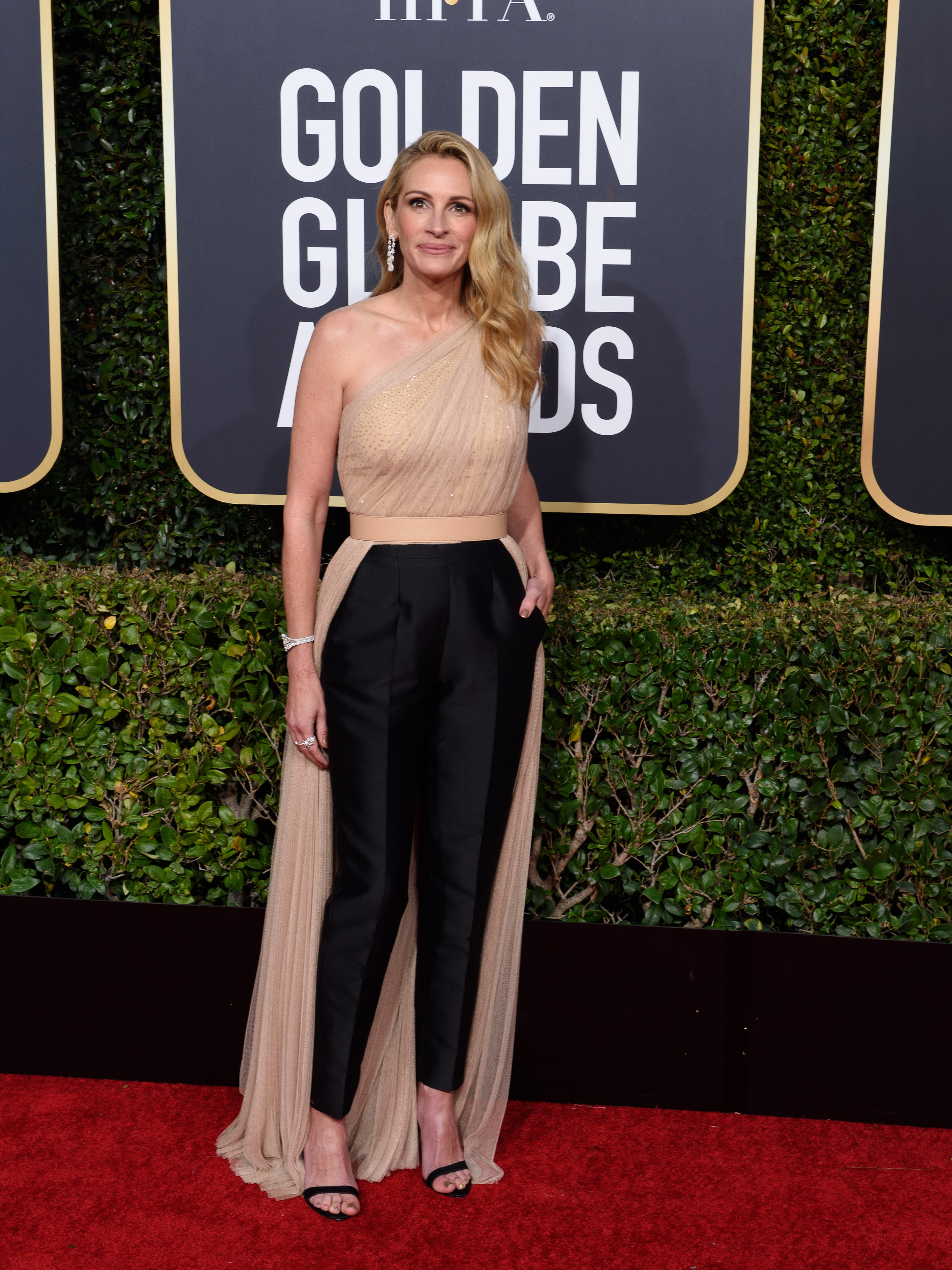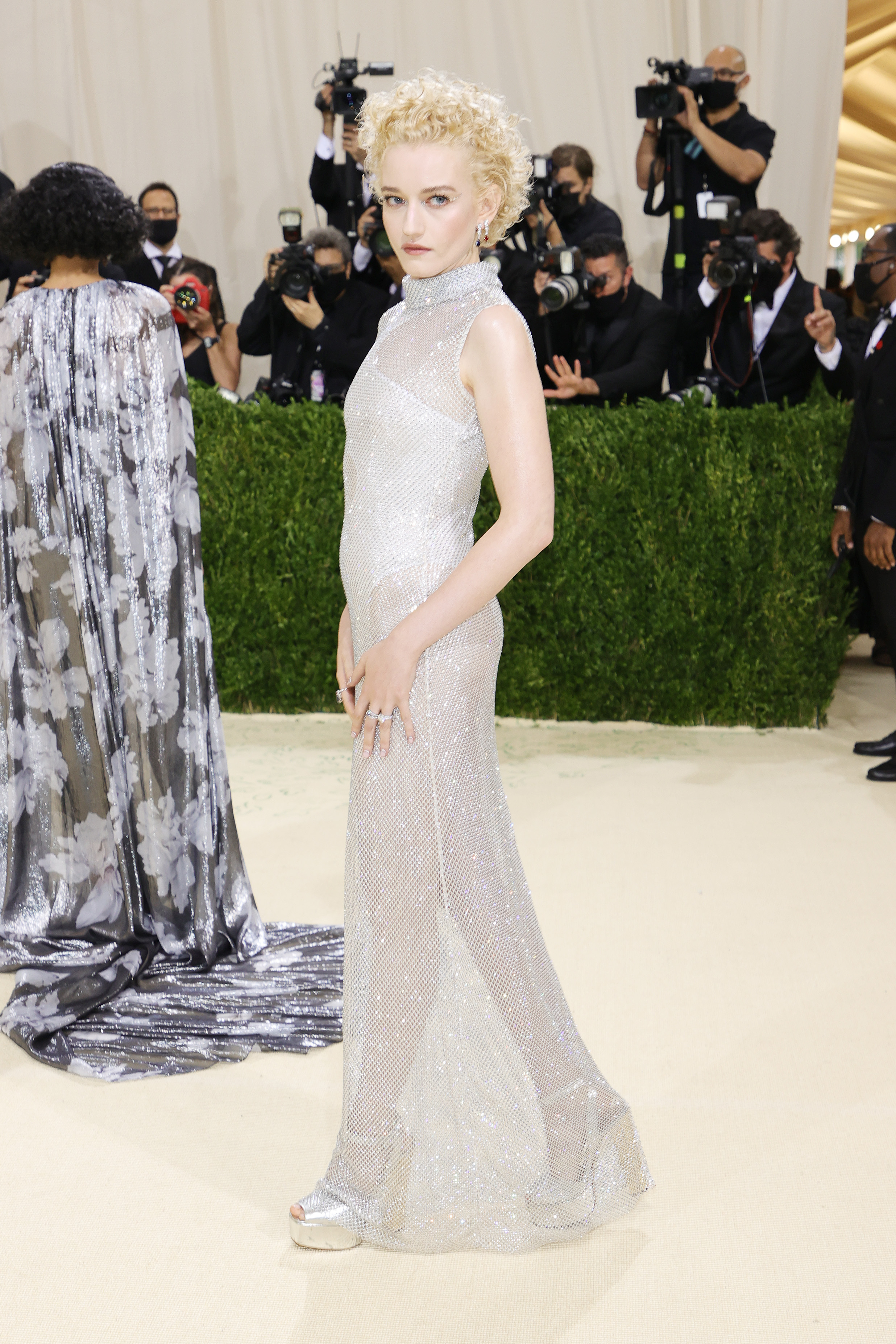 Julia Garner – a double nominee this year in two categories – in addition to Inventing Anna in this category, she's also nominated in Best Performance by an Actress in a Supporting Role in a Musical-Comedy or Drama Television, for Ozark – is a star on the red carpet.
As with her work, her style is anything but predictable.
(r) In 2021, at the Golden Globes, Garner chose a dramatic black and white Art Deco-inspired gown by Prada, with statement cuff bracelets by Verdura. The informed choice shows a knowledge of vintage style.
(l) On the other end of the spectrum, the Stella McCartney, crystal mesh gown atop a cutout body suit at the 2021 Met Gala, embraced a futuristic goddess look.
Expect: Spectacular.
Below: Lily James disappears as Pamela Anderson in Pam & Tommy. Her style can best be described as sensuous. There is nothing overt about her choices.
(l) The black and white gown is deceptive in its simplicity. It mimics a day dress with its white cuffs and trim silhouette. However, the help on the shoulders, the velvet, and the long center slit name the creation as dramatic, and fashion-forward. The cuffed ankle stilettos finish the couture look. Hair is parted and sculpted into a precise bob.
(r) No one is going to bypass this look. The naked feel to the gown at the shoulders is offset by the consequential collar. There is a game of softness and control that is calculated. The hair is pulled back in a high pony. The slick tail is left free to handle or discard.
Expect: subtle edge.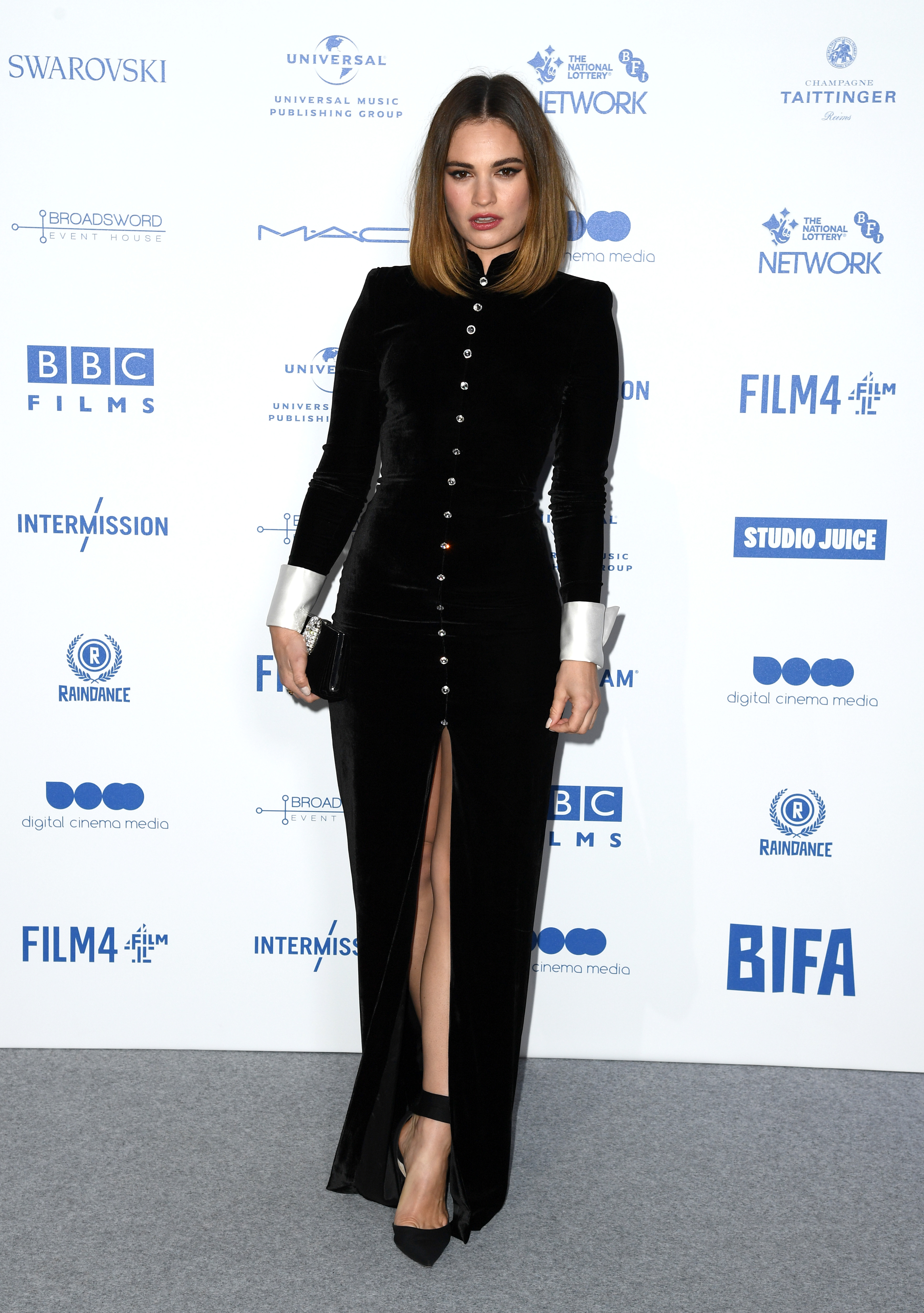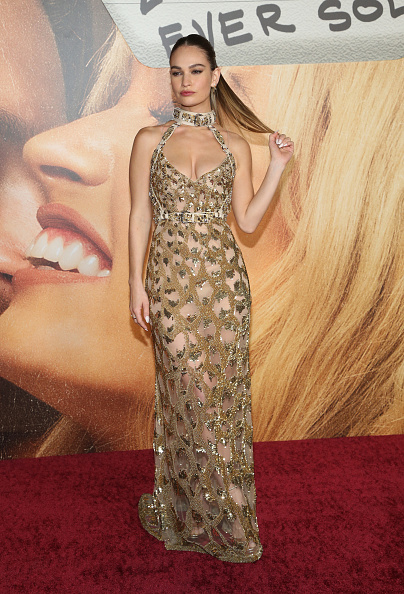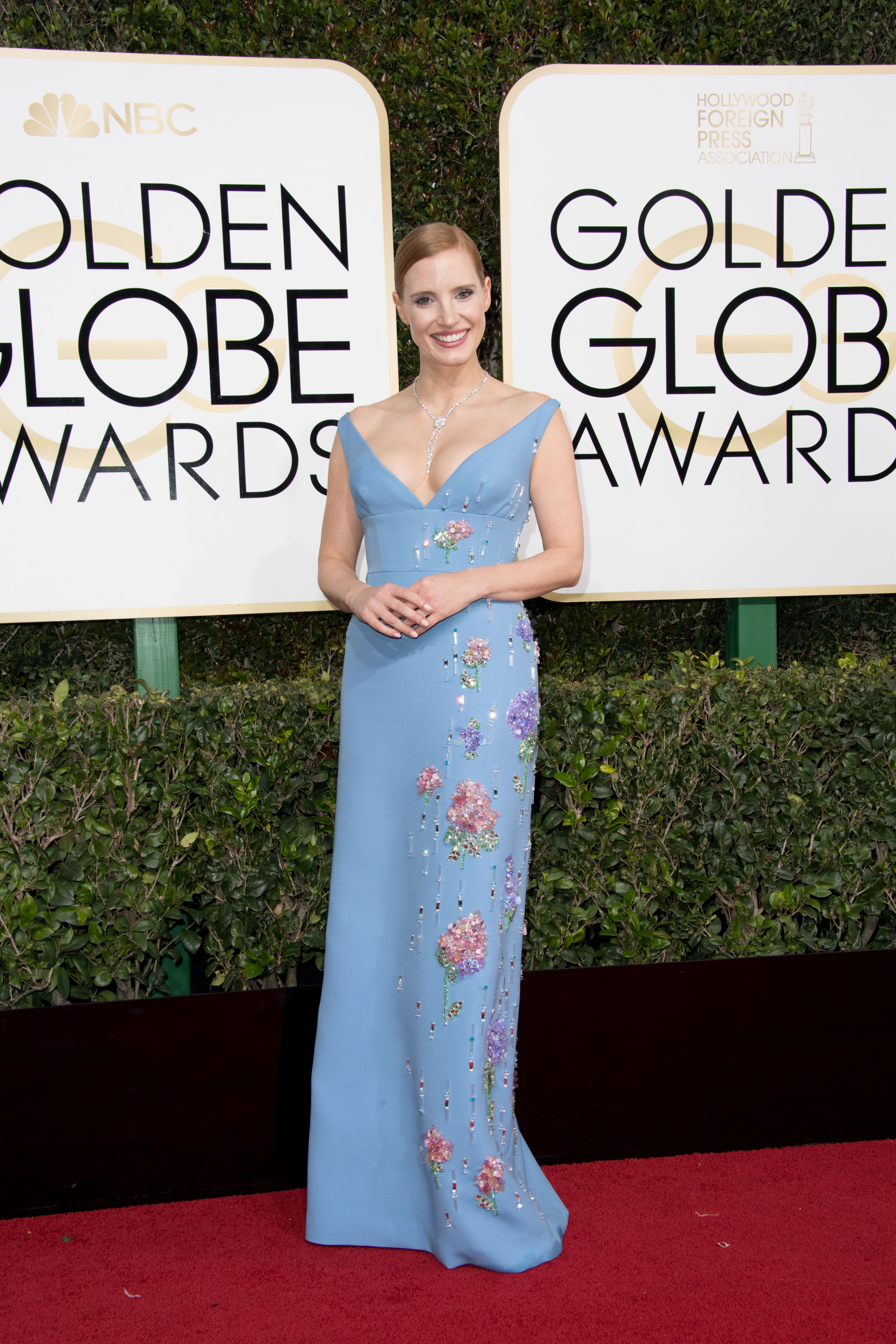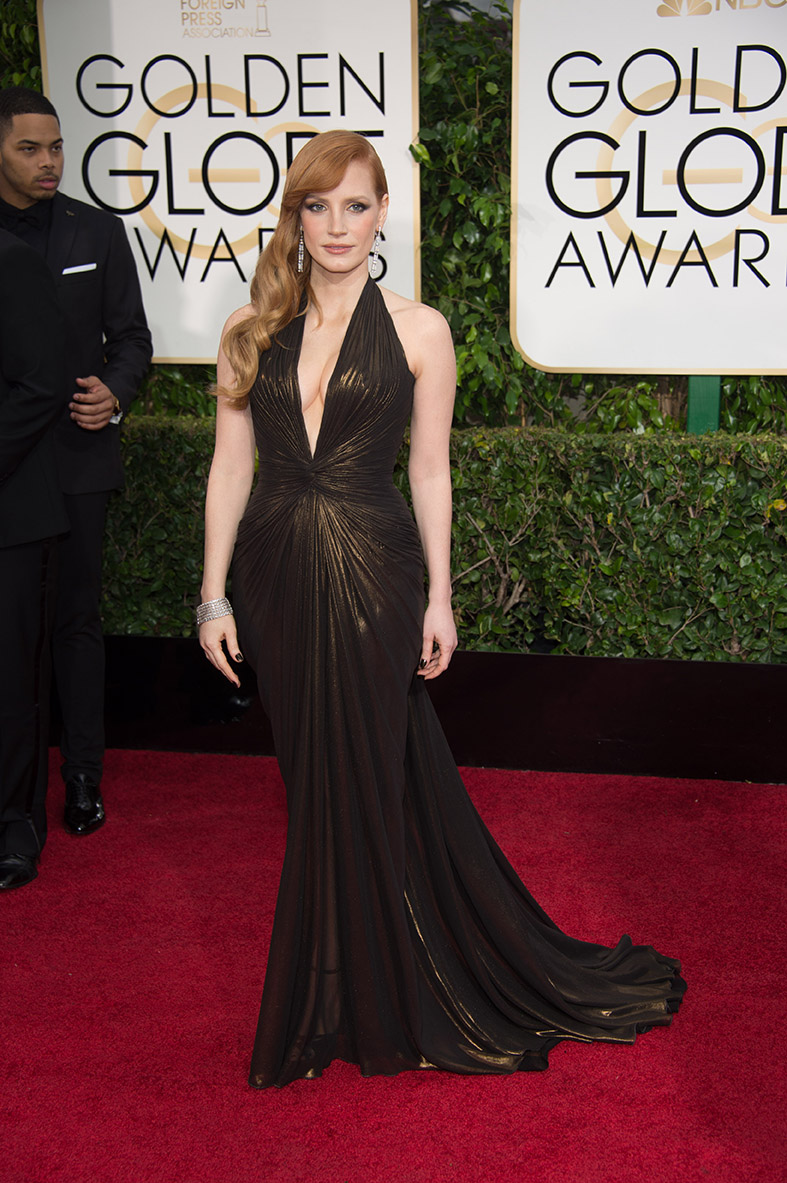 Above:
Jessica Chastain is nominated for George & Tammy in which she also sings. The eight-time Golden Globe nominee with one win for Zero Dark Thirty, goes for safe glam on the carpet. No stranger to awards shows, she is always groomed, always noteworthy, and always stunning.
(l) In 2017 stylist Elizabeth Stewart worked with Chastain to try something a little more daring. The hair is slicked back in a high-fashion side part. The Prada gown has a wide nee, almost sliding off the shoulders neckline, with embellished flowers tumbling down its left side, cleverly elongating the whole.
Expect: Hollywood Glam
Below: Amanda Seyfried is nominated for The Dropout. This access/producer has proven her singing ability in films like Les Misérables and Mama Mia!. She makes music on the carpet too, with feminine choices, that often include flowing fabric.
(r) In 2021 her peach Oscar de la Renta gown was lost in shipping for 36 hours, and stylist Elizabeth Stewart shared the harrowing tale with Insider. The low-back sheath with flower detail was perfectly paired with large waves and subtle jewels.
(l) One of the few actresses who embraces color, Amanda Seyfried understands tailoring and silhouette.
Expect: A head-to-toe statement – be it modern, or a nod to yesteryear. We'd love to see her continue her affair with hue.