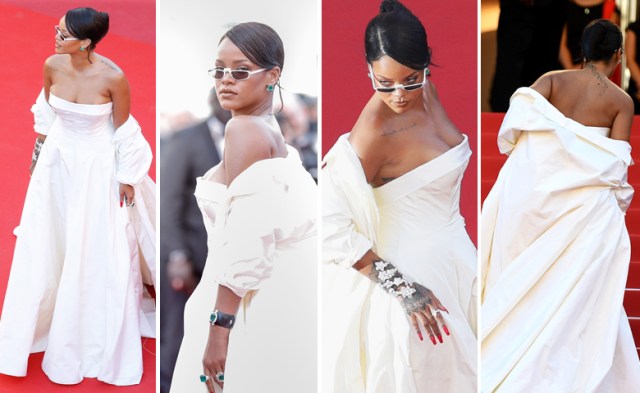 Rihanna – Super Bowl Halftime Show – Why You Should Watch – Fashion
February 11, 2023
—
Margaret Gardiner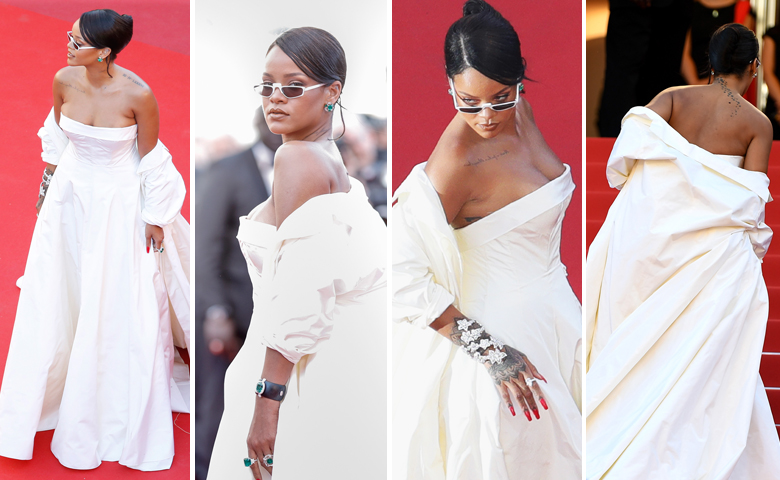 Rihanna, Golden Globe nominee for Black Panther: Wakanda Forever, is doing the Super Bowl Halftime Show. Duh! Unless you've been under a rock you may have missed that fact. Indeed, and apologies to football fans, but many may only be watching America's greatest past time to see RiRi strut her stuff. Talk about the perfect blend of talent and fashion – Rihanna can do it all.
She is a nine time Grammy winner with 31 top singles. Just saying. Nice of you to organize a football game around her concert. Yeah, yeah, it's Super Bowl LVII – but get this, Rhianna hasn't performed live since….. 2018.
Let's pause and think of an analogy. It's like Tom Brady disappearing at the height of his fame, and fans being unable to see or connect with him doing what he was born to do. As THE quarterback of our time, the comparison to Rihanna is not an exaggeration. At the top of her game, 2016s Anti, was the last album she dropped and has not dropped another since.
Say what?
Yeah, that's what I'm talking about.
In case you missed it, she's been creating a billion dollar – yup with a 'B' – consumer industry, selling lingerie and lounge wear – Savage X Fenty – with models that do not look like Victoria Secret models. These are real women with a bit of cellulite and curves not made under a plastic surgeon's knife. She also has a make-up and skin product line – Fenty Beauty. Fortune.com suggested Savage X Fenty enterprises is worth around 3 billion.
Savage X Fenty caters to the overlooked consumer providing conceptual designer style at affordable prices.
She has made the pregnant belly so, so sexy, and we NEVAH use that word here.
Of course the Golden Globe nominee for Best Song – Black Panther: Wakanda Forever dropped two new songs for that sound track, which may mean that R9 – the name fans have given to her as yet unconfirmed next album, could be teased in the show.
Just wondering. Which will draw bigger numbers – the half time show or the game?
What we do know, is that she will kill it. Her costumes and her sound, will be dope no matter what.
And as a reminder of what she has meant to the fashion world – just by turning up and strolling down the red carpet – we give homage to all that makes RiRi, RiRi – we just want to holler: "You da one" Rihanna.
Just BTW – she doesn't hog all that cash rolling in – the NAACP Image Awards honored her in 2022 for her philanthropy with the Lionel Foundation.
Scroll through and see why she can do no wrong.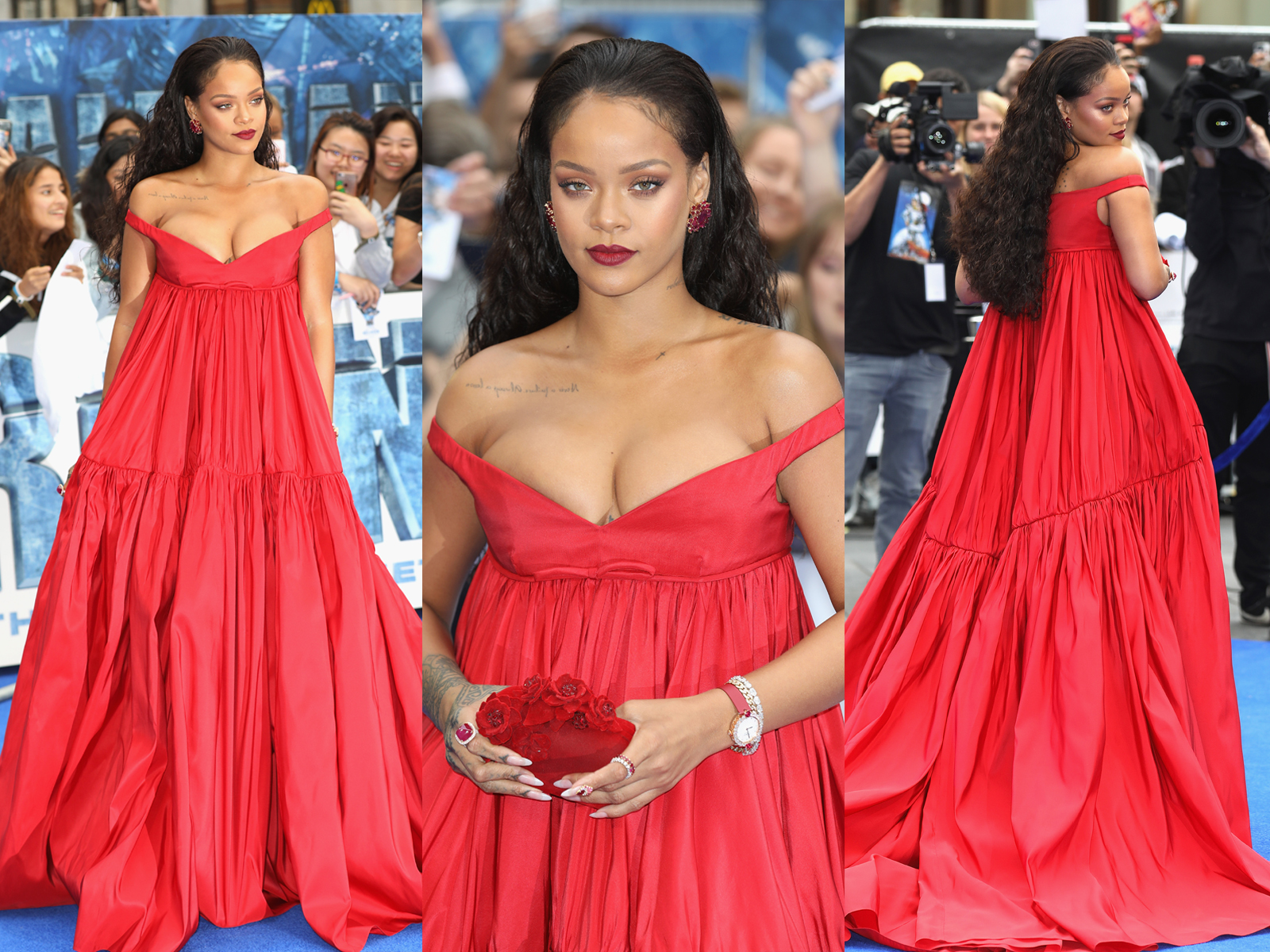 The drama of this Giambattista Valli gown – off the shoulders, A-line with widening tiers, in rich red, is worn with individuality by Rihanna. She has gone for simplicity, letting the raw essence and star allure that is Rihanna, show through. We love her little purse too.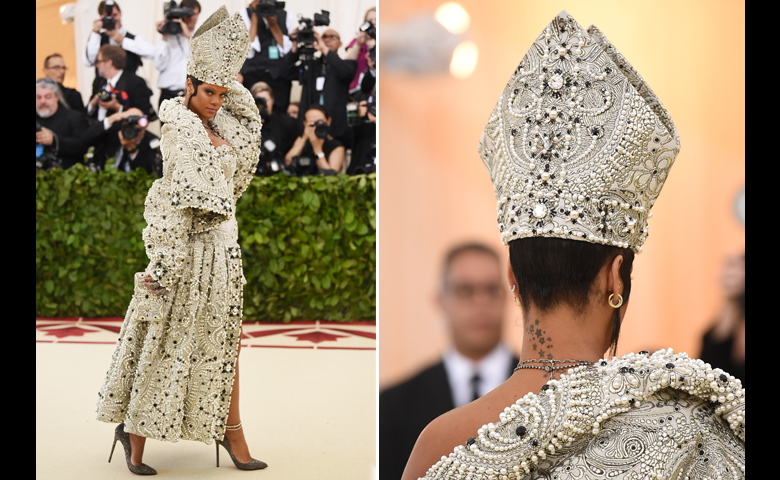 Above: Understanding proportion is key to owning your fashion choices. The ode to the Pope is unmistakable. The jeweled Mitre and matching coat is lux, old world and new. Met Gala 2018: Heavenly Bodies – Fashion and the Catholic Imagination.
Below: Understanding drape creates drama. RiRi could keep the dress from slipping – but why would she? The visual of almost but not at all, is very 50s. The gown is so fly – texture, color, cut. Ensemble by Poiret.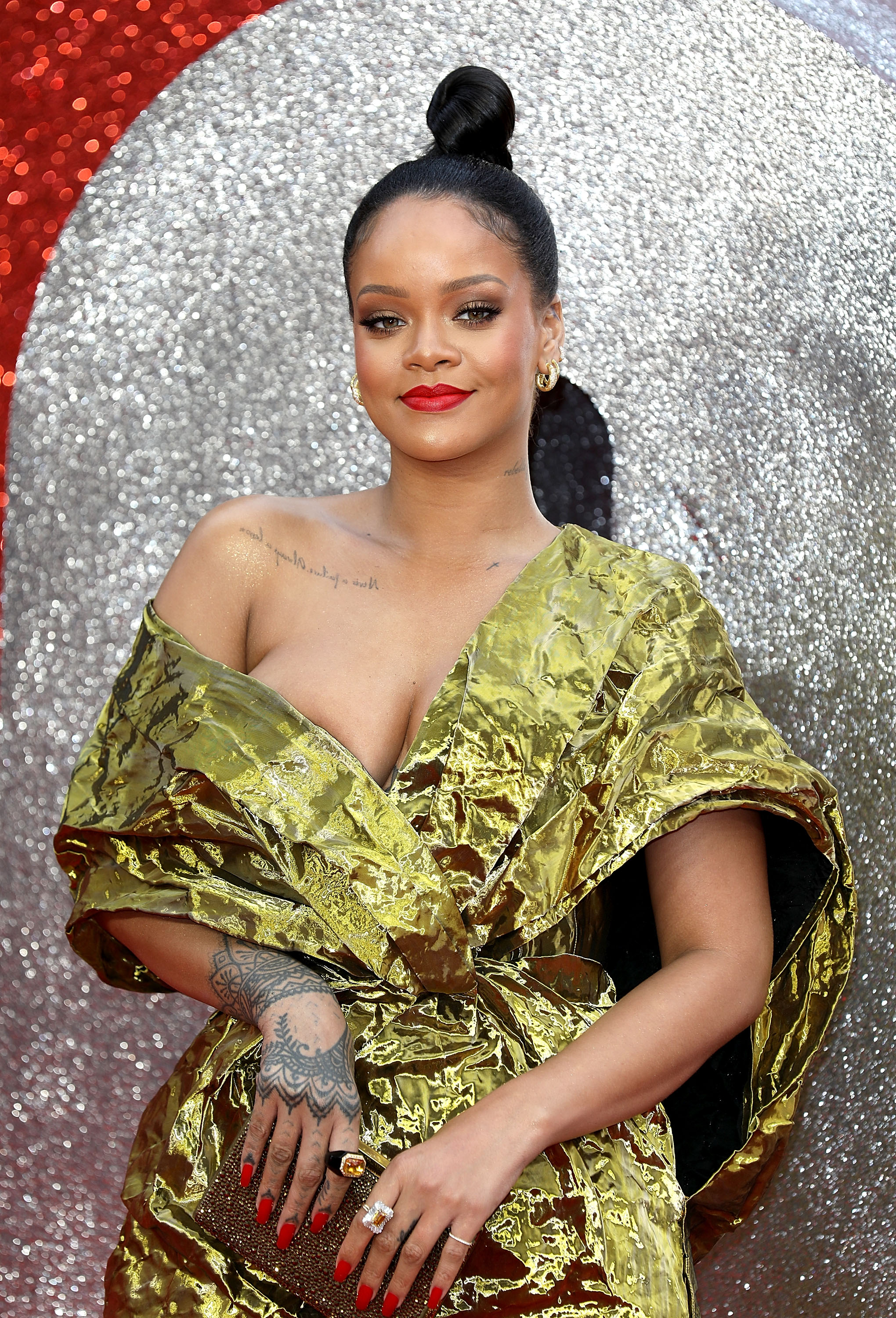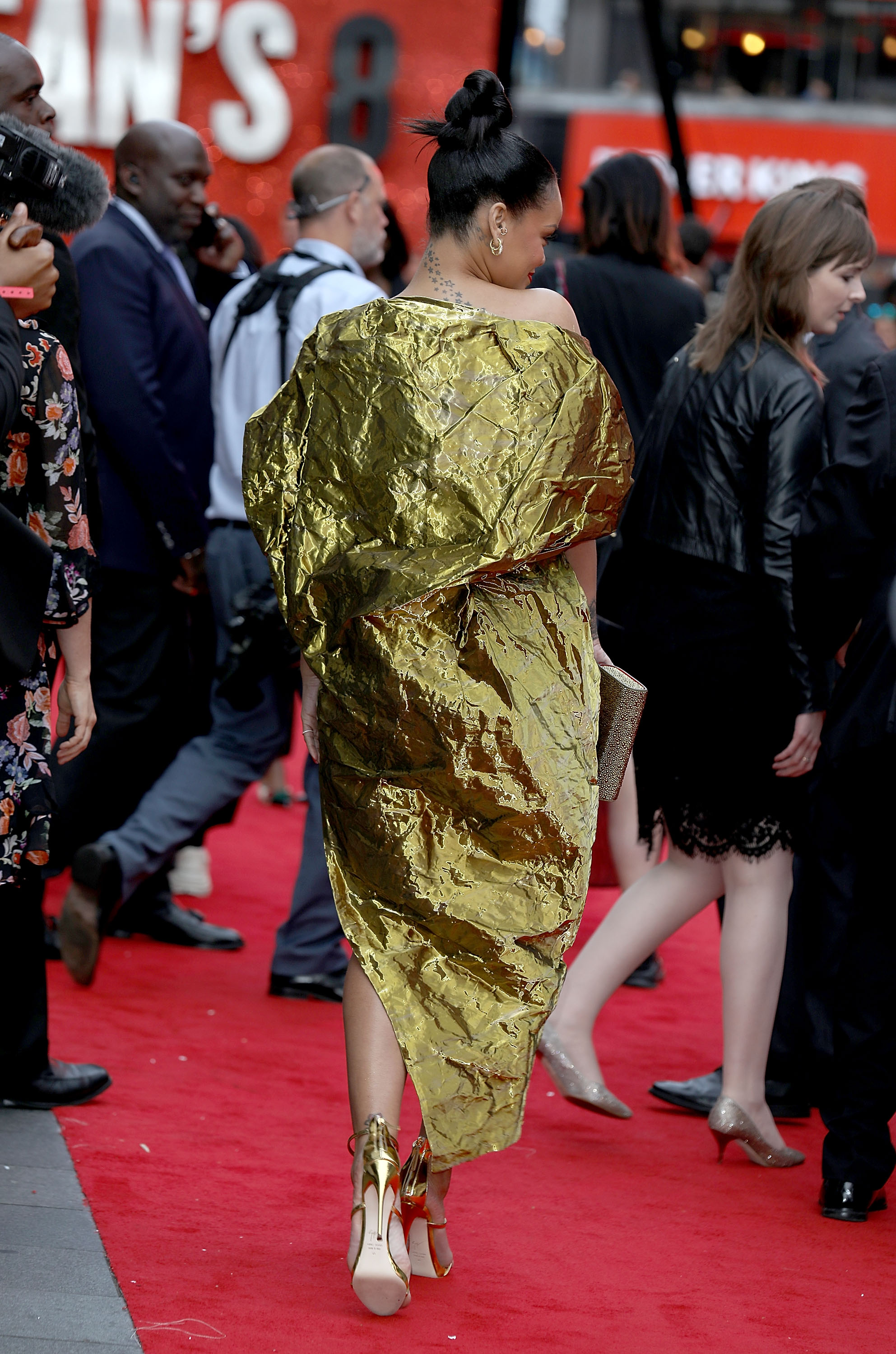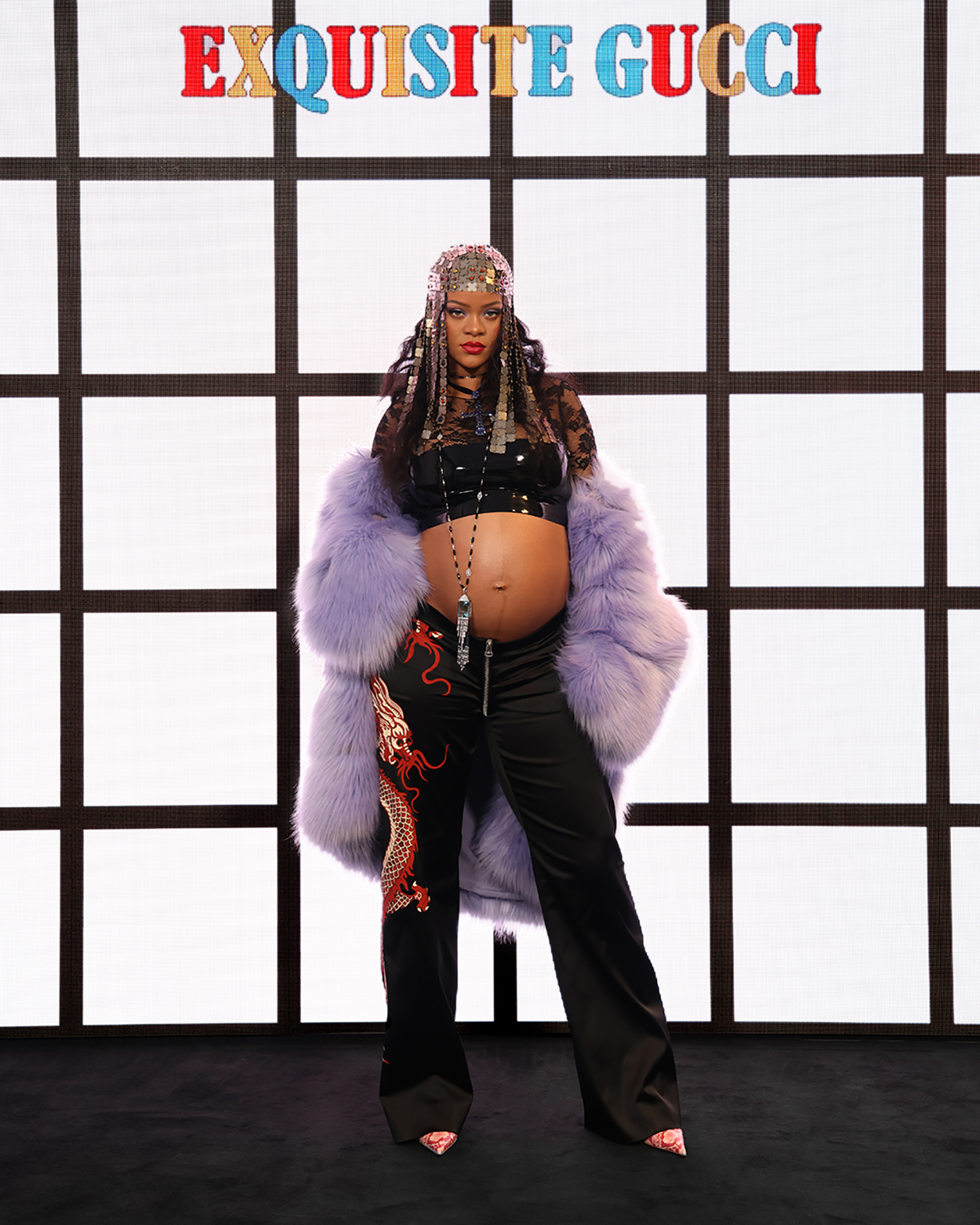 Women own their choices and their bodies. Pregnancy doesn't lessen your fierceness – as the woman born Robyn Rihanna Fenty NH demonstrates at the Gucci show during Milan Fashion Week Fall/Winter 2022/23. Powerful, beautiful, creative.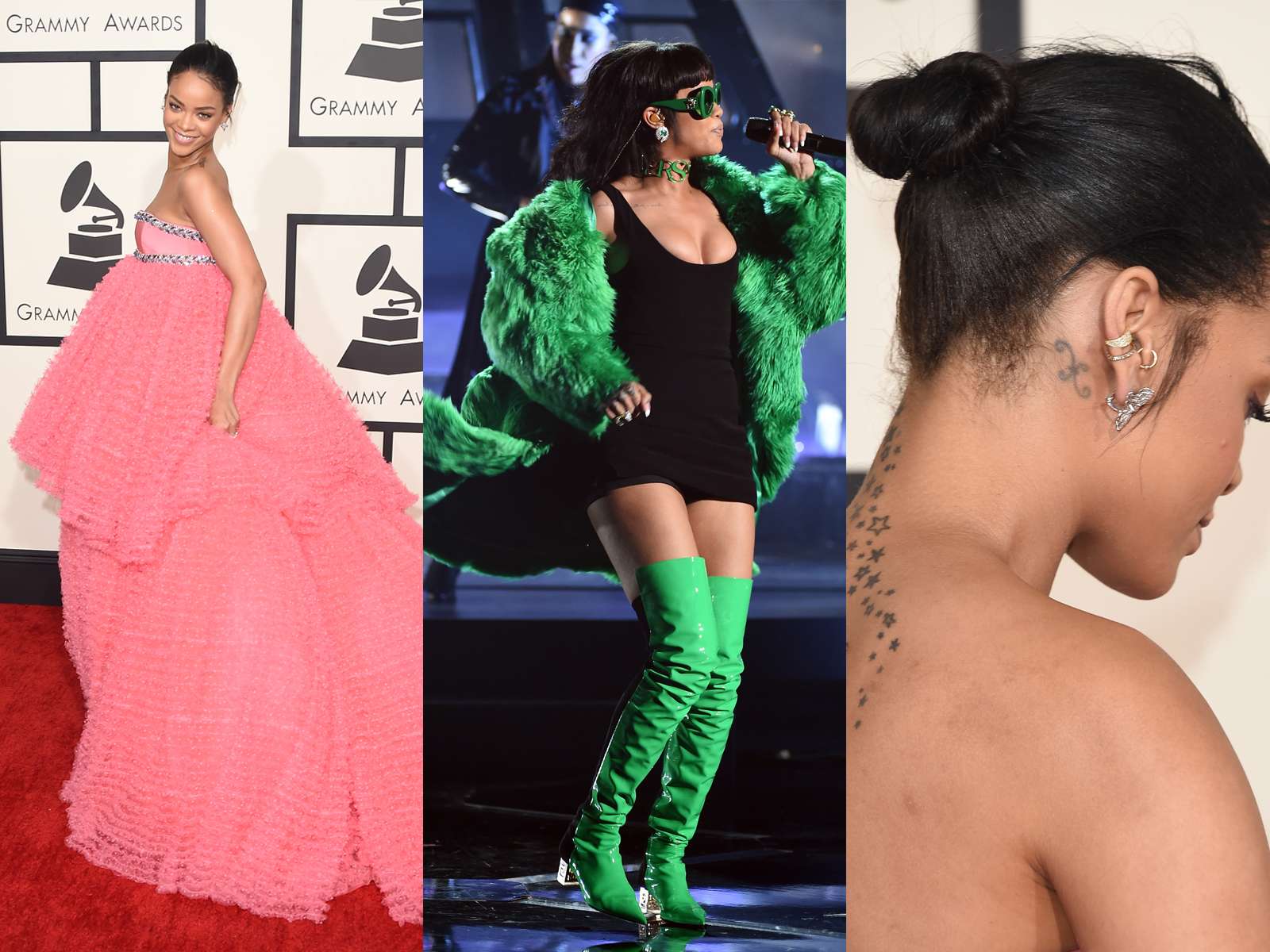 Versatility. Old world elegance. New world edge. Delicate tats and upswept do.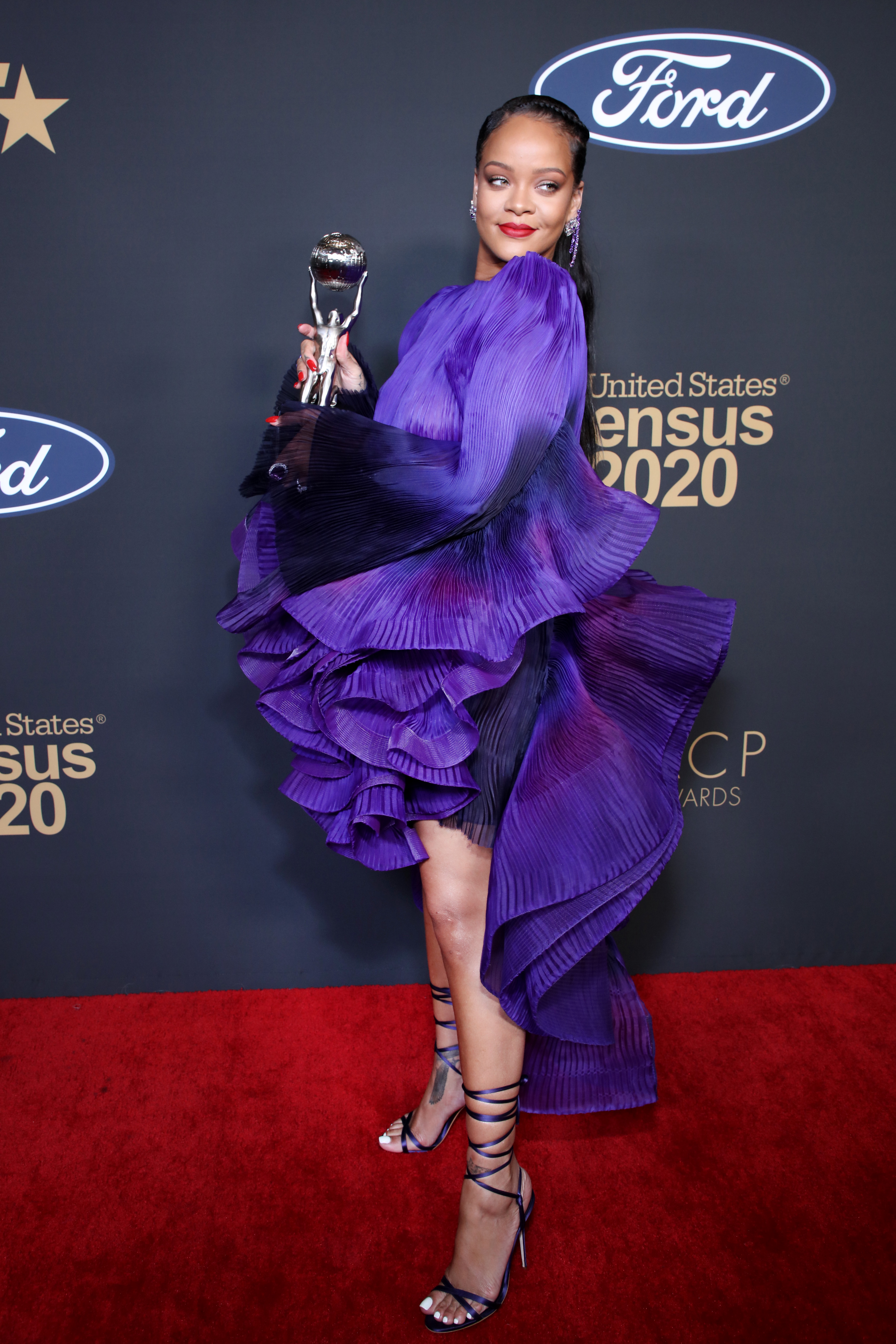 In a stunning jewel toned, two tiered dress by Givenchy, Rihanna gave a moving speech accepting her President's Award for Philanthropy for the Clara Lionel Foundation which she began in 2012. At the 51st NAACP Image Awards, she called on people to "pull up", reminding the audience that diversity and inclusion needs efforts from everyone.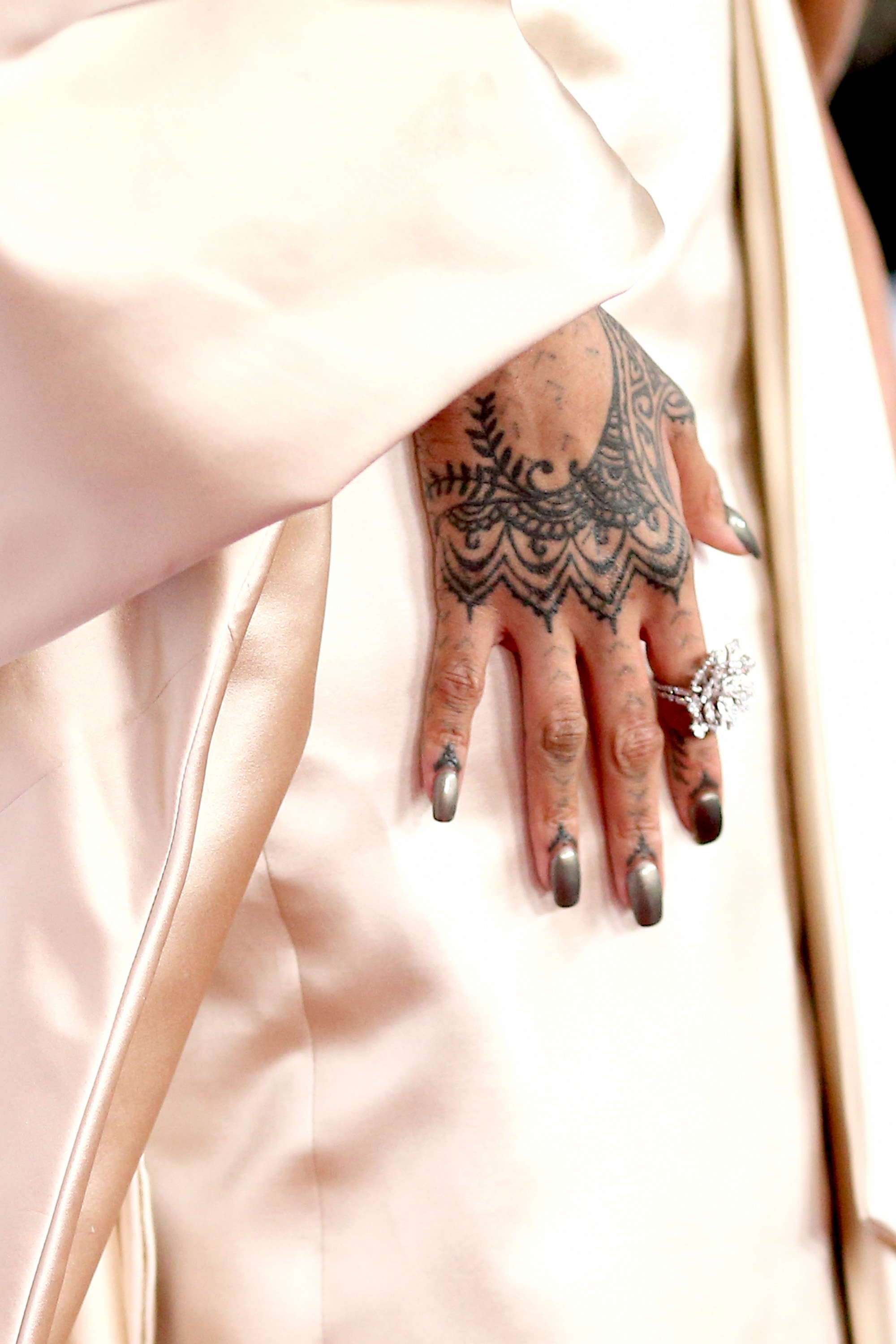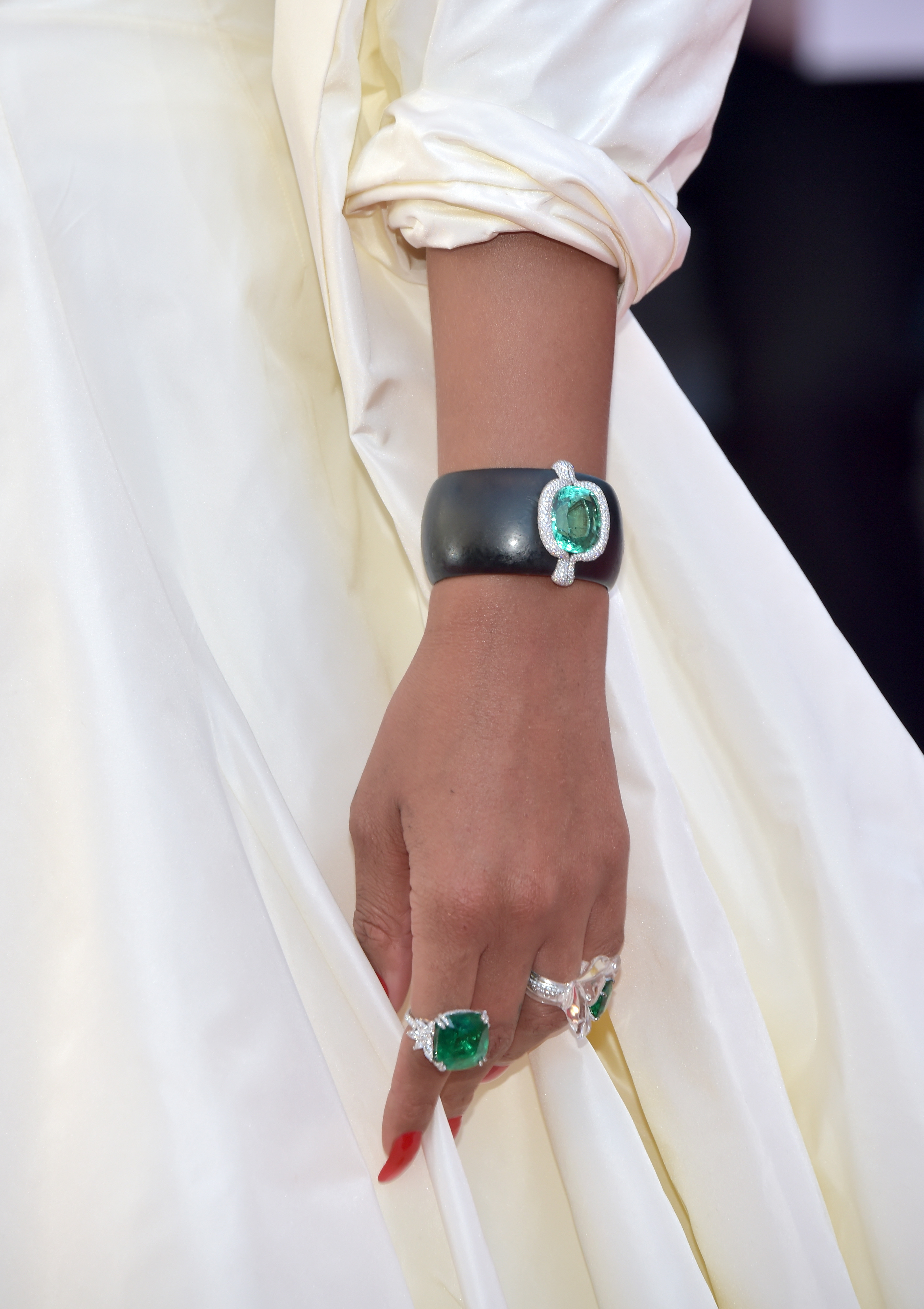 Rihanna's secret to success is not merely oversized talent, outreach on social issues and an awareness of inclusion be that through fashion or philanthropy. It's her focus on detail. We've noted her style, her purses, but look at her hands….
This is art. Bejeweled, elegant, different. Rihanna.