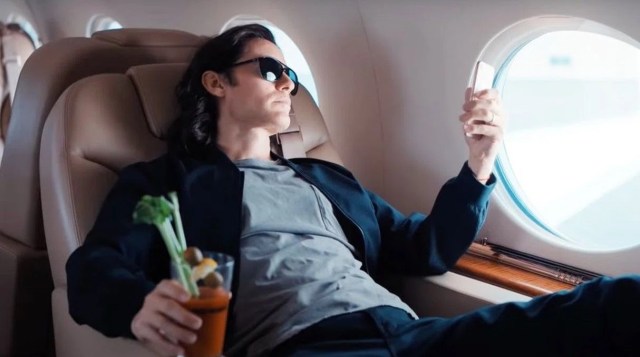 "WeCrashed": Couple Looks for the Power Couple
March 29, 2022
—
Yulia Lolo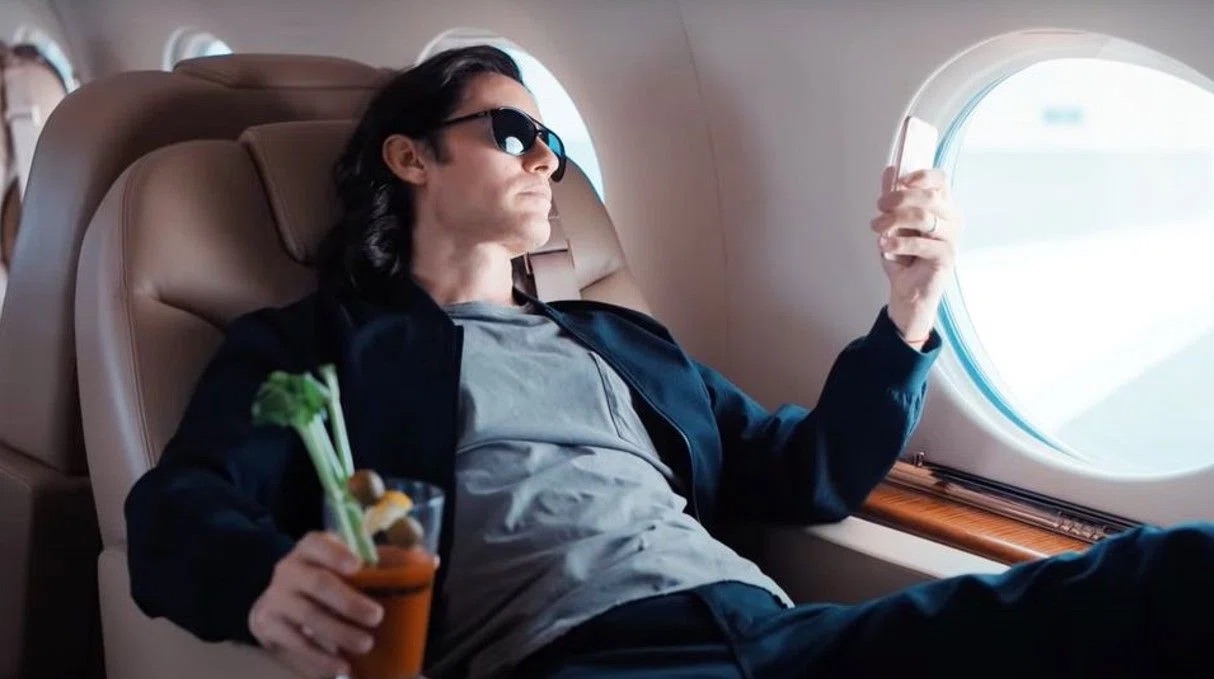 The podcast-based miniseries WeCrashed that debuted on Apple TV+ on March 18 is the tale of the rise and almost fall of a coworking company founded by an eccentric entrepreneur, Adam Neumann. It also tells of the dramatic love story that lies behind the success of the Neumanns' sharing offices empire.
WeCrashed stars the Golden Globe winners Jared Leto, playing the role of Adam Neumann, and Anne Hathaway, who embodies Neumann's wife Rebekah. When they first meet, Adam is working hard to win New York's entrepreneurial arena with various business endeavors – from selling Krawlers, a line of baby clothes with sewn-in knee pads, to inventing the idea of communal living, while Rebekah is teaching yoga instead of pursuing her dream of becoming an actress like her cousin, Gwyneth Paltrow.
The more time they spend together, the more they motivate each other for aiming higher and doing what they love most of all. One day, Rebekah gives Adam a piece of advice to pursue what he loves most, making him realize that his happiest days in life happened in a kibbutz in Israel, where he partly grew up. This revelation is the beginning of Neumann's concept for a fun chain of open-floor plan shared office spaces around the globe, becoming a $46 billion-dollar coworking business – this, back in the days when the world still used the idea of offices for daily operations.
WeCrashed costume designing duo of Joshua Marsh (Orange Is the New Black) and Lucy Corrigan (Modern Love) have done a great job of creating apparel for the Neumann couple that reflects their character arcs. When we first see Jared Leto and Anna Hathaway as Adam & Rebekah Neumann, they arrive at the board meeting to challenge the board's decision to kill the IPO for Neumann's coworking empire. Instead, they are faced with the news of Neumann's dismissal from the position of CEO of his own company. By this point in his career, Adam Neumann's signature style comprises uber-expensive T-shirts that he matches with suits or leather jackets and Ray-Ban Aviator sunglasses.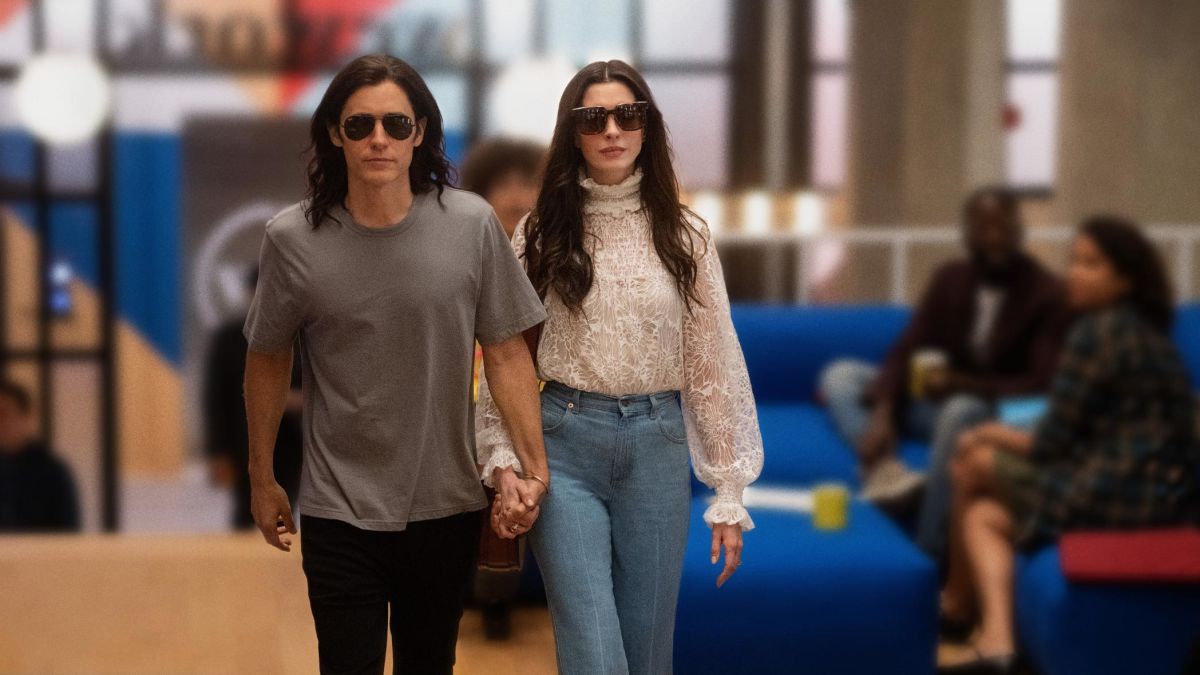 When she becomes a co-working tycoon's wife and a business partner, Rebekah Neumann prefers casual chic, and when we first see her in WeCrashed, she's wearing a white lace blouse with flared blue jeans, snakeskin boots and oversized sunglasses.
Rebekah's style also involves extensive use of the combination of denim and leather jackets matching with oversized sunglasses and signature boots.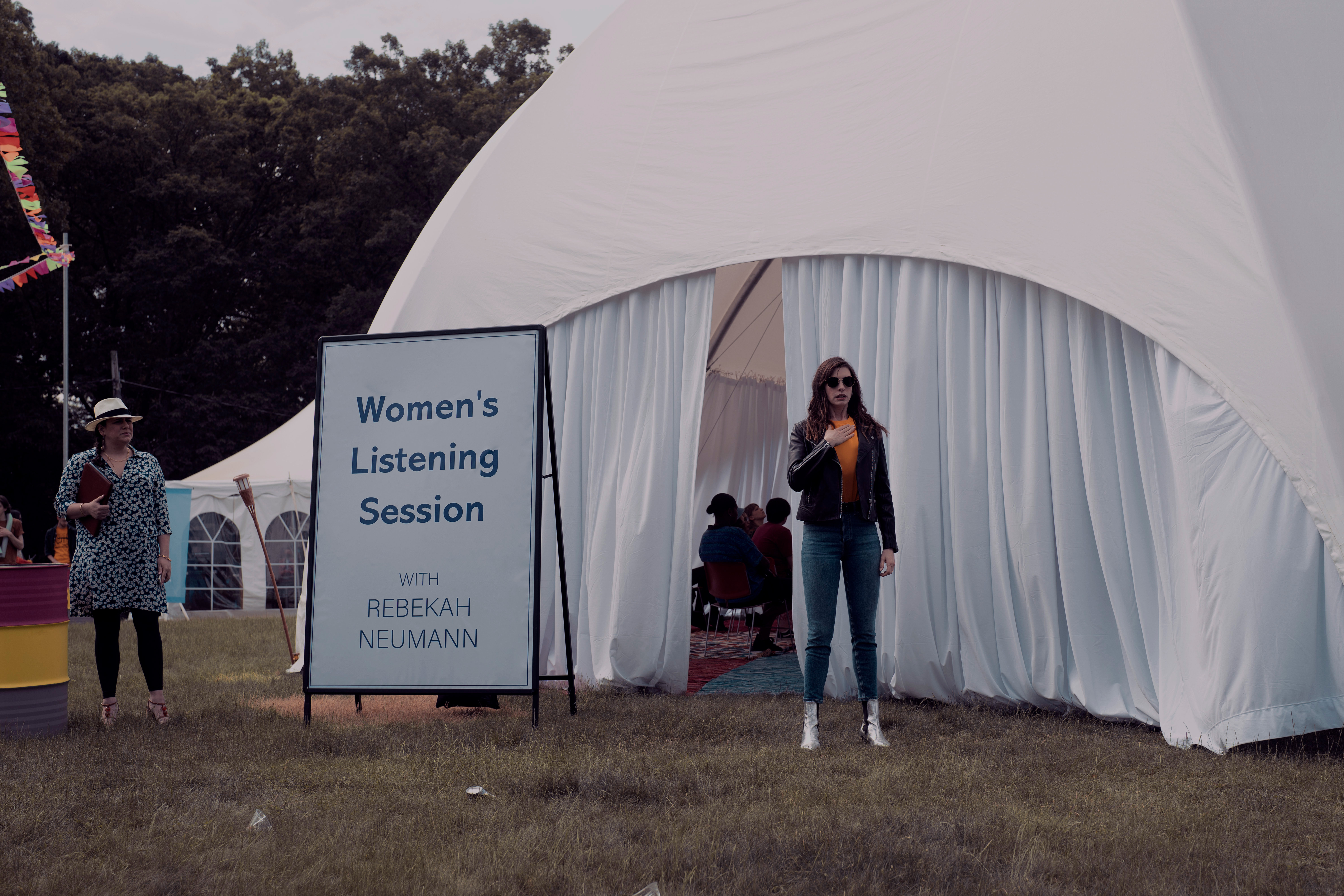 The rocker chic style heavily employed by the Neumann couple when they reach the peak of their business enterprise contrasts with their outfits in the early days of their love story. When they meet for only the second time in an organic food store in Queens, Adam keeps it casual in a bright blue beanie, a gray hoodie, jeans and black sneakers matching with his black T-shirt, while Rebekah, who still is a yoga teacher, wears an olive-green jacket and a pair of black leggings along with a pair of Birkenstocks and a light gray beanie seemingly meant to demonstrate that these people have something in common.
In WeCrashed, the power couple frequently chooses the so-called "couple look" – for instance, at WeWork summer camp party.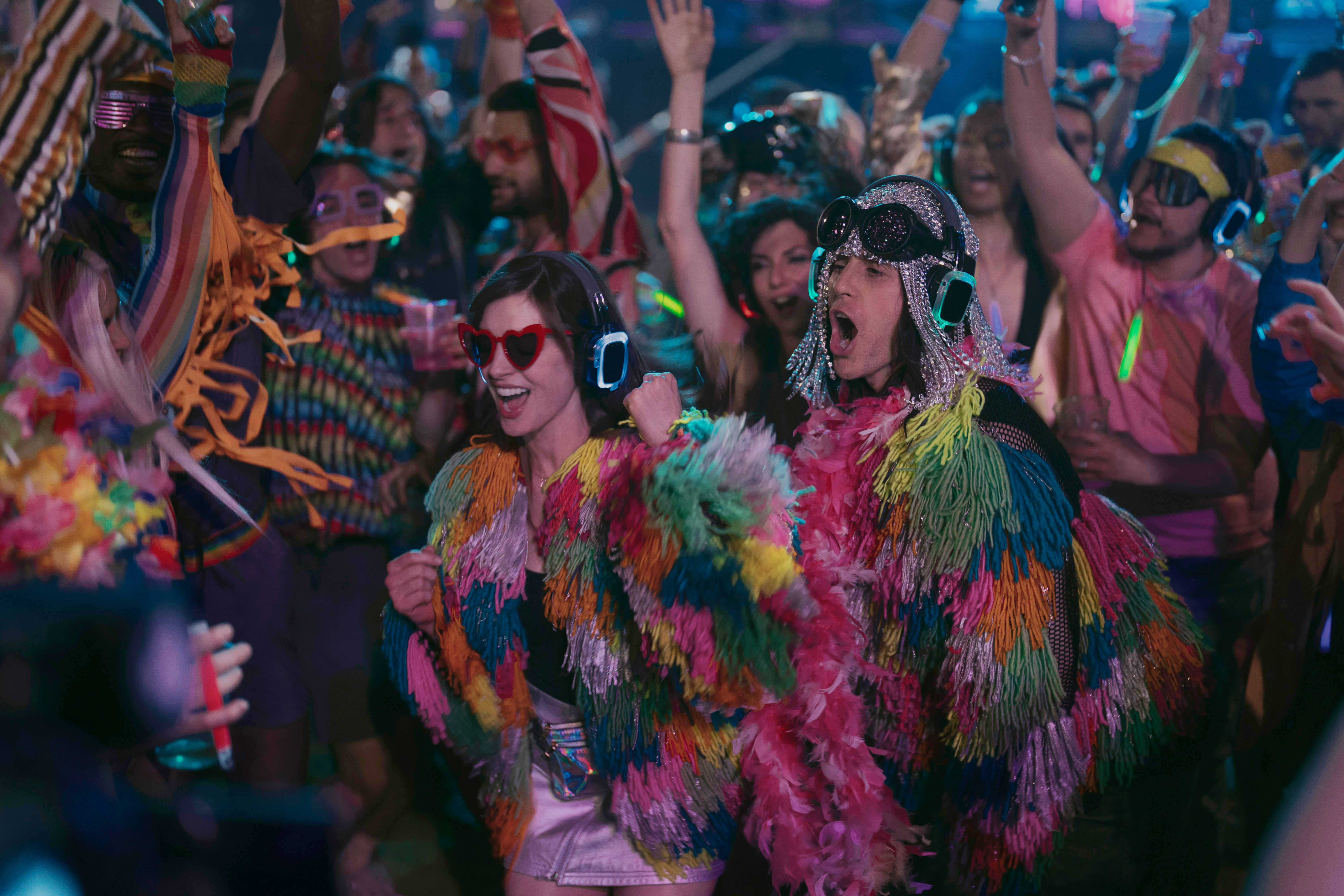 It's noteworthy that the wardrobe created by the WeCrashed costume designers replicates the real lifestyle of Adam and Rebekah Neumann, thus adding the element of authenticity to this love story that at certain moments might be perceived as a folie à deux – as when Rebekah describes Adam as a "supernova".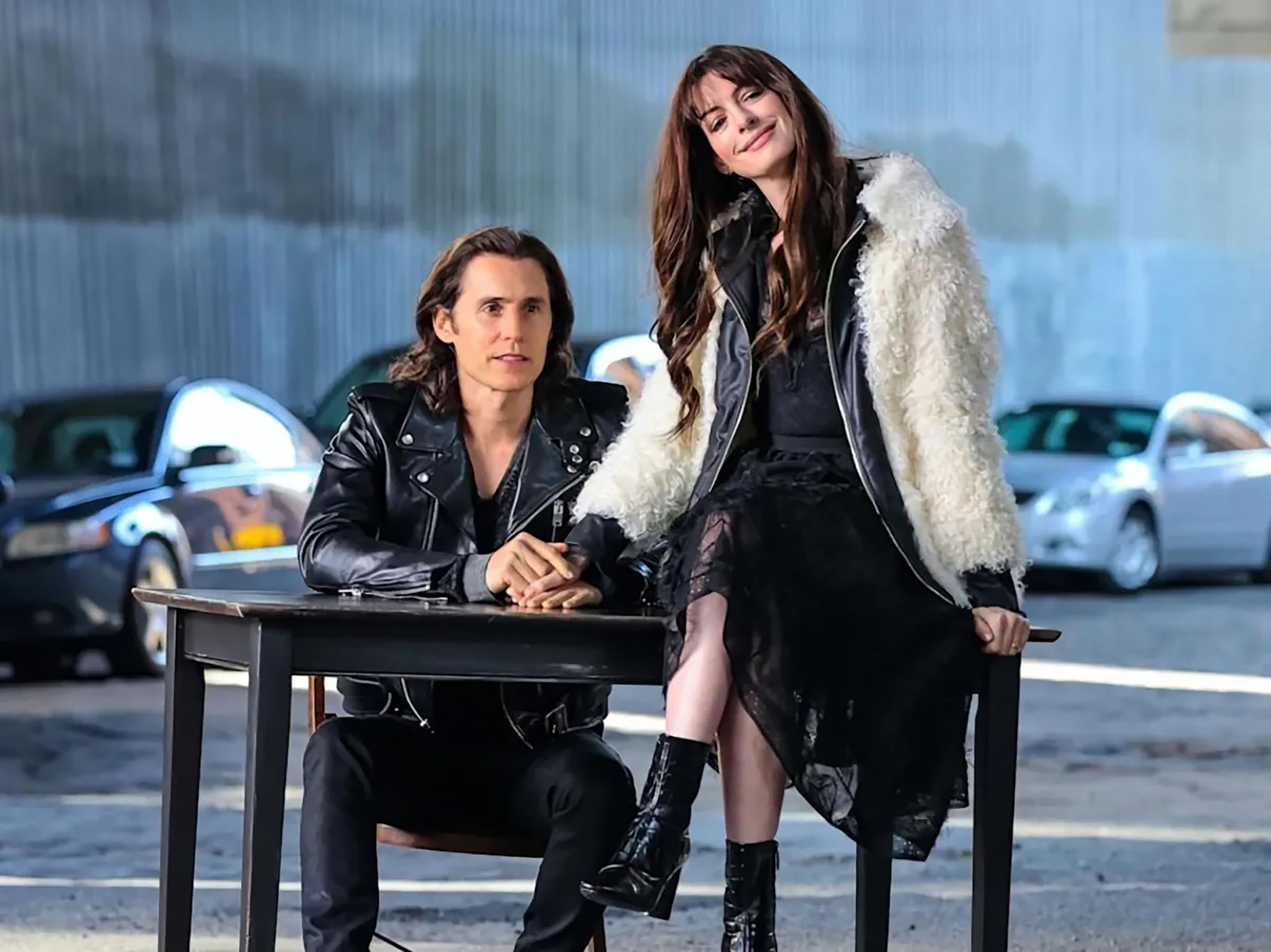 The above look of Anne Hathaway, consisting of a white faux-fur jacket worn on top of a black midi dress and matched with a pair of black boots, is a reconstruction of the real Rebekah Neumann's outfit styled for the 2016s couple photoshoot by Bjorn looss for Porter Magazine.