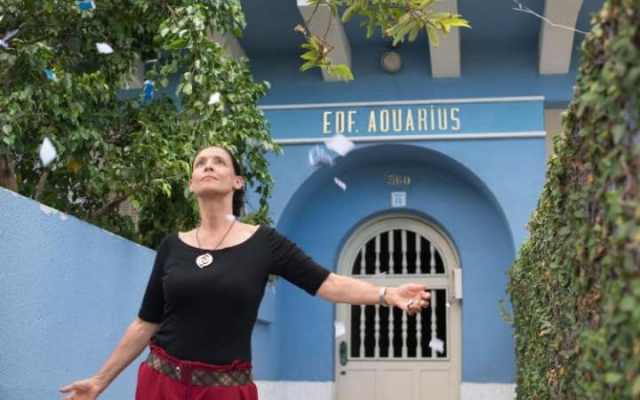 Aquarius (Brazil)
October 24, 2016
—
Rocio Ayuso
Aquarius, the Brazilian drama directed by Kleber Mendonça Filho and starring Golden Globe nominee Sonia Braga, feels bigger than just another foreign film. The walls of Aquarius, the building that gives the title to this drama, are pregnant with meaning, especially for anyone from Brazil or aware of the latest news from the largest Latin American country. On the surface, Aquarius trains its camera on a 65-year-old music critic named Clara who has lived much of her adult life in the Aquarius, a building facing the Atlantic Ocean. She is also its last tenant, refusing to sell her apartment to a construction company that intends to replace the it with a new building. Her memories mean more to her than money.
This is the second time director Kleber Mendonça Filho has used real estate as a metaphor for complex social and political issues. His first feature, Neighboring Sounds (O Som ao Redor), focused on the changing urban geography of his hometown, Recife, in the Northeast coast of Brazil, as a means to tackle the social tensions within the city.
To bring Aquarius to life, Mendonça Filho cast Sonia Braga as Clara, the last inhabitant of Aquarius. The Brazilian acting legend, best known for Kiss of the Spider Woman, shines in a role that she has described as the best of her career, even if she is considered the greatest Brazilian film star since Carmen Miranda in the 1930s and 1940s. Although her character is based on Kleber's mother, Braga admits that it reminded her of her own as well as her grandmother. "I saw the women fighters from the 1960s who believed in making a better Brazil for everyone", she admitted.
And that's what the audience in Brazil has seen too. Aquarius was a selection of this years' Cannes film festival, and the cast took the opportunity to stage a protest the impeachment of former Brazilian president Dilma Rousseff on the steps of the Palais. In Brazil the movie has generated both standing ovations and calls for boycotts, a measure of the political division Brazil is currently experiencing. Outside the country the movie stands on its on merits.