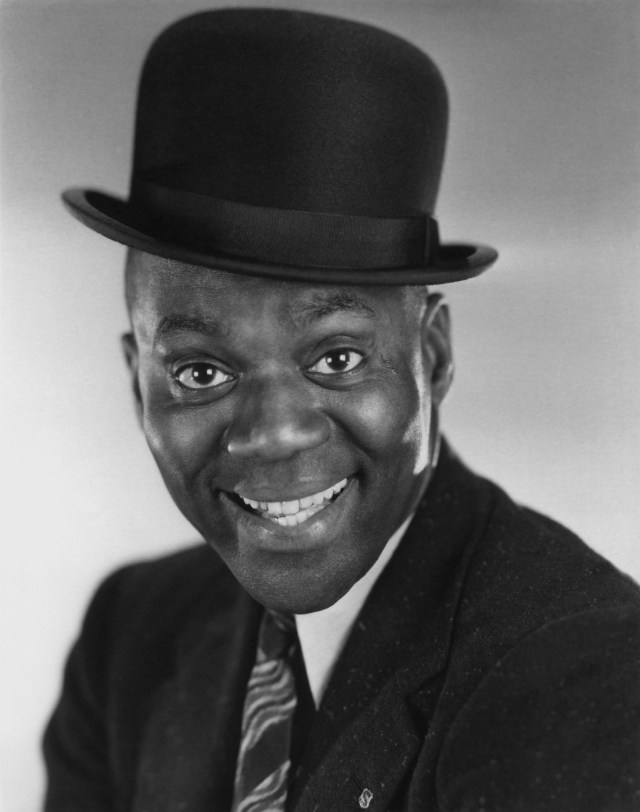 Forgotten Hollywood: Bill "Bojangles" Robinson
February 24, 2023
—
Meher Tatna
He was a 57-year-old Black man, she was six years old and white. Together, they danced into history as the first interracial tap-dancing couple in 1935's The Little Colonel. Bill "Bojangles" Robinson called Shirley Temple his "darlin'." He was "Uncle Billy" to her. They would act and dance in three other films – The Littlest Rebel, Rebecca of Sunnybrook Farm, and Just Around the Corner. While Robinson was a star onstage in minstrel shows and vaudeville, he did not become famous as a Hollywood movie star until his collaboration with Temple.
Donald Bogle, in his history of Blacks in American film, Toms, Coons, Mulattoes, Mammies, & Bucks, calls Robinson "the Cool-Eyed Tom" because many of his earlier film roles were confined to subservient Black servants of white masters. Although he became famous at the height of segregation and Jim Crow laws, Robinson made the choice to accept these roles. In so doing, however, he achieved the stature that allowed him to be instrumental in breaking barriers – he refused to wear blackface, and broke the "two-colored" rule which required that Blacks could not perform solo. He became the highest-paid Black performer in the early 20th century, with a career that spanned Broadway, the recording industry, radio and television in addition to his movie career.
He was dubbed "Bojangles" because of his contentious personality – that of a "jangler," or a person who argues noisily.
Born Luther Robinson in Richmond, Virginia, on May 25, 1878, he lost his parents at an early age and was raised by his grandmother, who had been a slave. In Mr. Bojangles: The Biography of Bill Robinson, James Haskins talks about the entertainer's beginnings. At age 5, Robinson was a hoofer in local beer gardens and was discovered by a promoter and offered a "pick" job in a minstrel show – a Black child singing, dancing and telling jokes from the side of the stage. At age 12, he ran away to Washington D.C. and supported himself by briefly working at a racetrack until he teamed up with Al Jolson as a song-and-dance duo. He performed for a year with a traveling troupe in a show, "The South Before the War," then joined the US army in 1898 as a rifleman in the Spanish-American War.
Robinson moved to New York in 1900 and won a buck-and-wing dancing contest against tap star Harry Swinton. He then teamed with performer George W. Cooper and the two did the Keith and Orpheum circuits as a duo in front of Black audiences. According to author Constance Valis Hill, "Playing the role of fool to Cooper's straight man, Robinson's stage getup consisted of a clown outfit with a tutu worn over long pants and a derby placed on his head. Their new act took advantage of Robinson's comic skills at impersonating an automobile having a fit, a mosquito or a trombone—using his lips." The act split up when Robinson was charged with assault in 1915 – he had a temper and always carried a gun with him – and he embarked on his solo career.
Robinson's famous "stair dance" was introduced in 1918 at the Palace Theater, New York's premiere vaudeville house (it's on YouTube), where he dances up and down a free-standing staircase for several minutes with intricate tap footwork. According to Haskins, it had "a different rhythm for each step – each one reverberating with a different pitch – and the fact that he had a special set of portable steps enhanced his claim to originating the dance." Robinson pioneered tapping on the balls of his feet, a shuffle-tap style, instead of the previous flat-foot style, wearing shoes with a raised heel and a wooden half-sole.
Although he tried without success to have the stair dance patented, it will always be associated with Robinson. He conveyed his love for dancing throughout his act with his beaming smile and sparkling personality, chatting and joking with the audience. His signature line was "Everything is copacetic."
After vaudeville started fading out, Robinson's Broadway career started with Blackbirds of 1928, a revue for white audiences. His co-star was Adelaide Hall, with whom he would also perform in the show Brown Buddies in 1930, first on Broadway and then on tour. They also appeared together at the Cotton Club in Harlem. The two shared a white manager.
Other highlights in his Broadway career included The Hot Mikado in 1939, All in Fun in 1940 with an all-white cast including Imogene Coca, and Memphis Bound in 1945, with Robinson headlining an all-Black cast. Robinson was 61 when he performed in Mikado; he celebrated his birthday by dancing down Broadway for 61 blocks.
In 1907, Robinson married Lena Chase, whom he divorced in 1922, then married Fannie Clay, who became his business partner and manager. They divorced in 1943. He then married Elaine Plaines in 1944 and they stayed together till he died in 1949. He was a gambler and drinker, had a hot temper and was prone to picking fights. But he was also a generous man, donating his time and money to the community, one year appearing in 400 charity fundraisers.
Robinson was named "Mayor of Harlem" in 1933, was a founding member of the Negro Actors Guild of America, co-founded the New York Black Yankees baseball team in 1936, was an honorary member of police departments in cities across the United States, and was a mascot of the New York Giants.
He was such a fan of the New York Yankees that he always made room in his schedule for World Series games when the Yankees were playing. He would tap dance on the roof of the Yankees dugout, according to a report in the New York Times, and would run backward around the bases faster than the players could run forward. In fact, Robinson held a Guinness world record for running backward – 100 yards in 13.5 seconds in 1922 which stood till 1977. He used this stunt to gain publicity in cities where he toured.
His first appearance in a Hollywood movie was in 1930, the musical Dixiana, in which he had a solo scene with a standalone performance. This was because, according to Haskins, it was easy to cut out the scene for screenings in Southern theaters. Harlem is Heaven followed in 1932.
Then came the Temple movies. In her autobiography Child Star: An Autobiography published in 1988, Shirley Temple Black talked fondly of Robinson: "Robinson walked a step ahead of us, but when he noticed me hurrying to catch up, he shortened his stride to accommodate mine. I kept reaching up for his hand, but he hadn't looked down and seemed unaware. Fannie called his attention to what I was doing, so he stopped short, bent low over me, his eyes wide and rows of brilliant teeth showing in a wide smile. When he took my hand in his, it felt large and cool. For a few moments, we continued walking in silence. "Can I call you Uncle Billy?" I asked. "Why sure you can," he replied. "But then I get to call you darlin.'" It was a deal. From then on, whenever we walked together it was hand in hand, and I was always his 'darlin.'"
Robinson taught the little girl a version of the stair dance that appears in The Little Colonel – it was cut out of the movie in the South as were all scenes where they touched. The two remained lifelong friends.
Other Hollywood films that Robinson made were Hooray for Love in 1935; In Old Kentucky, Will Rogers' last film that same year; and One Mile from Heaven in 1937 where he played the romantic lead opposite Black actress Fredi Washington. By 1937, he was earning $6,600 a week.
The 1943 Fox film Stormy Weather, based on the song of the same name and loosely on Robinson's life, was a showcase for Black talent and starred Lena Horne as Robinson's love interest, the Nicholas Brothers in an unforgettable dance sequence, Fats Waller, and Cab Calloway and his band. It would be Robinson's last film.
Fred Astaire considered Robinson the finest tap dancer he'd ever known and credited him as a mentor. Robinson also supported the careers of Eleanor Powell, Lena Horne, Jesse Owens, Sammy Davis, Jr. and Ann Miller, the latter saying that he "changed the course of my life."
A series of heart attacks led to his passing in 1949 at the age of 71. The "World's Greatest Tap-Dancer" died a pauper even though he had earned more than $2 million in his career: his funeral was paid for by his longtime friend Ed Sullivan. Half a million people turned out to watch his funeral cortege.
In 1982, a pair of his tap shoes was put on display in the National Museum of American History at the Smithsonian Institute.
In 1989, Congress passed a resolution declaring Robinson's birthday, May 25, National Tap Dance Day.