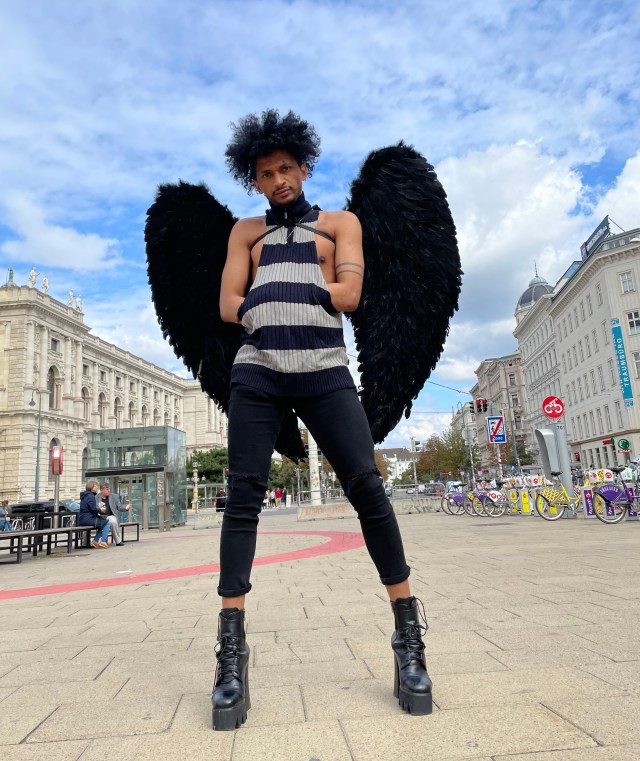 "I'm Cris from Tierra Bomba" Helps A Young Man Find His Identity
June 13, 2023
—
Gerardo Prat
When director Josephine Landertinger Forero first met Cris, he was one of the "honorary members of the poverty club" abandoned in a remote corner of the Caribbean Sea. But the experienced eye of the documentary filmmaker knew that the island where the young man lived, Tierra Bomba, was too small for him.
And among all the seemingly mystical messages of the documentary she filmed, titled I'm Cris from Tierra Bomba (Soy Cris de Tierra Bomba), a simple theme emerges – that of a happy young man driven by a dream.
The film, in which Forero traces Cris' adolescence from 2015 to 2022, had its world premiere this year at the Cartagena Film Festival in Colombia.
Forero, the daughter of a Colombian mother and an Austrian father, recalls how this project was born.
She narrates, "Cartagena is the most unequal city in Colombia. As a filmmaker, I often attended its festival and I began to explore and came across this Afro-Colombian Island with such an explosive name, Tierra Bomba (Bomb Land). I delved into it and discovered a major problem of coastal erosion and a reality that captivated me. So, I started filming a documentary in which the island itself was the main character.
"And that's how I met Cristian, a young Afro-Colombian in a very complex city, whose dream was to become an actor. But this story of 'fame as an escape' had other connotations – escaping poverty, becoming visible…Something that seemed very cinematic to me."
Until that moment, no one – perhaps not even the young Cris himself – was aware that he was gay, nor did they suspect that the most important reason for his "escape" was to find his true identity. The search, in fact, required over seven years of cinematic follow-up, moving to new countries and continents and the direct intervention of a filmmaker who challenges the idea that a documentarian should be a mere objective narrator.
Without hesitation, the director acknowledges that her cinematic work not only told a story but influenced it:
She explains, "I never wanted to be a silent observer because, to me, that's a trap; it doesn't exist. In fact, I aimed to be very transparent with the creative process in which I myself intervene. And I believe the film helped Cris in his own story.
"Precisely, the culmination of the film originated from a call I made to Cristian where I said, 'I feel that there are still things you want to tell but don't dare to because maybe you're afraid of being judged. However, I think that if you open up, the film will have more impact and help more people.'
"And it was thanks to that conversation that he started revealing the most intimate aspects, the abuses he suffered as a child, his sexuality…I feel that it was from that conversation that the documentary impacted him directly."
Forero's production not only triggered Cris' transformation but also helped his sister, who underwent a personal transition in the film, and his mother, who discovered her son's sexual orientation on the screen. The film even gained significance beyond the family circle, as it generated a great social impact.
The filmmaker says, "In a region known for being very macho, like the Caribbean, people, after watching the story, confess to me that 'there are many Cristians.' It struck me to hear dozens of individuals sharing their experiences and telling me that the film internally resonated with their own stories. And it has truly shattered a taboo in a region where you cannot speak about abuse of minors and where boys like Cris are told, 'Be a man!' "
From Tierra Bomba, where he was forced to read the Bible to ward off the "sin" of homosexuality, to Cartagena, where Cris began studying performing arts, it's only a few minutes' boat ride. That brief journey, which represented an enormous distance for the island boy, would prove short compared to when, years later, he embarked on his journey to Spain and Germany.
The director shares, "And in this cinematic fabric, Cristian goes through different identities. He goes from being the islander in Cartagena to 'the black guy' in Bogotá (a city with a predominantly white racial profile). And in each place he arrives, he encounters new struggles. Then he goes to Europe and assumes another identity. It's as if he never fully escapes…And one day he says, 'Look, I don't care what you think. I put on my black wings and I am…Cris.' "
Towards the end of the documentary, a poignant interview reveals that Cris truly discovers his gay identity during (and thanks to) the making of the documentary about him.
Forero confirms, "That's right. And there are more explicit parts, particularly a phone call where he tells me, 'Look, I… I'm gay. Or… well, I don't know. I still don't know what I am. I still have a lot to explore.' However, we had a strong moral and professional debate about whether to include that in the final edit or not. We included it, then removed it…Because he doesn't want to be labeled. So, the entire editing process was a meticulous reflection to avoid contributing to stereotypes that we precisely want to avoid."
Currently, Cris lives in Berlin. No, he is not an actor. In fact, he continues to struggle day by day as an undocumented individual. But that doesn't mean he hasn't fulfilled his dream.
On the contrary, in his search for his acting identity, Cris discovered that his supposed dream of acting was just an excuse, one to escape his island and find himself. And when he discovered himself, there was no need to play any character anymore.
Translated by Mario Amaya